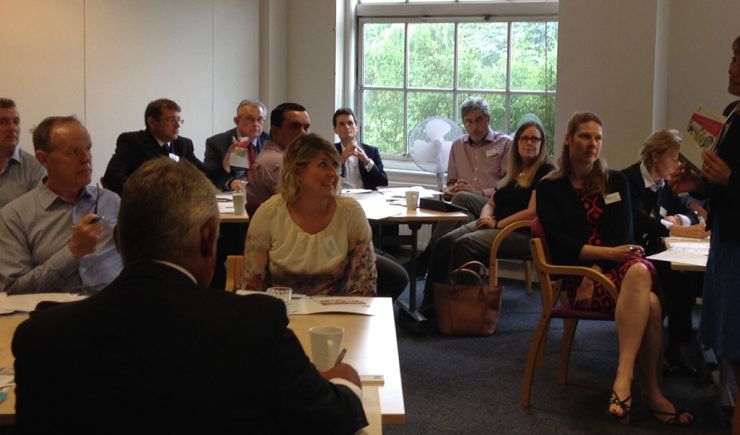 Are you frustrated that your online marketing and website are not up to the task in terms of generating enough new business and targeted leads?
Discover how to use LinkedIn as your main Lead Generation channel at this interactive Member to Member workshop, hosted by Denis Zekic from CeeDoo Digital.
Are your competitors gaining advantage and increasing their market share through use of Social Media?
Do you have a Social Selling strategy in place to systematically drive and build relationships with cold prospects, drive traffic and generate highly targeted leads?
Did you know that 80% of all B2B social leads come from LinkedIn and studies show that LinkedIn is 300% more effective for lead generation than any other social media network!
LinkedIn is the world's number one social media platform for business professionals with over 550 million users. It is not just for corporate executives or recruitment managers to gain benefits from LinkedIn, professionals from every sector connect with each other to find and develop new business opportunities.
CeeDoo Digital have developed a deep expertise in designing and managing social selling campaigns that leverage LinkedIn, content marketing, outbound email and sales funnelling.
At the workshop, we will cover our highly successful "Magic 5 Formula" and take you step by step through a series of practical tips and tactics in how to find, engage and convert highly qualified prospects in any industry or sector using the power of LinkedIn.
Who is the event aimed at?
All businesses looking to increase their Lead Generation through use of the latest online tactics and strategies. 
How will you benefit from attending?
You will learn the latest Tactics and Strategies how to find, engage and convert highly qualified prospects in any industry or sector using the power of Social Media and LinkedIn. 
About the Facilitator - Denis Zekic
CeeDoo.com is a Digital Agency founded by Denis Zekic, an award winning Social Selling specialist with years of experience in both B2B and B2C digital sales and marketing sectors. 

Denis' experience stretches from local SME's to multimillion turnover eCommerce and Online Marketing operations across UK, Europe and globally, including some market leading international organisations.

Denis has also been a board member, keynote speaker and chair at WBR "B2B Online Europe" international annual conference from their start.

Denis is the author of "WINNING THE ONLINE CUSTOMER: Top Lead Generation Tactics and Strategies for 2018" available for FREE download at: www.CeeDoo.com/ebook
---
Details
Date:
4 July, 2018 - 4 July, 2018
Time:
9:30am - 11:00am
Registration and refreshments from 9.00am
Location:
The Clare Charity Centre, The Saunderton Estate, Wycombe Road, Saunderton, HP14 4BF
Please note:
If using Sat Nav devices please use HP14 4HU
Waiting List:
Once the event is fully booked you can be added to our waiting list.
---
About Member to Member Workshops
---
Book now
Tickets for this event are no longer available.