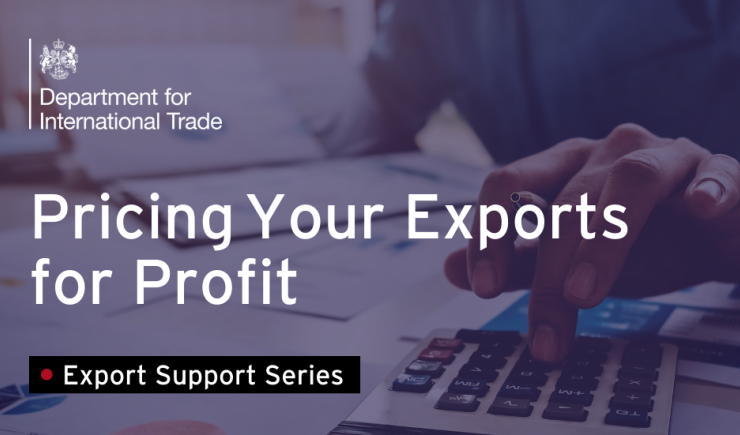 Discover how to cost and price your exports for profit when venturing into new global markets or adapting your current strategy
Why should you join this virtual event?
Export pricing is one of the most crucial decisions for a business when entering a new market. SMEs often rely on ad-hoc and reactive pricing strategies, overlooking the fundamental export costs and market expectations.
This free Department for International Trade South East virtual event is designed to help you price your product or service for international success.
Join us for expert insight on how best to set and manage export prices across international markets and what you need to consider in light of COVID-19 and the UK's EU-exit transition.
What will you learn?
How to set a pricing structure to achieve profit
The costs to market and deliver products and services overseas
Hidden costs and potential impacts on pricing
Understanding local market price levels and typical distribution margins
Identifying and using alternative pricing strategies
Being contract aware – regulations and duties when setting prices, using appropriate delivery terms (Incoterms), negotiation variables and managing successful ongoing business
Address your pricing pain points with live Q&A with our experts
Featured speaker
Julie Macken
JH Market Strategy Ltd, Consultant
An experienced trainer and marketer who has facilitated export focused workshops in the UK and around the world for many years
Passionate about working with people and organisations to help them identify and reach their goals
Has worked in-house and as a consultant and has lived and worked in Tokyo for 18 months working as a worldwide co-ordinator, managing relations between the Japanese subsidiary and the rest of the world for Alere, a pharma diagnostics business
Runs her own online business and continues to work with JH Market Strategy Ltd, delivering courses in international market entry strategy and research for the Department for International Trade
Also works closely with Department for International Trade in London and the South East delivering one-to-one advice on market research and selection
When will this virtual event take place?
This virtual event will take place on Tuesday, 14 September 2021 at 09:30 - 16:30.
Who is this event for?
This event is part funded by the European Regional Development Fund*. As a result, a range of data points must be collected to assess your businesses eligibility.
Businesses must:
Be small and medium-sized enterprises (SMEs) according to the European SME definition
Be based in the South East of England
Be registered in the UK
Have not received more than €200,000 in public funds over the last 3 fiscal years
What's next?
To secure your place for this free virtual event, simply click the Apply here button when following this link
Please note, only 30 places are available and the above eligibility criteria applies.
Places are limited to one delegate per business - we highly recommend applying quickly to secure your spot.
Important: If your application is approved, you will be requested to sign an electronic application form to secure your place for this subsidised event.
Contact us
Have a question about the virtual event? Email our team at tradeevents@newable.co.uk
---
Details
Date:
14 September, 2021 - 14 September, 2021
---
Book now
Tickets for this event are no longer available.