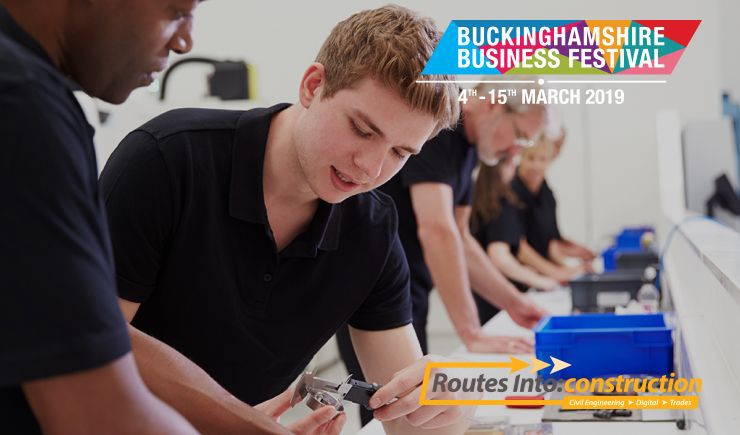 Are you an employer with a job or training opportunity and interested in meeting keen and motivated candidates?
PLEASE NOTE: If you are a job-seeker looking to meet local employers in the construction industry with exciting opportunities and vacancies, book a place at Routes Into Construction on the Eventbrite site.
Our Routes Into…. events are about bringing opportunity and talent together. Talent is everywhere, from students in education thinking about their first steps into work, to those looking to use their experience and skills in a new environment, to those looking for a complete change altogether.
Routes into Construction will bring together businesses from the sector (representing traditional trades, civil engineering and more) and people looking to start or progress their career, whether it be through a full/part-time job, apprenticeship or traineeship, as a freelancer, or those looking to get some work experience.
This event takes place during National Apprenticeship Week, and we want to change perceptions of apprenticeships and encourage people of all ages and backgrounds to see them as a great way to start, develop or even change a career.
"More and more businesses are choosing apprenticeships when looking to recruit and train new staff, or wishing to develop existing employees. They are available in more industries and professions than ever before, and with the development of higher level programmes, an apprenticeship is an excellent springboard for anyone looking to start or progress a career." (Paddy Patterson, Apprenticeships Manager, Buckinghamshire Skills Hub)
Our team of experts will be on hand with local providers to help you harness the talent and energy employing someone new within your business can deliver.
Other events in the series are...
Thursday 7th March - Routes Into Creative Industries at Pinewood Studio - More info >
Friday 8th March - Routes Into Work at the Buckinghamshire Business Expo at the Gateway, Aylesbury - More info >
If you are coming to this event to meet local employers with exciting opportunities and vacancies, book your place here >
Part of the Buckinghamshire Business Festival
This event is part of the Buckinghamshire Business Festival. The festival is a celebration of business in the Entrepreneurial Heart of Britain and runs from March 4th-15th. Read more about the festival here, and check out the rest of the festival events schedule here.
Use #BucksBusinessFest on social media if you are attending this event to promote your involvement in the Buckinghamshire Business Festival.
---
Details
Date:
5 March, 2019 - 5 March, 2019
Time:
6:00pm - 8:00pm
Registration from 5.30pm
Location:
Bucks New University, High Wycombe Campus, Queen Alexandra Road , High Wycombe , Buckinghamshire, HP11 2JZ
Please note:
Light refreshments provided.
---