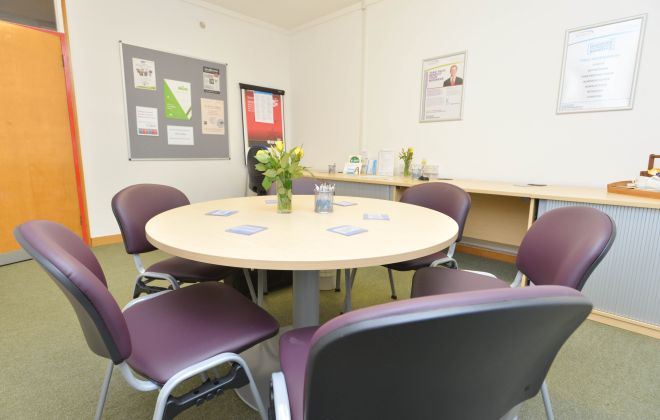 Christmas Opening Hours
The Hub will be operating normal opening hours the week commencing the 18th December, except on Monday 18th where the Hub will be closing at the slightly earlier time of 5pm.
10:00 - 16:00 Saturday 23rd December
9:30 - 13:00 Wednesday 27th December
9:30 - 17:00 Thursday 28th December
10:00 - 16:00 Saturday 30th December
Normal opening hours continue from Tuesday 2nd January 2018.
The Chesham Hub is a convenient 'office away from the office'. Housed within Chesham Library, it provides everything you expect from a library and a few things you wouldn't, such as meeting rooms and access to useful business resources.
Facilities
Drop in space with two desks
Meeting room with round desk, 6 seats and tea and coffee station with honesty box
Wi-Fi throughout the library
PCs with internet access
Newspapers and business journals
Access to business advisor
Free parking with permit for Buckinghamshire Business First members*
*please note these are available on a first come first served basis
Note: In order to make the most of the services at the Chesham hub you may be asked to register as a library member if you are not already.
Book a meeting room
Chesham Hub meeting rooms are free to use and bookings you make will not be deducted from your Buckinghamshire Business First meeting room allocation.
To book a meeting room at the Chesham Hub please contact Chesham Library direct at lib-che@buckscc.gov.uk.
Library meeting room
With round desk, 6 chairs, tea and coffee station with honesty box and a flip chart
Opening hours
9:30 - 19:00 Monday
9:30 - 17:00 Tuesday, Thursday
9:30 - 13:00 Wednesday
10:00 - 16:00 Saturdays
CLOSED – Friday, Sunday and public holidays
Directions
Parking
There is limited parking at the library. Buckinghamshire Business First members using the Hub can obtain a parking permit when signing in.
Alternatively Star Yard Blucher Street Car Park is just across the road from Chesham Library and has the following charges for the maximum of 3 hours:
1 Hour £0.60
2 Hours £1.20
3 Hours £1.80
Sainsbury's Car Park is £1.00 per hour for a maximum of 2 hours. Charges are refunded if £5.00 is spent in Sainsbury's
Useful information
The Business Hub at Chesham Library is run by Buckinghamshire Business First and Chiltern Chamber of Commerce.
On arrival, you'll need to report to the Information desk on the first floor and sign in using your Buckinghamshire Business First membership card. You'll be issued with a parking permit (if you need one) and a Buckinghamshire Business First lanyard to be worn while in the Hub.
Address and contact details
The Business Hub, Chesham Library, Elgiva Lane, Chesham, HP5 2JD
Email hub@bbf.uk.com or lib-che@buckscc.gov.uk