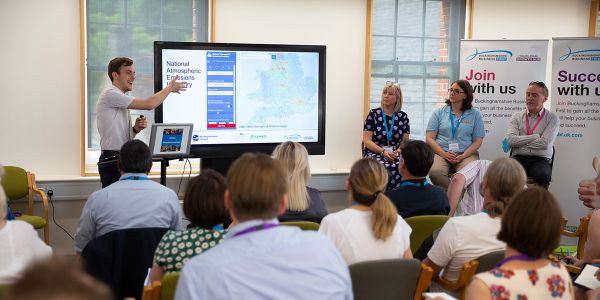 Buckinghamshire Business First marked Clean Air Day 2022 on June 16th with a busy and inspirational day of events, held at The Vinson Building at the University of Buckingham.
Read the full round-up of the day here, and see more inspiration and support below.
Two really important things to remember about Clean Air Day
There is so much help available for businesses wanting to reduce their carbon footprint, learn more about sustainability, get their hands on funding to help pay for energy-saving projects, and make their way along the road to Net Zero.
We need Clean Air Day to be every day of the year, every year. This might sound daunting, but remember #1 – there's so much help available to you!
Discover the resources and inspiration provided by Global Action Plan, the charity behind Clean Air Day.
Don't worry if you've missed Clean Air Day 2022 – remember, every day can be Clean Air Day if we all pull together! So, use the resources, messaging and inspiration provided any time you wish.
The theme of Clean Air Day 2022 is: "Air pollution dirties every organ in your body. Take steps to improve your health this Clean Air Day."
Is there any other support available? (Spoiler: yes!)
Low Carbon Workspaces has been helping businesses save energy, money and the planet for many years now, and they're nowhere near finished! Businesses can get a grant of £1,000-£5,000 to implement measures such as LEDs, solar PV, efficient boilers, insulation, heating and cooling systems, equipment upgrades and much more. Learn all about Low Carbon Workspaces here, and get in touch with the team: info@lowcarbonworkspaces.co.uk / 01494 927131.
Discover more inspiration and resources
Why should businesses be concerned about air pollutiuon? Read this >
Learn about Business for Clean Air (B4CA), an initiative open to companies who are committed to understanding and addressing their impact on air pollution.
Read about the Business Clean Air Taskforce (BCAT), a leadership group bringing together progressive companies committed to tackling air pollution, in a quest to help the transition to a decarbonised world with cleaner air.
What did we do for Clean Air Day?
We brought together businesses and representatives from Global Action Plan, Buckinghamshire Council and other stakeholders to outline all the support businesses need to reach Net Zero.
This included:
A networking lunch with representatives from Buckinghamshire Council, Buckinghamshire Business First and Global Action Plan explaining how businesses can adopt electric vehicles and create low carbon workspaces. There was also an extra special prize up for grabs - an EV Track Day experience at Silverstone!
'How to market your green credentials' – an insightful workshop that revealed how businesses should best promote their sustainability journey, avoid 'greenwashing' and engage staff and customers on the road to Net Zero.
Drop-in support and advice - businesses held one-to-ones with Low Carbon Business Advisers from Buckinghamshire Business First who explained the support available to help them reduce energy and costs and develop a Net Zero action plan. One-to-ones were also held with Keith Cotton from Global Action Plan who shared information and advice on the adoption of electric vehicles for employers and employees in Buckinghamshire.
Read the full round-up of the day here, and see more inspiration and support above.