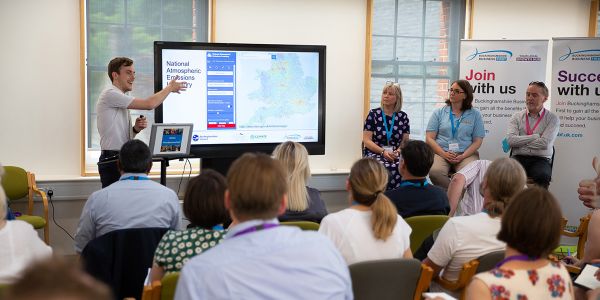 Clean Air Day brought to life the support available for businesses wanting to reduce their carbon footprint, improve air quality, learn more about sustainability, and access funding, ideas and inspiration.
To mark Clean Air Day on June 16th – and to ensure that we all strive for clean air every day of the year – Buckinghamshire Business First teamed up with Buckinghamshire Council, Global Action Plan and the University of Buckingham for an eye-opening day of information and inspiration.
Tackling carbon emissions can seem daunting and impossible to some – so we were delighted to be joined by several small business Net Zero heroes who prove that's not the case!
These are the businesses 'next door', small and medium-sized businesses who are making a positive contribution to creating a Net Zero Buckinghamshire economy and who generously gave their time to share their experiences with fellow businesses keen to do the same.
The day's events were hosted in the Enterprise Hub at the University of Buckingham, a suitably impressive venue perfect for a wide range of events, from team away days to staff training. Hotdesking space is available free of charge to members of the Buckinghamshire business community and can be booked through our website here>
The aim of our Clean Air Day activity was to bring to life the support available for businesses wanting to reduce their carbon footprint, improve air quality, learn more about sustainability, and access funding, ideas, and inspiration. It was also an opportunity to bring members of our Buckinghamshire Net Zero Collaboration Circle and Peer Networks together in person for the first time.
Developing and promoting your green credentials
The Clean Air Day events kicked off with a panel of three very different businesses sharing their personal journeys, motivations and practical ideas along their 'Road to Net Zero' and discussing the benefits and pitfalls of 'marketing your green credentials'.
Our panel was made up of:
Tina Duggan - Director of The Oven Cleaning Group Ltd
Helen Barrett - Head of Marketing & Sustainability at Moogies Ltd
Richard Collins - Co-Founder of CSR Accreditation and Founder of Ecobrand
Daniel Cope – Climate Change Programme Manager at Buckinghamshire Business First
Motivated by educating the next generation
Like many during lockdowns, Helen Barrett's day-to-day work and life were upended, with time - and teenage children - on her hands.
Driven by a desire to raise awareness of the need to create positive change, Helen started work on a campaign to bring Moogies' sustainable philosophy to life. This led to their 'Mindful Moogies' campaign – a set of pillars to live by, work towards and inspire with. Read all about these pillars, including how they eliminated 10,000 pieces of single use plastic a year!
With newly anointed 'Be Mindful Champions' from within the business acting as friendly encouragement while checking progress is made, Moogies have found a way to incentivise staff - especially younger team members - to take ownership of something that will create tangible change and provide a great sense of achievement.
Tangible ideas and inspiration for everyone
Tina Duggan, like Helen driven by the desire to take climate action on behalf of her children and educate customers on clean air, enthusiastically spoke about the things Oven Loving is doing to play its own sustainable part in reducing emissions.
Aware that dirty ovens create more carbon and waste more energy, the Oven Loving team has developed its own eco-friendly brand of cleaning products. Challenges were met head-on, especially those in the wider supply chain, which highlights the opportunities for positively influencing other businesses by taking a sustainable stance and encouraging others to follow.
Meanwhile, Moogies' sustainability activity was promoted front and centre on their menus, driving the message home. Their champions have sparked new ideas, such as changing the brand of crisps they sell for one with sustainable packaging and increasing the number of bins at each of their venues from 2 or 3 to around 17 – actively encouraging the separation of things like batteries, food waste and anything else that is better off being recycled by itself.
By switching to more sustainable products, the 'Mindful Moogies' are influencing businesses in their supply chain to think more consciously about their own decisions and practices, helping to create positive change beyond their own walls and add value to other businesses' products.
Talking through the challenges
This was no rose-tinted conversation, but an honest exploration of the practical difficulties businesses will face on the road to Net Zero, aided by practical solutions and tangible support, such as:
How to avoid 'greenwashing'
Top tips: Be authentic and make sure you evidence-base any activity you undertake. Once you have done your research on the issues at hand and truly understand them, then you can really own your message with confidence.
How to get employees to act differently and care
Take the Moogies approach. Incentivise staff with competitions and prizes, along with 'champions' who can gently entice people along the road to Net Zero.
Sharing your research on the issues can also help ensure that everyone knows why you are pursuing a greener, more sustainable business model.
How to overcome perceptions, i.e., that all plastic is bad
Oven Loving's research showed them that re-using certain plastic components is better than switching to ineffective materials, and they launched an S.O.S campaign – 'Save Our Squirters' – to promote the fact that the heads of their cleaning products are designed to be re-used and not thrown away.
Again, researching the devil in the detail will give you confidence in your decisions, and in turn, will convey that confidence to staff, customers and suppliers, making everyone more likely to follow your path.
Telling a story that brings it all to life
Marketing and branding is about educating customers on the social return on investment from embracing sustainable change.
Good positive storytelling, backed up with evidence and demonstrated by actions, such as Moogies menu listing their green activity, can get this message across without needing a hard sell.
Take it step-by-step
Businesses will not be able to do everything, but there are plenty of quick wins to get the ball rolling and focus attention on key areas to build a base of activity from.
Logically, if you want to reduce your carbon emissions you first need to know how much you are creating.
Calculating your carbon footprint might sound challenging, but with a free tool like the Climate Essentials Carbon Calculator, available to businesses in Buckinghamshire, it's a lot easier than you may think!
Do the research now to prepare for your future
Adopting electric vehicles may be a medium or long-term goal – and that's okay. It may not be appropriate for your business right now, but you can spend useful time identifying the resources and conditions around when they might be a sensible and sustainable option for your business.
Buckinghamshire Council's ambitious plans – and how you can have your say
The Buckinghamshire EV Project has been established by Buckinghamshire Council to guide businesses through a smooth transition to electric vehicles and more sustainable travel.
Buckinghamshire Council is working with Global Action Plan to understand how people in the county travel to and from work, as learning about people's travel needs will go some way to ensuring sustainable infrastructure and services are introduced – ultimately helping to reduce air pollution.
To do this, they have created an Electric Vehicle Employer Survey, which only takes three minutes to complete, the answers to which will build an understanding of businesses' transport and employee travel needs, including those currently driving, or who are interested in driving, electric vehicles.
Have any questions about electric vehicles?
Global Action Plan have compiled a guide to EVs for employers and employees, detailing the available support and the benefits of going electric.
They also provide plenty of resources for businesses to dip into as they see fit.
To get started on your transition to electric vehicles, why not book an informal chat with Keith Cotton from Global Action Plan?
Every day can be Clean Air Day if we all pull together!
Throughout Clean Air Day, it was great to see a swell of enthusiasm around creating a network of businesses that work together to address some of the key challenges of Net Zero and to learn from and inspire each other.
This mentality is why Buckinghamshire Business First created the Buckinghamshire Net Zero Collaboration Circle – to start, maintain and maximise the conversation around Net Zero. There will be more events announced in the coming months, so in the meantime, join the Collaboration Circle today and see what all the fuss is about!
Grants available to implement those efficient measures you've been thinking of
Eligible businesses can get a grant of up to £6,750 to implement measures such as LEDs, solar PV, efficient boilers, insulation, heating and cooling systems, equipment upgrades and much more.
Learn all about these Low Carbon Workspaces grants here.
Talking carbon emissions – the business opportunity to reduce them
On the latest episode of Buckinghamshire Business First's Talking Heads podcast, BBF Managing Director Philippa Batting and BBF Climate Change Programme Manager Daniel Cope have an honest conversation about the reasons why employers may delay tackling their carbon emissions, and why, in the face of climate change and skyrocketing energy prices, there are limitless benefits to facing the challenge head on.
Daniel has been busy, as he also appeared on NatWest's new #FundingFriday podcast to share advice, inspiration and news about Low Carbon Workspaces grants. Watch and listen to Dan's chat with NatWest's Debbie Lewis here >
See the photos taken throughout Clean Air Day on our Flickr page.