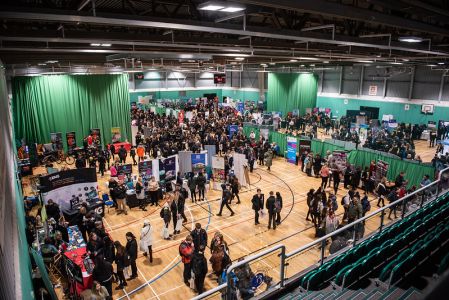 Thousands of people walked through the doors of Stoke Mandeville Stadium for two days of careers inspiration, at this year's Bucks Skills Show held across 8th and 9th March.
A great mix of students, young adults and people of all ages looking for careers inspiration and guidance visited this year's event to be motivated by over 120 exhibiting businesses and organisations, including Pinewood Studios, Metro Bank, Amazon, Disney, Buckinghamshire College Group, GE Healthcare, Hartwell House Hotel & Spa, Cloudy IT, Balfour Beatty, Buckinghamshire Council and URA Thrusters.
Organised by the Buckinghamshire Skills Hub, the Bucks Skills Show has been inspiring people to step towards their dream career for years and this year was no exception with another hugely successful event.
The county-wide careers event opened people's eyes to the many different job opportunities available, letting them meet employers face-to-face, experience the many activities on offer and be motivated by the high-profile guest speakers from the likes of Cisco, NHS and Skyports, who shared their career journeys and insider industry tips.
The venue was a fitting one. With a vibrant history and impressive reputation for inclusivity, what better place to hold the show than Stoke Mandeville Stadium.
See some of the great photos taken at the Buckinghamshire Skills Show >
Lots of incredible stands - but who won Best Stand?
In a sea of inspiring stands, some stood out and laid their claim for the coveted Best Stand prize.
And the (joint) winners of Best Stand were...
Ercol & Ryecotewood College!
The joint runners-up were...
Estarli & Galliford Try Construction!
And of course, our honorary canine finalist – Capt, from Home Instead!
All had a big impact on career seekers across Buckinghamshire.
'Heart-warming inspiration'
Marina Jackson, Under 19 Skills Manager & Careers Hub Lead, Buckinghamshire Skills Hub, said: "The Bucks Skills Show is the largest careers inspiration event in the county and keeps growing each year, as seen by the runaway success of this year's event at Stoke Mandeville Stadium. It was heart-warming to see the excitement of all of those in attendance as they met businesses from a wide range of sectors, as well as education providers, gathering information about their potential next steps."
Marina added: "Whether it's students planning for their future, young adults looking to take their first big step into work, or people of any age wanting to change career paths, our goal is to help every individual find what is right for them, whether that's higher and further education, training, apprenticeships or employment."
The valued sponsors of the Bucks Skills Show
This year's Bucks Skills Show received headline sponsorship from EKFB, Align, and Flannery, with additional sponsorship from the Rothschild Foundation and Bucks College Group.
The event was also supported by Skill Up Bucks, a programme funded by European Social Fund and Department for Work and Pensions designed to help SME businesses in Buckinghamshire identify and nurture future talent by creating opportunities for people aged 17+ to meet and interact with employers.
In addition, the evening event was supported by Local Skills Improvement Plan (LSIP) funding from the Department for Education.
Workforce skills support for your business
Our Workforce Skills Team of highly experienced training and development professionals are here to help your business with all of your skills needs. Learn more about this support here >
For extensive skills and careers information, please visit the Bucks Skills Hub website at www.BucksSkillsHub.org or contact one of the Skills Hub team at info@BucksSkillsHub.org or 01494 927130.