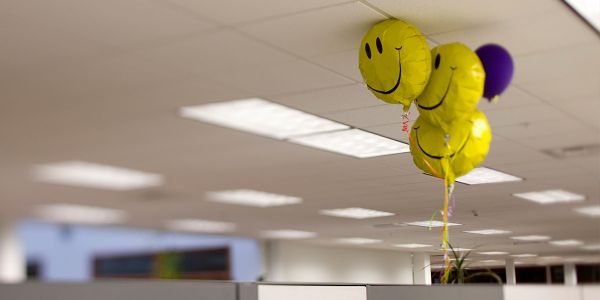 From the living wage and pensions to stress management and safety in the workplace, there are plenty of ways employers can look out for their staff.
Paying a Living Wage
Buckinghamshire Business First has recently been accredited as a Living Wage Employer. Our Living Wage commitment will see all of our employees receive a minimum hourly wage of £9.30, above the government's minimum for over 25s which currently stands at £8.21 per hour.
Benefits to businesses of paying a living wage
The Living Wage rate is calculated according to the costs of living and provides a voluntary benchmark for employers that wish to ensure their staff earn a wage they can live on, not just the government minimum.
These figures are calculated annually by the Resolution Foundation and overseen by the Living Wage Commission, based on the best available evidence on living standards in the UK.
Learn more about paying a Living Wage.
Stress and mental health support
12.8 million working days were lost due to stress in 2018/19. Make sure you are providing your staff with the support they need.
The Health and Safety Executive (HSE) is the government agency responsible for the regulation and enforcement of workplace health and safety.
The HSE website has lots of information and resources on tackling stress in the workplace, including risk assessments, workbooks, toolkits and collateral such as posters and case studies.
These will help to raise awareness of potential issues that can arise and will enable business owners and line managers to be equipped to tackle conversations with staff who are feeling stressed.
Do you take mental health seriously in your business?
Buckinghamshire Business First's Managing Director Philippa Batting has written about mental health in the workplace, drawing attention to business's unique position in being able to support people going through mental health challenges.
Preventing slips and trips in the workplace
The Health and Safety Executive provides guidance to employers on how to prevent slips and trips in the workplace.
There is specific guidance for those who work outdoors, with expectant mothers, with older workers, in kitchens, at height, with migrant workers, in the cleaning industry, and more.
There is also guidance for employers about preventing falls during icy and wintry weather.
Educate staff about pensions – including scams
Millions could be at risk of pension scams – help protect your staff.
The Financial Conduct Authority (FCA) and TPR published research last year which revealed millions of people could fall for pension scam tactics.
Key findings showed that cold calls, unusual investments and early access to cash are among the most persuasive tactics used by fraudsters and – alarmingly – that those who consider themselves financially savvy are just as likely to fall victim to a pension scam. Could your staff spot a pension scam? Test their knowledge with FCA's #ScamSmart quiz.
Employers can help their staff to protect themselves by sharing four simple steps:
Reject unexpected pension offers whether made online, on social media or over the phone.
Check who you're dealing with before changing your pension arrangements. Check the FCA Register or call 0800 111 6768 to see if the firm or person you're dealing with is authorised by the FCA.
Don't be rushed or pressured into making any decision about your pension.
Consider getting impartial information and advice - in some cases you may be required to do so. If a member of staff thinks they've been a victim of a pension scam, or you suspect that they may be at risk of becoming a victim of a pension scam, report it.
A booklet, poster and more information for you to share with your staff can all be found on The Pensions Regulator's website.
Employers also have duties to do with pension auto-enrolment and risk a fine if they do not comply. Read this article by The Pensions Regulator to ensure you know your responsibilities are.
Help your new staff settle in as quickly as possible
The recruitment and onboarding process you have within your business can have a huge effect on staff morale, for both existing and new staff.
This free workshop on January 31st will go over the main tasks to help you prepare effectively and ensure your new recruit fits in well with your business.
Help your team shout about the good work they do
An active Corporate Social Responsibility (CSR) agenda is linked with staff happiness and retention rates, particularly with regards to younger employees who want to work for companies that show concern for social and environmental issues.
Learn how your business can tell its positive CSR story and this free event on March 10th.
More information on health, safety and the environment
Visit our business support pages to find out more about health and safety in the workplace, as well as environmental issues you may have to consider.