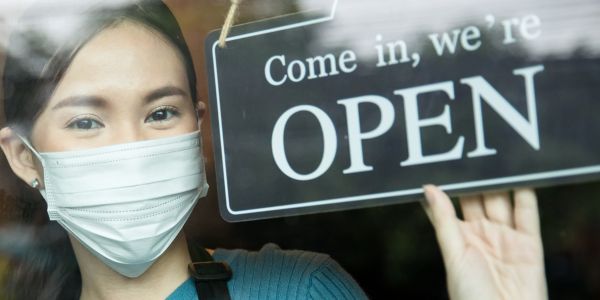 New government guidance includes event capacity limits; instructions on homeworking; using the NHS COVID Pass as a condition of entry; QR codes; NHS Test and Trace; keeping workplaces safe.
PLEASE NOTE: All guidance is subject to change in accordance with the government's 'four steps', set out in the roadmap out of lockdown. Check the GOV.UK Coronavirus homepage for the latest updates.
Guidance will also be updated on our COVID-19 Business Support Hub.
England moves to step 4
The government has announced that England has moved into step 4 of its roadmap out of lockdown, as of July 19th.
For businesses, the updated guidance means that:
All remaining closed businesses and venues such as nightclubs and adult entertainment venues are able to reopen.
All capacity limits at sporting, entertainment, or business events have been lifted.
Hospitality venues such as pubs, restaurants and bars are no longer required to provide table service or follow other social distancing rules.
As well as the easing of restrictions for businesses, other restrictions have eased, meaning:
People do not need to stay two metres apart from people they do not live with. There are also no limits on the number of people they can meet, though the government recommends increasing close contact gradually (i.e. minimising the number, proximity and duration of social contacts).
The requirement to wear face coverings in law has been lifted. However, the Government expects and recommends that people wear face coverings in crowded areas such as public transport.
Further key points for businesses from the step 4 guidance:
People are no longer instructed to work from home if they can, but a gradual return over the summer is recommended by the government
Organisations in higher risk settings are encouraged to use the NHS COVID Pass as a condition of entry. This will especially be the case in large crowded settings where people are likely to be in close proximity to others outside their household. There are some settings where the NHS COVID Pass should not be used as a condition of entry, in order to ensure access for all. This includes essential services and essential retailers which have been able to stay open throughout the pandemic.
Businesses are encouraged to continue displaying QR codes for customers wishing to check in using the NHS COVID-19 app, or to continue collecting customer contact details to support NHS Test and Trace, however this will no longer be a legal requirement.
For further details on what the beginning of step 4 means for businesses and venues, read the official guidance here.
Working safely guidance
Read the updated guidance that helps businesses to operate safely and lawfully.
There are guides covering a range of different types of work. Many businesses operate more than one type of workplace, such as an office, factory and fleet of vehicles. You may need to use more than one of these guides as you think through what you need to do to keep people safe. Priority actions are outlined at the top of each guide.
Keeping workplaces safe as restrictions ease
The Health and Safety Executive (HSE) provides the latest information on issues around workplace safety, including face coverings, testing and vaccinations.
Advice also includes carrying out a risk assessment and sharing this with staff. A risk assessment is part of the process businesses should go through before they reopen.
Read the new step 4 guidance in full here.
Steps 1, 2 and 3
Under steps 1, 2 and 3 of the roadmap, various businesses and venues were permitted to open, including: cinemas, theatres, bowling alleys, museums, zoos, non-essential retail (e.g. clothes shops or florists) and close contact personal services (e.g. hairdressers); gyms; outdoor sections at attractions; self-contained holiday accommodation; and cafes and restaurants.
Free digital toolkit to help as your business opens
Buckinghamshire Council has created a free 'Boost your Business' toolkit to help you tell people that you're open and to share reminders of the rules people may still need to follow at your premises.
Use the #WelcomeBackBucks hashtag on social media to get a promotional boost, with over 1 million people seeing #WelcomeBackBucks posts on Twitter so far, and 139,000 on Facebook.
Test and Trace Support Payment
People self-isolating may be entitled to a Test and Trace Support Payment of £500 if they:
Have been told to stay at home and self-isolate by NHS Test and Trace
Are employed or self-employed
Get coronavirus tests for your employees
The deadline for employers to register to order free rapid lateral flow tests for their employees has now passed.
Employers can still check their remaining options for getting their employees coronavirus tests.
Information for clinically extremely vulnerable workers and their employers
The Health and Safety Executive (HSE) has published guidance on protecting vulnerable workers, including advice for employers and employees on how to talk about reducing risks in the workplace.
Read more guidance on protecting vulnerable people at work.
Book your rapid COVID-19 test now
Fast, free rapid COVID-19 testing is available for people in Buckinghamshire.
There is no need to book a test slot. To get tested and/or collect home test kits, simply visit one of the test centres at a time that is convenient to you.
Around 1 in 3 people with COVID-19 have no symptoms but can still pass it on. Regular testing can help break the chain of infection.
Pavement licences: reduced cost and faster applications
Buckinghamshire Council has reduced the cost of pavement licences to £100 and has implemented a streamlined application process that will be available until 30th September 2021.
Apply for a pavement licence here.
COVID-19 Business Support Hub
Visit the Buckinghamshire Business First COVID-19 Business Support Hub for the latest information and guidance.