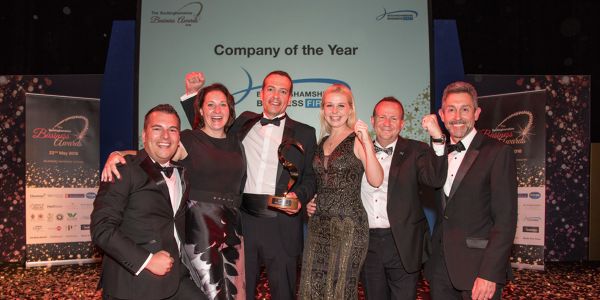 Fresh from their success at the Buckinghamshire Business Awards, Mark Walker, Group Chairman of Ashridge Group, provides advice on recruitment, training and skills development in his capacity as one of Buckinghamshire's Growth Champions.
Buckinghamshire's Growth Champions have successfully grown their businesses within the Entrepreneurial Heart of Britain. They have had successes and setbacks, made mistakes and learnt from them, and have great experience to pass on.
Fresh from winning Company of the Year and Best in Aylesbury Vale District at the 2018 Buckinghamshire Business Awards, Mark Walker, Co-Founder and Group Chairman of Ashridge Group, provides his advice on growing a business.
Mark Walker, Growth Champion, on recruitment:
"Think outside of the box when it comes to recruitment. You don't need to be blinded by qualifications; experience and personality can be just as important. I've met some outstanding candidates with no academic qualifications.
"Great cultures attract talent. By enabling a culture where employees can contribute to the future strategy of the business, by involving and trusting them, you are making your business more attractive to potential employees.
"There is great young talent out there. Hiring those fresh out of education is an investment in both the local education system and the local community. Look for employment events run at schools, colleges and universities that bring businesses and students together for interviews. We went to one such event and met several high calibre students who conducted themselves very well. We offered one student a work placement and they have since become a full-time employee with us."
Mark Walker on training and skills development:
"Your employees are the biggest contributing factor to the success of your business. Look after them, let them thrive, and they'll deliver amazing results.
"Invest in your employees. Up-skilling your team brings numerous benefits, and though it can sometimes be hard to know what skills your business is lacking, you can seek advice. Take on a mentor to come into your business, observe you and your team, and make recommendations on what skills gaps you may need to fill. Think of it as an extra pair of eyes spotting something you may have missed.
"Be aware of changing trends. For example, we've added customer service into our inductions for younger people as we found they often lack polished skills in this area."
Mark Walker's top tip:
Don't be blinded by qualifications when recruiting. Experience and personality can be just as important. Remain open minded and you'll create a great team.
Ashridge Group history:
Mark and Emma Walker founded Ashridge Security Management Ltd in 2012 while still based in Hertfordshire. In 2014, they moved the company, which at the time had 12 employees, to Wingrave, Buckinghamshire with support from Buckinghamshire Business First.
"Prior to the move we were in a small office in Berkhamsted," Mark explains, "but our growth ambitions meant we simply had to move. Buckinghamshire offered a welcoming business community, and excellent transport links to London, the North, and Bristol.
"We discovered lots of information on the Buckinghamshire Business First website about relocating to the county and the ins and outs of making a big move. They provided us with a lot of leads as to where we could find office space and we soon discovered Wingbury Business Village, a business park which perfectly fitted the way we operate. It's an eco friendly, energy conscious set-up, just like our business.
"We took an office there but within a year had outgrown it due to burgeoning sales, so we moved to a much larger office within the same business park. We certainly need the extra space as we have grown from 12 employees to more than 100 in the time we have been in Buckinghamshire!
"We have won a lot of contracts since making the move to the county and at the end of the 2016/17 financial year we had experienced 98% more growth than the previous year. This growth led us to create Ashridge Group, with subsidiaries including Ashridge Security Management, Ashridge Facilities Management and Cognitious."