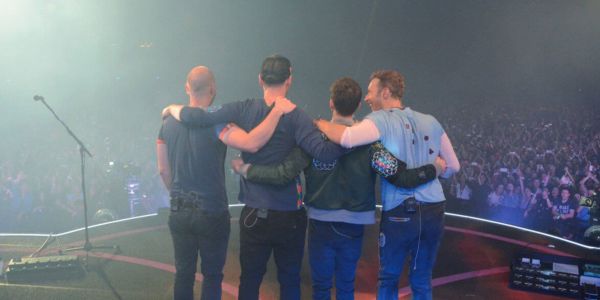 The return of our member news round-up is a bumper edition of news from Buckinghamshire's businesses and charities.
Global Infusion Group launches The Tony Awards in honour of founder
Event catering and brand logistics specialist Global Infusion Group has launched an internal awards ceremony – The Tony Awards! Held in honour of its late founder and CEO, Tony Laurenson, who passed away this January, the inaugural awards are being held on Friday 21st May. Alongside the ceremony will be a formal presentation to Stagehand, the PSA's Welfare & Benevolent Fund, for the 'Donations not Carnations' JustGiving page that was set up for those who wanted send tributes to Tony. The amount raised is already over £20,000.
Global Infusion Group's management team reached out to highly valued partners, suppliers, clients and friends from across the industry to secure sponsorship for the awards, with great success. A host of recognisable industry names include none other than Coldplay, who the company has supported on tour for almost 20 years, with the hugely popular band sponsoring two 'Rockstar' awards. There's also a special prize gifted by the Laurenson family for The Tony Award, the ultimate accolade that will recognise exceptional service at work.
Commenting on the launch of The Tony Awards, Global Infusion Group's global operations director and Tony's wife, Bonnie May said: "Losing Tony to COVID in January was devastating to everyone in the business. As the senior management team, we wanted to honour his memory and do something fitting for our amazing team here who have done everything to keep us going. The support that we've received from our friends across the industry has been fantastic and we're incredibly grateful to everyone who has offered to contribute. The recipients of our two 'Rockstar' awards sponsored by Coldplay will be absolutely blown away."
Established to bring the team together The Tony Awards will be a celebration and allow everyone to have some fun after an incredibly difficult period for the business. The winners of the tongue-in-cheek categories will be decided upon by Global Infusion Group employees who have all been invited to take part in a public vote.
Bonnie May nominated for 'Lockdown Leader' at the National Business Women's Awards
Global Infusion Group's global operations director, Bonnie May, has been shortlisted in the Lockdown Leader category of the prestigious National Business Women's Awards 2020 for the impressive leadership skills she has shown throughout the pandemic. As a member of GIG's senior management team, Bonnie has been integral to ensuring that the business has been able to respond accordingly to the challenges it has faced.
From securing contracts with GIG's local NHS trust, supporting them in their fight against the pandemic and the Dragon's Heart temporary hospital in Cardiff, to slowly returning TV production, sports and performances, the safety of her team and clients was the priority. This meant quickly and strategically planning the delivery of contracts. GIG was ready with an adapted catering service to ensure that it could still deliver for its clients. Bonnie and her team now regularly deliver grazing boxes to clients, which are prepared in their kitchen and then delivered without contact.
Bonnie has also tirelessly supported the local community, from rewarding the incredible work of NHS staff and keyworkers, 250 slices of cake were delivered to them following a Clap for our Carers; 100 veterans received a cream tea on VE Day 75, including 97 year old Jimmy James, who flew a Spitfire during the Second World War and food has regularly been donated to a local charity night initiative, Big Friday Night Takeaway.
'Tommy' - the Help For Heroes AI chatbot
"The Bot Forge is a voice assistant and chatbot agency that recently went live with a new chatbot project for Help for Heroes, a UK-based charity that helps injured and sick veterans and their families. They offer full recovery, from physiotherapy to psychological support.
"A lot of the face-to-face activities Help For Heroes were doing with veterans had to stop due to lockdown, but they were handling increased volumes of email and phone enquiries. They wanted the ability to direct people to the correct information in a quick, effective, and easy manner, and wanted to free up their customer support time and improve the website by making the site content a bit more accessible.
"We designed and built a web-based AI chatbot for Help for Heroes, called Tommy. The team created an automated assistant which would answer questions from website visitors and direct them to the right information on the website, as well as provide vital support contact information.
"Tommy is now working hard answering enquiries 24/7 and thanks to the machine learning tool, he can get smarter!"
National charity MPS Society calls for donations for rare genetic disease
Families with children with rare diseases continue to face a difficult choice over whether to stop shielding and resume their life-changing treatments due to concerns over catching the virus.
Some 91% of young people and their families have been shielding since the pandemic started over a year ago. Many have cancelled or had longer wait times for operations and some have taken treatment 'holidays' from care at home and in hospital to avoid the virus which would compromise their immune systems.
For many children, shielding has led to anxiety and loneliness, while treatment 'holidays' have meant increased pain and fatigue. With lockdown restrictions lifted further on May 17th, their families will make hard choices around returning to 'normal' despite the continued risks.
The MPS Society supports 1,500 families with rare diseases in the UK and during MPS Awareness Week, which ran from May 10th-16th, raised awareness of the conditions and is asking for donations to help give children earlier diagnoses and access to better treatment. MPS (Mucopolysaccharide) diseases are a family of rare, life-limiting lysosomal storage disorders that can affect both children and adults. It is estimated that nearly 6% of the UK population (around 3.5 million people) will be affected by a rare disease at some point in their lives.
The charity is encouraging everyone to donate and spread awareness of MPS and their services as much as possible, through word of mouth or by using #EverybodyIn on social media. If you wish to donate to MPS Society, please visit mpssociety.org.uk/donate-now or call their Fundraising Team on 0345 389 9901. By donating just £6, you could pay for a newly diagnosed family to receive a disease-specific information pack.
PragmatiQ Solutions achieves Microsoft Gold Partner status
PragmatiQ Solutions has announced their achievement of Microsoft Gold Partner, the highest certification available for Microsoft Partners. This elite status is only held by a small percentage of Partners both in the UK and worldwide.
PragmatiQ Solutions, based in Milton Keynes, specialise in designing and delivering Bespoke CRM (Customer Relationship Management) Systems and Custom Business Solutions, leveraging Microsoft Dynamics 365 and the Power Platform.
Stuart Goldwater, PragmatiQ Solutions' Managing Director, says "We are delighted to be recognised as one of the leading Microsoft Partners, which highlights our level of expertise, capabilities and commitment to the Microsoft platform are of the highest possible standard."
Learn more about how PragmatiQ Solutions can support your business. Visit www.pragmatiqsolutions.co.uk, call 01908 038110 or email info@pragmatiqsolutions.co.uk.
Queen's Awards triumph for Buckinghamshire businesses
The Queen's Awards for Enterprise are as prestigious a business honour as you can get, a royal seal of approval and global recognition that your business is outstanding in its field.
Buckinghamshire has a fine history with the Queen's Awards, and the latest cohort of winners is no exception. We send a big congratulations to 2020 Queen's Award winners:
Learn more about entering the 2021 Queen's Awards here.
Local marketing consultancy celebrates its 13-year anniversary!
Despite being born in a recession and surviving another recession and now a pandemic, Pinpoint Marketing Consultancy Ltd is proudly celebrating 13 years of trading in Buckinghamshire.
Award-winning director of Pinpoint, and working mum, Nicole Martin, said: "Running and having a successful business, especially at this time, is no mean feat and I am very pleased and proud to have a business with such longevity and successes. I love helping clients, always have and always will, to grow their businesses through personalised marketing support and advice. I take them from where they are now to where they want to be."
Many of Pinpoint's clients are fellow local and small business owners and this is important to Nicole, who believes in supporting local businesses and the local economy and community. "Without customers there is no business, so promoting yourself and your business continues to be important. The ways to do this are maybe not the same as usual at present, but there is always something you can do."
Can you do A Good Thing?
"A Good Thing is a non-profit CIC aiming to connect businesses with local charities to facilitate the donation of surplus equipment, office supplies, merchandise, meeting space - or anything gathering dust in the store cupboard!
"This aims to reduce landfill and enable charitable organisations to do more with their limited resources - contributing to a 'circular economy'. Our easy-to-use platform makes the process really quick and simple for businesses and charities.
"The aim of the platform is to make it really easy to for a business to find a good charity match for what they have to offer - and to engage businesses with smaller local charities who normally miss out. Businesses may be able to document their involvement as part of a CSR accreditation process.
"We've had lots of Buckinghamshire businesses and charities register and our very first match saw Bucks Search and Rescue receive lamps for their new training room from Maidenhead company Squared Up. Once a match is made, we at A Good Thing we will also be offering a 'storytelling' service to businesses, helping them to promote the good they have done with their donation.
"We would love to get more Bucks businesses involved. Please go to www.agoodthing.org.uk and click on "Sign Up" to get started - or contact jane@agoodthing.org.uk for more information.
10 or More wins a free business assessment in Epoq IT competition
Epoq IT's recent prize draw for SME businesses saw bespoke group hotel booking agency, 10 or More, claim the runner-up prize of a one-hour business sssessment with a qualified expert, focusing on remote working solutions for agile businesses.
Deborah Robinson from 10 or More said: "Small businesses need to ensure they are properly set up for remote working, particularly given the recent proliferation of phishing scams and other cyber threats. It is a real bonus for us to have this valuable time with an IT expert, who can outline a clear, practical path through these challenges."
Letterbox4you Limited receives Feefo Platinum Trusted Service Award
Letterbox4you Limited has won the Feefo Platinum Trusted Service Award 2021, an independent seal of excellence that recognises businesses for delivering exceptional experiences, as rated by real customers.
Created by Feefo, Trusted Service is awarded only to businesses that use Feefo to collect genuine reviews and insights. Businesses who meet the high standard, based on the number of reviews they have collected and their average rating, receive the award. As all reviews are verified as genuine, the accreditation is a true reflection of a business's commitment to outstanding service.
Pauline Steele, Operations Manager, commented: "We're very excited to receive this award from Feefo because it's based on the feedback of real customers, who are the most important judges of all. It recognises how hard we work to give all our customers the best possible experience, even in a year as tough as 2020."
Lindengate connects people to the healing power of nature
"Lindengate's mission is that through the provision of nature-based activities, we empower everyone to nurture their wellbeing, connect to the healing power of nature and respect the environment.
"With restrictions easing, why not come and enjoy our 5-acre therapeutic gardens and wildlife haven? There's plenty of space to bring a picnic to share with friends and family, or sheltered shady areas to sit with a flask of coffee and a good book, giving yourself some time to "be".
"At Lindengate, we believe the natural environment contributes to building resilience and helping people to improve their wellbeing. We support people by connecting them to nature, giving them the opportunity to find their own breathing space.
"Our free drop-in opening times are seasonal, so please check our website for full details."
Award win for Aylesbury-based day nursery
"The Shepherd's Hut Outdoor Day Nursery was a winner at the Children & Young People Now Awards 2020 in the 'Play' category, a wonderful testament and acknowledgement of the work our amazing team of staff do to provide opportunities for the young children we work with and their families."
The Shepherd's Hut's amazing outdoor space includes a meadow, vegetable beds, mud and water and hammocks, as well as a wild area for exploration, a tree swing, a campfire circle and tool workshop. The environment has been driven by children's own needs and interests and allows their innate inquisitiveness to develop, while at the same time making magical memories and protecting emotional wellbeing. So far, the setting has reached children from 59 families and plans to engage at least 150 families by 2024.
Learn more about The Shepherd's Hut nursery here.
Silverstone Park continues to attract new business occupiers
MEPC successfully let a further 38,940 sq ft of industrial property in March at its Silverstone Park business estate on the Buckinghamshire-Northamptonshire border.
Five properties have been let to businesses operating in industry sectors that include automotive, composites, drinks, human performance and motorsport. The properties let range in size from 5,000 sq ft to 12,400 sq ft.
See details about further availability at Silverstone Park.
RT Machinery celebrates 20 years in business
Specialists in ground care and lawn care, RT Machinery opened in 2001 and has gone from humble beginnings with a summerhouse office at the bottom of the garden and a small workshop to very workable farm-based premises, 20 staff and the appointment of a Royal Warrant in 2018.
Mother and daughter business turns 20 years old
"Mabrouka Events is a local boutique events agency that offers a free-of-charge venue-finding service, plus other fee-based event management services, including event entertainment, photography, design and collateral, and event PR.
"We have been around a long time and are celebrating 20 years in 2021! We are super proud of the reputation we have built in the events industry and pride ourselves on retaining clients year after year."
Dancing Squirrel is expanding!
UK-based live communications agency Dancing Squirrel is pleased to announce it has expanded its team and that Clay Robinson has joined them as technical director. Clay's role will focus on the delivery of the company's live event portfolio, which already for 2021 includes corporate conferences, product launches and awards ceremonies.
Neil Woodward, Creative Director, said: "With such a strong focus on hybrid for the foreseeable future, ensuring a high value experience for both the live and virtual delegate will be key."
Croner launches healthy and safety app
Croner's 'BrightSafe On The Go' mobile app aims to help businesses manage health and safety tasks, review risk assessments, and complete online courses.
For more information about BrightSafe On The Go, call 0800 142 2415.
Epoq IT helps SMEs to streamline tech support
Small businesses lose more than 50 trading hours each year trying to fix technical gremlins. To help start-up and scale-up businesses spend less time on technology glitches, Epoq IT has launched a new range of SME tech support services, including an online guide to outsourcing your IT, packed with useful information for SMEs. Call Epoq IT on 01494 976939 to find out more.
Moorcrofts LLP advises Percival Menswear on growth capital investment
"Moorcrofts advises Percival Menswear, a London-based contemporary menswear fashion brand, on a £3 million growth capital investment by growth capital investor VGC Partners.
"Nicola Bennett and Peter Woolley (both corporate partners) led the transaction, with support from Tim Astley (commercial / IT partner), Julia Ferguson (commercial property partner) and Lindsey Abbott (employment solicitor).
"Moorcrofts' corporate team regularly acts for buyers, sellers and investors across a broad range of industry sectors. For more information, visit our corporate services page."