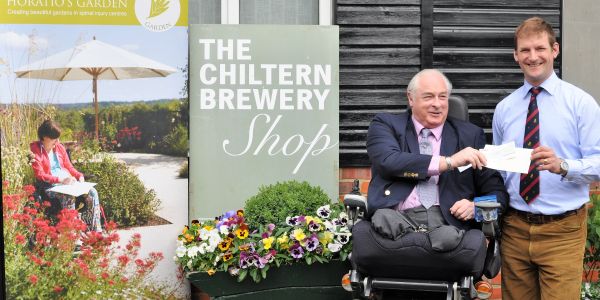 Featuring Monodraught, The Chiltern Brewery, Action4Youth, Mix96 and Blaser Mills.
This member round-up includes:
Monodraught commended at National CSR Awards
Ride for Action4Youth at the Chiltern 100 Cycle Festival
The Chiltern Brewery donate £300 to Horatio's Garden at Stoke Mandeville Hospital
Aylesbury Duck Race sponsorship available
Blaser Mills makes key changes to senior team
Monodraught commended at National CSR Awards
Monodraught were named as "One to Watch" in the Clean and Green category at the National CSR Awards for their Cool-phase Hybrid solution.
The National CSR Awards celebrate business excellence and innovation in Corporate Responsibility and Sustainability across a broad range of disciplines. The ceremony took place at Lords Cricket Ground on the 18th May and guests enjoyed a tour of the grounds and pictures in front of the Ashes.
Andrew McCubbin, Managing Director for Monodraught said: "We are delighted to receive this prestigious award. We believe that Corporate Social Responsibility is vital for every business to succeed and live its values. The wide range of businesses named as Finalists in the National CSR Awards is testament to the way the business community in the UK is recognising the importance of CSR. For Monodraught, receiving a "One to Watch" Award for our innovative Cool-phase Hybrid solution is great acknowledgment of the impact we can have on sustainability in the education sector and beyond."
Ride for Action4Youth at the Chiltern 100 Cycle Festival
Action4Youth's Fundraising Development Manager Vinny Moran says:
"We are proud to have been chosen as the official charity for one of the best cycling events in the UK. The Chiltern 100 Cycle Festival has a great range of rides for everyone, goes through beautiful scenery and is held at historic Penn House on Sunday 16th July 2017. There's a vintage 'velo' village, great food, live music and a wonderful family atmosphere.
"We have 50 places for only £1 if cyclists pledge to raise sponsorship of £150 (which is just 15 people giving £10 each) and there are cool branded cycling jerseys for anyone who raises more.
See http://www.chilterncyclingfestival.com/ for more. Action4Youth gives children and young people of all backgrounds, abilities and disabilities inspirational challenges and experiences, to benefit them for life. All the money raised will go to benefit children and young people in the local area.
The Chiltern Brewery donate £300 to Horatio's Garden at Stoke Mandeville Hospital
Buckinghamshire and the Chiltern's oldest independent brewery, The Chiltern Brewery based in Terrick near Wendover, presented a cheque for £300 to the Horatio's Garden charity on May 19th for their project to create and care for an accessible garden sanctuary in the spinal injuries unit at Stoke Mandeville Hospital. The donation comes from money raised from every pint sold of their special limited edition ale from earlier this year – Pride of Bucks & Berks.
Head Brewer Tom Jenkinson said: "This is a proud moment. Our bucolic setting here in the beautiful Chiltern Hills is a constant inspiration and reassurance to us - from the tastes and names of the ales to our logo and branding. We really hope that the creation of a peaceful green space at the hospital can act as an important solace and stimulus to patients and their relatives and friends."
Mike Mackenzie, Patron of Horatio's Garden was delighted to accept the cheque on behalf of Executive Trustee, Treasurer of Horatio's Garden, Victoria Holton, who said: "The funds raised will help bring to fruition a beautiful garden sanctuary to patients with spinal cord injuries and we're hugely grateful to The Chiltern Brewery for supporting Horatio's Garden at Stoke Mandeville".
Aylesbury Duck Race sponsorship available
It'll soon be time for Mix96's traditional annual Duck Race and they would love you to join them at the Honey Bee in Aylesbury on the afternoon of Friday 14th July for some fun and a Pimms!
Each duck entered into the race down the stream is in with a chance to win £1,500 of radio advertising, which will go to the winning duck sponsor. Not only that, your business will benefit from three weeks' content on the Mix 96 website.
Each sponsor of a duck also gets talk ups on air. The crazier the name of the duck the better! £10 from each duck goes towards the Chilterns MS Centre. It's also a great networking opportunity as many businesses will be there.
Book you duck by calling 01296 399396 or emailing sales@mix96.co.uk.
Blaser Mills makes key changes to senior team
As part of the firm's exciting growth plans and led by its Managing Partner, Jonathan Lilley, top Thames Valley law firm Blaser Mills has announced a number of key changes to its senior team.
James Simpson, formerly Partner at the Oxford office of a heavyweight regional firm, has joined to head up Blaser Mills' Employment team. James offers 20 years of experience to clients, acting for businesses on a wide range of Employment and HR issues on both an advisory and contentious basis. Upon joining the team.
The firm has also promoted three of its solicitors to Partner; Karen Woodison, Sarah Timothy and Lisa Smith. Karen and Sarah are senior members of the Wills, Trusts and Probate team. Karen joined Blaser Mills in 2013 from a reputable local firm, whilst Sarah has rapidly risen since qualifying as a trainee with the firm. Lisa, a senior Residential Property lawyer of significant local repute, has been providing proactive and forward-thinking advice to clients in Buckinghamshire for a number of years.
As of May 2017, the team will welcome two new members, Tracy Jones and Matthew Crockford. In addition, Jasmin Johar has joined to expand the firm's Real Estate Development team. All three solicitors have moved across from another Buckinghamshire law firm.
Send your own member news
Send your news to news@bbf.uk.com.