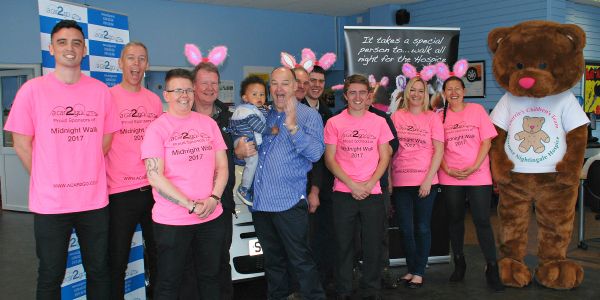 Featuring HGD innovations, Spires Motorsport, acar2go, Through Their Eyes, Kulea.ma, and Buckinghamshire New University.
This member round-up includes:
HGD innovations win twice at the Clean Energy Awards
Local racing driver seeks sponsorship for 2017 race season
Will you be Buckinghamshire's Ambassador for Breast Cancer UK?
acar2go boosts Midnight Walk with sponsorship deal
Kulea.ma announces launch of crowdfunding campaign on Seedrs.com
Bucks New University students enjoy new virtual reality technology
HGD innovations win twice at the Clean Energy Awards
HGDi recently picked up two Clean Energy awards, being recognised for its continuous innovation in the renewable energy market.
The awards won were 'Best Solar Energy Research and Development Company UK' and 'Most Innovative Solar SPV Design with the Solar Silo Unit'.
Based in Iver, Buckinghamshire, this new start-up comes out of 10 years experience in the renewables industry. The company is working with local talent and local manufacturers to produce globally competitive products.
Local racing driver seeks sponsorship for 2017 race season
Anton Spires, a 24 year old racing driver from Buckingham and former Michelin Clio Cup champion, is seeking businesses to join his team of sponsors for the 2017 race season.
Anton drives for Spires Motorsport and is currently competing in the Michelin Clio Cup, which he won in 2014, and aims to compete in the UK Clio Cup, which is broadcast live on ITV4, as soon as possible. Anton competed in the 2016 UK Clio Cup, which supports the British Touring Car Championship, until the final two rounds, when funding became an issue.
Sponsorship packages start at £375.
Sponsors will get their business logo/slogan/website displayed on the car. In addition, sponsors could benefit from Anton and his race car appearing for free at four company events, some thing which will increase footfall by drawing attention and sparking conversation.
Anton could also be available for appearances at company offices or showrooms, trade shows, corporate events, product launches, karting events, Top Golf, and team meals.
For further information, visit the Spires Motorsport website or email info@spiresmotorsport.com.
Will you be Buckinghamshire's Ambassador for Breast Cancer UK?
Nikki Mattei runs Through Their Eyes, a freelance ethical marketing consultancy based in Princes Risborough. She is working as Ambassador Project Manager for Breast Cancer UK, a national charity which believes that prevention is possible. "I am responsible for recruiting and training volunteers to be Ambassadors in their community to talk to people about prevention rather than diagnosis and treatment. We want to help people reduce their risk and lead healthier lives. It would be great to find an Ambassador in Bucks to help us raise the voice of prevention!
"Just go to the Breast Cancer UK website to find out more and register your interest. The next Ambassador Training Day is on 8 July, so don't delay. (But don't worry if you can't make it – we will put you down for the next one)".
acar2go boosts Midnight Walk with sponsorship deal
Aston Clinton used car dealer acar2go has been chosen as the main sponsor for Florence Nightingale Hospice Charity's famous Midnight Walk on 24th June 2017. The partnership deal means that many of the charity's costs to run the event are covered, so that more of the money raised will go directly to the Hospice.
"We all know somebody that has been in need of the services of the Hospice and how very good they are. Please, if you are able, consider putting yourself forward for this event," says Mark Duncan, Director of acar2go.
"We are so touched that Mark has decided to support the Hospice in this way," said Sue Jenkins, CEO of FNHC. "He has translated his appreciation of the care provided by the Hospice into incredibly generous and practical help which will benefit many other people suffering and grieving in our community, and we can't thank him enough for his support of the Hospice."
To do the Midnight Walk, registration costs just £18, which includes a free souvenir Midnight Walk 2017 T-shirt, as well as a medal and complimentary breakfast at the end of the Walk. There is no minimum sponsorship requirement, but £75 raised will pay for a Hospice nurse to visit a terminally ill person and provide care for them in their own home.
For more information and to sign up, please visit www.fnhospice.org.uk/midnight-walk
Kulea.ma announces launch of crowdfunding campaign on Seedrs.com
Milton Keynes based marketing automation start-up Kulea.ma has announced the launch of their crowdfunding campaign on the Seedrs equity crowdfunding platform as they seek to scale the business and take marketing automation mainstream.
Born and raised at the birthplace of modern computing, Bletchley Park, Kulea are seeking £150,000 to fund sales and marketing of their innovative SME marketing automation platform, and for the first time, have opened up investment to the crowd.
"Seedrs.com have a proven pedigree and access to a large network of investors that make them the clear choice for businesses looking to scale quickly" says Kulea CEO, Chris Rodbourne "We're excited to be able to welcome members of the public into Team Kulea, and have them own their own slice of the future of digital marketing"
The Seedrs campaign opened to the public on May 2nd and the company have already confirmed pledges of £47,000 from their £150,000 campaign target.
Find out more on Kulea's Seedrs crowdfunding page >
Bucks New University students enjoy new virtual reality technology
Virtual reality technology which measures eye-movements while patients interact with the environment is being used by psychology students at Bucks New University.
A new Virtual Reality Lab, which took six months to complete, has been opened at the campus in High Wycombe. It includes headsets, dedicated cubicles and eye-tracking facilities, and has been hailed as a 'giant step forward' by lecturers.
Head of Department Dr Ciaran O'Keeffe said: "We are pleased to make this significant investment. Virtual reality is being more widely employed in psychological therapy, for example the treatment of phobias and pain management.

"Having virtual reality available to our students provides them with a unique opportunity to gain experience of technology used in psychological therapies and allows us to explore environments, behaviours and altered perceptual experiences not possible in a traditional classroom. This has exciting potential for learning, teaching and research opportunities."
Send your own member news
Send your news to news@bbf.uk.com.