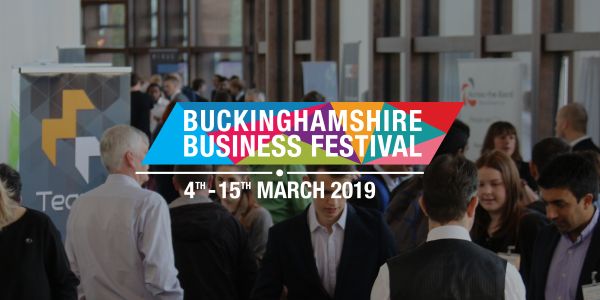 Exhibit at the Business Expo; attend the Brexit Summit to learn more about how to prepare; and promote your vacancies at a jobs fair.
The Buckinghamshire Business Festival is now less than two months away. This celebration of business in the Entrepreneurial Heart of Britain is shaping up nicely with lots of activity planned and plenty of events for businesses to exhibit at and attend.
Buckinghamshire Business Expo
With a conference schedule and workshops featuring keynote speakers on the themes of Digital, Productivity, Leading through Change, and Innovation, the Buckinghamshire Business Expo will bring together expert speakers and suppliers.
Exhibiting at the expo is an invaluable opportunity for you to network, gain new skills and showcase your products and services to hundreds of visitors.
Book an exhibition stand, or simply a ticket to visit on the day >
Buckinghamshire Brexit Summit
The second Buckinghamshire Brexit Summit takes place on March 6th, just over three weeks before the UK leaves the EU.
This daylong summit, hosted in partnership with Buckinghamshire County Council, will be an opportunity for practical discussion and a chance to hear all the latest news and information on Brexit, what it means for Buckinghamshire, and how local businesses can make the most of life outside the EU.
Buckinghamshire jobs fairs
The Buckinghamshire Skills Hub is organising a series of events to connect businesses that have vacancies with local people looking for work.
Employers with live vacancies including work experience, apprenticeship, traineeship, freelance, part and full time jobs will be invited to meet people looking for work or to gain experience. The job seekers could include those still in education; parents returning to work after having children; ex-service personnel; career transformers; and those looking to up-skill or for 'encore' careers.
The first of these events will run in March 2019 during National Apprenticeship Week and also as part of the Buckinghamshire Business Festival. Details are below:
For more information on these, email skillshub@bbf.uk.com.
Host your own event at the Business Festival
Remember that you can host your own event as part of the Buckinghamshire Business Festival. To get your event officially on the Business Festival schedule, email events@bbf.uk.com for more information.
Get more information on the Buckinghamshire Business Festival