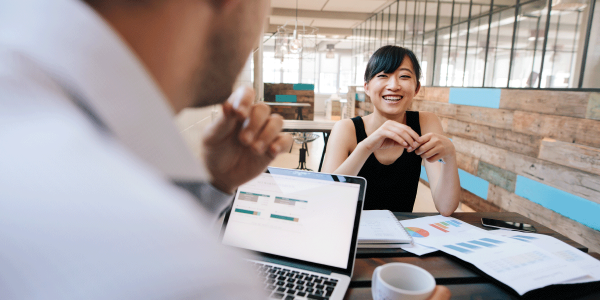 An apprenticeship is a work-based training programme designed around the needs of employers, which can lead to nationally recognised qualifications. You can use apprenticeships to train both new and existing employees.
There are more than 200 different types of apprenticeships available offering over 1,200 job roles within a variety of industry sectors ranging from accountancy and engineering to veterinary nursing and floristry.
Apprenticeships are not limited to new employees and there is no upper limit age restrictions, so any member of your current workforce may be eligible to complete an apprenticeship programme.
What are the benefits to business?
More than 100,000 employers currently use Apprenticeships, which is no wonder as they have clear benefits for businesses large and small, for young people and for the wider community:
Improve your bottom line - over 80% of employers who employ apprentices say they make their workplace more productive. Apprenticeships boost productivity to businesses by £214 per week, on average
Fill your skills gaps - 83% of employers rely on their apprenticeships programme to provide the skilled workers that they need for the future
Motivate your workforce - 92% of employers believe that apprenticeships lead to a more motivated and satisfied workforce
Find your next full-time employees – the majority of apprentices (90%) stay in employment and nearly three quarters (71%) stay with the same employer. Most businesses (74%) report that apprentices tend to be more loyal to them, remaining at their company longer than non-apprentices
Reduce your training and recruitment costs - 59% of employers report that training apprentices is more cost-effective than hiring skilled staff, with 59% believing that apprenticeships lead to lower overall training costs and 53% feeling that they reduce recruitment costs
Improve your appeal to customers – 81% of consumers favour using a company which takes on apprentices
Become more competitive in your industry – like the 66% who reported this benefit
Improve the quality of your products and services - 89% of employers report that apprenticeships helped their business improve the quality of their product or service
(Sources: Populus Survey for National Apprenticeship Week; National Apprenticeship Service.)
Hire an apprentice
Employing an apprentice is easier than you think and there's financial support and help available from the government. Click here to find out more >
Apprenticeship funding and costs
To find more information on the costs involved in hiring an apprentice and if there are any current funding opportunities available to support your business in taking on an apprentice, click here >
Register interest in employing an apprentice
You can register your interest in employing an apprentice with the National Apprenticeship Service and search for a training organisation that offers apprenticeships for your industry.
Want to know more?
For more information please visit the 'Employ an apprentice' section on the GOV.UK website or contact our Business Support Team at BusinessSupport@bbf.uk.com or on 01494 927130.