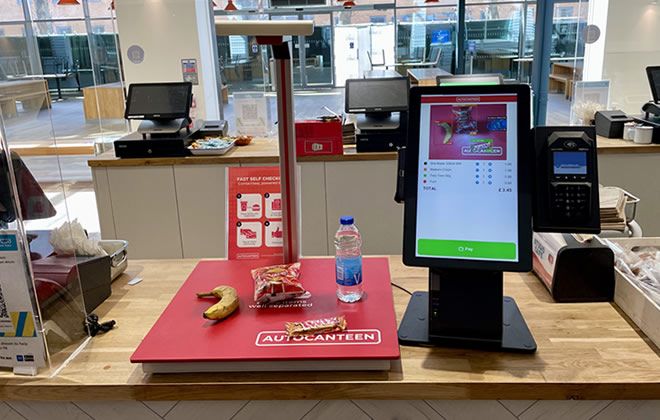 This is a story of business support, self-learning robots and the very definition of 'fast food', as the Growth Programme guided Autocanteen through its early start-up days to the launch of its AI-powered self-checkout for catering firms.
Offering a unique new solution, Autocanteen has launched an AI-powered self-checkout for catering firms, with no need for barcodes or complicated setup processes. Using a complete hardware and software solution, customers can pay for their meals, including plated-up food, without any human interaction, a further benefit during the current social distancing requirements.
Starting up during lockdown
Launched in May 2020 during the first lockdown, Autocanteen can demonstrate its value to leading catering firms as employees and students return to offices and universities. Its solution brings significant business benefits including reduced staffing costs, freeing up staff to focus on other tasks, reduced queues, increased revenue and less food waste.
Autocanteen first joined Buckinghamshire Business First (BBF) when Co-Founder Sergii Khomenko received a recommendation from a business associate. Sergii approached the Business Support Team, initially for advice on the rules and regulations post-Brexit, having been in contact with several interested firms from the continent. In recognition of Autocanteen's scale-up potential, an introduction to BBF's Growth Team followed.
"Help with navigating through the very early start-up days of a business is very much appreciated," said Sergii. "Engaging with BBF has helped provide a sounding board at this time. The support has proved invaluable with strategy advice and some business contacts. The Growth Programme helps guide you through the early days of setting up and scaling a business."
Helped by a range of Growth Programme support
The business is now working with the Growth Programme, which includes a full intellectual property review, something of value to this pioneering, innovative business. The programme also involves an introduction to accountants Harwood Hutton, for help with setting up the correct financial processes.
Autocanteen's team have set up a successful trial with a global catering firm. Using the technology, the trial has enabled the client to test the service and achieve quick impressive results, cashing up 8,000 items, or around £20,000, in just six weeks with one self-checkout point. The average transaction time per customer is just 10 seconds, while the accuracy of the self-checkout service is 94% and always improving with its self-learning robot.
Business reviews through the Growth Programme helped with strategising and approaching a wider segment of the market. Autocanteen is now in talks with several interested leading catering firms such as Aramark, BaxterStorey and others.
Checking out with AI
Autocanteen uses computer vision and deep learning algorithms for the identification of products, rather than relying on barcodes. The blazing-fast neural network, which doesn't have to be educated for days, will grasp and identify hot meals, drinks and snacks in a fraction of a second. All terminals act as one organism sharing learnt product knowledge in the cloud.
For additional information, visit www.autocanteen.com or watch this video.
Learn more about the Growth Programme
The Growth Programme includes a Growth Advice element, as utilised by Autocanteen.
Whether you are thinking of upscaling, pivoting or adapting, what will help is being agile and having the right mindset to understand your finances and work on certain aspects of your business. This also helps you to develop your people and bring them on the journey with you.
This free Growth Advice Programme allows you to access practical and high-impact 1:1 support tailored to your business needs.