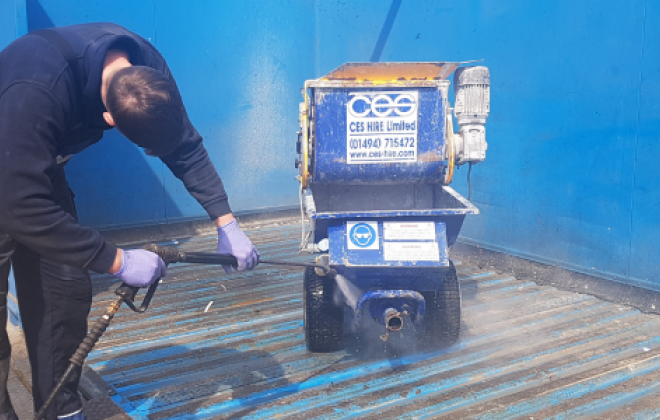 The local business is using 40% less water thanks to a new initiative, and has been on a mission to develop more eco-friendly processes.
CES Hire, a family-run machine-hire business based in High Wycombe, are on a mission to provide an outstanding experience for their customers whilst minimising waste.
When moving to new premises, they installed a new commercial wash bay which recycles water thanks to a £2,500 grant from Low Carbon Workspaces. Not only are they using 40% less water, the initiative has helped them change their business by giving staff a purpose beyond just profit.
Making a sustainable difference
Nick Rogers has always been keenly aware that water is a precious resource and when living on the Nigerian coast as a boy he saw first-hand that poor sanitation, contamination and shortages of water lead to disease and malnutrition. Now in his sixties and running CES Hire, Nick decided that the business moving to new premises was his chance to make a sustainable difference.
"Our move to larger premises was a big decision with much upheaval," says Nick, "but it's allowed us not only to expand our physical space, but also expand the way we think about our processes and how we can make them more eco-friendly.
"Our machines often come back covered in muck, so we need to jet wash them over and over again. This uses a huge amount of water which used to go straight down the drain. Such a waste!
"The grant from Low Carbon Workspaces allowed us to purchase and install a new wash bay. We now use over 40% less water, the soil and muck is captured and recycled appropriately and our machines still go out of the door sparkling!"
CES Hire on an eco-friendly mission
At weekly 'Toolbox Tuesday' meetings, staff discuss what more they can do: plastic cups have been replaced with long-life water bottles, and they've set up an online community with neighbouring businesses to minimise traffic into their business park. Discussions are shared externally with customers and via a blog on their website.
"We could have continued to manage our business in the same way we had previously, but that would have been wrong," says Nick. "Through our actions we can encourage more people to make changes. I'm in my early sixties but it's never too late to start to change the world."
About Low Carbon Workspaces
Low Carbon Workspaces offers grant funding to businesses to invest in their workplace, reduce their carbon footprint and open up opportunities to boost growth.
Visit www.lowcarbonworkspaces.co.uk for more information, or email info@lowcarbonworkspaces.co.uk.