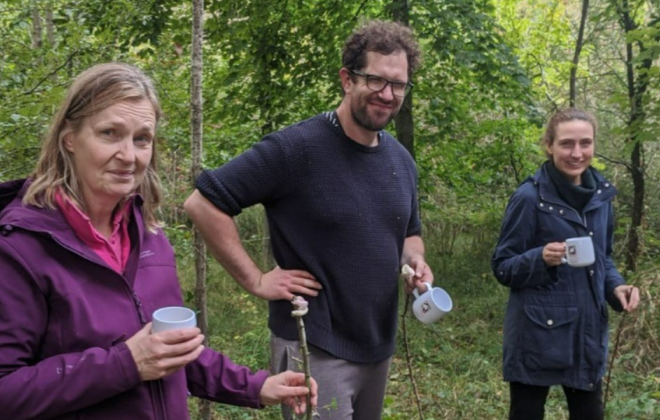 Read all about John Shaw's experience of Peer Networks and why the Chiltern Rangers Managing Director is a "massive champion" of the programme and says it's "a great addition to any leader's toolkit".
Chiltern Rangers is a Buckinghamshire-based social enterprise which enhances the Chiltern habitats through conservation, education and community engagement. The organisation does this with the help of volunteers – people of all ages, abilities and backgrounds - plus community organisations, charities, social enterprises, schools, colleges and corporate partners.
John Shaw, Managing Director of Chiltern Rangers, saw his involvement in the Peer Networks programme as an opportunity to expand his local sector-specific network during a challenging time, coming as it did during the first lockdown in 2020. "The programme I joined was very much targeted at local enterprises and charities, so it was tailored to my sector," John explains. "That was a big draw. I had attended Buckinghamshire Business First's training programmes in the past and that had always been a positive experience, so I decided to take this opportunity. I had some free time at that point because our world did slow down, especially during the first lockdown, and this felt like it would benefit the organisation."
One of the things that John was particularly drawn to was the peer learning that the programme offers. "That is the real benefit of it. You get good-quality minds together that see our business landscape through a very similar lens. As a group, we were able to talk through various pertinent challenges, including immediate threats we faced due to COVID, but also look to the future.
"We were able to get into the nitty-gritty of day-to-day operational issues we were facing and talk 'bigger picture', and that was the real value of the programme."
John has kept in touch with his Peer Networks group since the completion of the programme. "We have kept in touch and we're making an effort to keep it up. I hosted a team day where members of my Peer Networks group came along. We also have a WhatsApp group where we continue to share our thoughts."
Praise was also aimed in the direction of the Peer Networks facilitators, with John appreciating their combined knowledge being used to help participants navigate through specific topics they wanted to address. "Our facilitators were really good. They were both coming at it from different angles. One of them had social enterprise-specific experience, while the other had a broader understanding of the challenges facing the wider business landscape, and that was a great combination."
As a busy social entrepreneur, John believes that joining the Peer Networks programme was well worth the time investment. "I am a massive champion for this programme," says John. "It was effective, it was flexible and it was realistic. It had all the winning ingredients to be a success.
"The facilitators were great and the organisations that took part threw themselves into it. They tried their best to join in every session, which was remarkable, especially during a really uncertain time when things were changing very quickly, meaning people had to deal with different issues. People were still there, nevertheless. It may be a cliché, but you get out what you put in and that was definitely the case for this.
"The programme is a great addition to any leader's toolkit. I would recommend it to other business owners and senior managers."