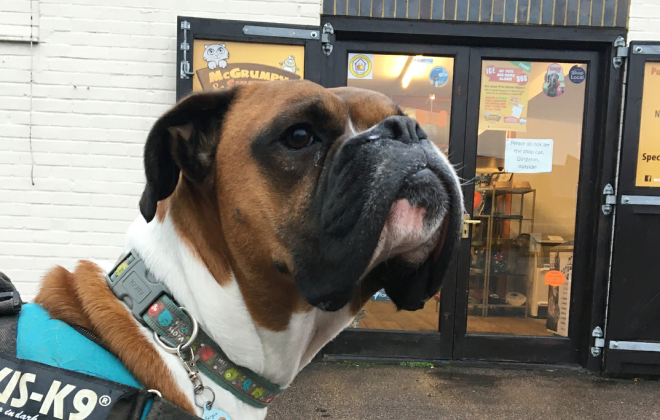 McGrumpy & Snuffles is a canine emporium specialising in natural dog food, treats and toys. Although the shop remained open during the pandemic as an essential service, footfall reduced drastically and customers could no longer enter the shop.
Discretionary sales fell and the popular in-store puppy socialisation classes had to be paused. Prior to lockdown, puppy owners would visit the shop on specific days for socialisation and advice, and the store could make the equivalent of half a day's sales in just one hour.
From start-up support to grant support
Katy Martin opened McGrumpy & Snuffles after a previous career as a vet. She took part in a leadership programme through Buckinghamshire Business First to help her during the start-up phase of the business.
During lockdown, Katy learned that McGrumpy & Snuffles was eligible for a Restart Grant and received funding to purchase a dog tag engraving machine. Clients had previously asked about puppy name tags, but the costs for a machine were out of reach for the business.
However, on investigating further, Katy felt that a tag machine may be a good way to bring customers back in-store once restrictions started to ease. The machine has been in place since January 2021 and word of mouth quickly spread via the early users of the service, generating referrals.
Sustainable long-term success
"Working with the team at Buckinghamshire Business First was a pleasure," said Katy. "We assumed the grants would not be designed for businesses like ours, but the team talked us through the application process and helped us iron out important issues. They really champion businesses of all shapes and sizes."
The McGrumpy & Snuffles team plan to run a "tag amnesty" campaign via social media and their website to encourage customers to check that their tags are legally compliant, and will offer a special price to replace the tag should it not be. They feel this new revenue stream will help to support their recovery and sustainable long-term success.
"With the rise in puppy ownership during lockdown, McGrumpy & Snuffles is well placed to provide a dog tag engraving service as the restrictions start to ease and owners are able to once again visit the store." - Buckinghamshire Business First representative
Plans for the future
The business plans to utilise the Kickstart Scheme in 2021 to create a job placement for a young person at risk of long-term unemployment, and Katy has already made use of the reading materials and resources available on the Buckinghamshire Business First website.