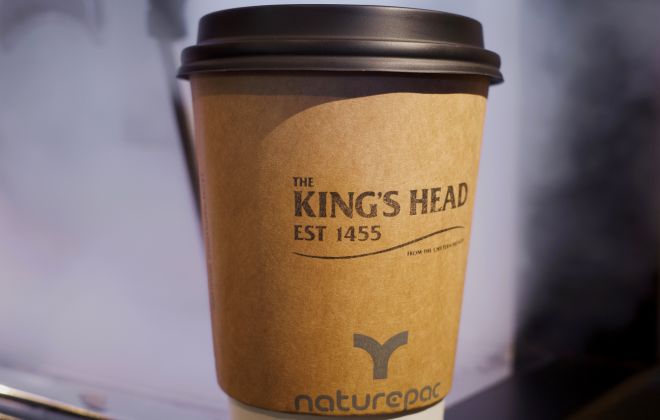 Nestled in the heart of Aylesbury town centre, The King's Head, owned by the National Trust, is a restored 15th-century coaching inn, now a foodhall, pub and event space. It also acts as the brewery tap for The Chiltern Brewery, run by the same family.
In January 2020, the company was taking the first in a series of exciting steps towards expansion of the site, but was then faced with the impact of the pandemic on the hospitality sector and town centre.
Providing a local touch during lockdown
Identifying an appetite from residents during lockdown to shop with local independent businesses, the King's Head continued with plans to open a foodhall in a former stable in the courtyard and began selling food made on site and drinks from local suppliers.
The team then identified a need for takeaway coffee for town centre residents and key workers, and quickly realised that their customers wanted more than simply filter coffee - it had to taste great and be served promptly. Sales grew, but by the autumn of 2020, they realised they were reaching capacity with their existing entry-level coffee machine.
Restart Grant key to new investment
George Jenkinson, Managing Director of The King's Head, heard about the Restart Grant via Buckinghamshire Business First. Thanks to a successful grant application, the business was able to invest in a new coffee machine and create a new income stream.
The new machine allowed The King's Head to more than double its capacity for takeaway coffee. In addition, by creating a destination location for coffee, incidental sales of items such as croissants and cakes have also increased.
"As soon as we heard about the Restart Grant, we knew we had the ideal opportunity for it," said George. "We knew there was demand and that investing in the commercial coffee machine would cement our retail offering and help us build towards our strategic expansion goals."
As part of The King's Head's expansion, additional plans for increased coffee sales are being drawn up for when the situation allows. Receiving the Restart Grant allowed the business to continue to expand and diversify, rather than having to put growth on hold, meaning it will be able to come out of the pandemic stronger and help bring further retail customers into Aylesbury town centre.
"The King's Head has diversified into a new revenue stream, and in doing so, has also introduced a new customer base to the location, meaning even more people can enjoy the historic and convenient setting in the heart of Aylesbury." - Buckinghamshire Business First representative