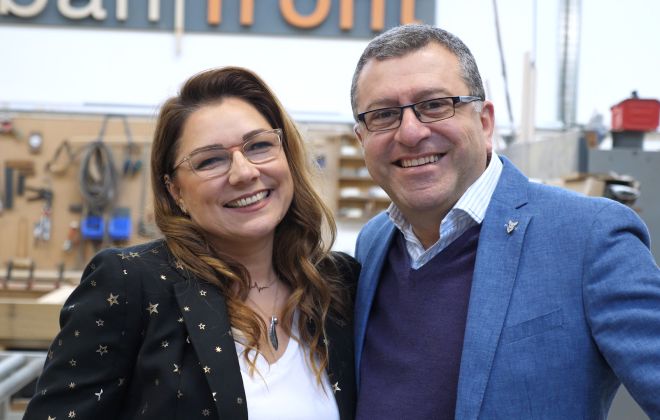 People buy with their eyes. And when you're buying a house, one of the first things you see is the front door. It sets an expectation about what lies behind. A beautiful door suggests a beautiful house.
For Urban Front, a Chesham-based business which designs contemporary hardwood and metallic doors for high-end clients, presentation is key. "Our customers really look for the 'Wow' factor," says Elizabeth Assaf, Co-Founder. "They want a unique door that doesn't look like anyone else's."
Sustainability at the heart of everything Urban Front does
Lovingly hand-crafted in their Buckinghamshire workshop, Urban Front doors are viewed as works of art, and their reputation has spread far and wide since the company launched in 2005. Today, its doors feature on many an award-winning house, including Caring Wood, winner of the RIBA House of the Year in 2017. Many of these properties typify not just a commitment to craft and aesthetics, but also to the highest aspirations in sustainability – an ethos at the heart of Urban Front's business practices.
"All of our timber is either FSC or PEFC-registered, meaning it is guaranteed to be sourced only from sustainably managed re-planted forest. We used to work with an African hardwood called Wenge, but when we realised it was endangered and didn't come from a replanted forest, we stopped selling it. Why sell a product that damages the environment?"
Low Carbon Workspaces enables carbon reduction
Urban Front is also committed to ongoing research and development into energy efficiency. They recently launched a door that meets Germany's Passivhaus standard, meaning it achieves one of the highest insulation ratings for door panels in Europe. Meanwhile, recycling helps to minimise their impact across the production process. All of their sawdust is used by a local farmer for fertilising his soil and laying tracks for horses. Off-cuts are used to make timber cladding, while employees have been known to craft shelving and tables from left-over material. In the future, they'd like to invest in a briquette machine converting sawdust into heat energy to warm the premises and cut out their gas usage.
So when the time came to renew the lighting in its product showroom and workshop, Elizabeth knew this was an opportunity to not only enhance presentation but also to reduce its carbon footprint. Aided by a £1,500 grant from Low Carbon Workspaces, they replaced their existing halogen and fluorescent lights with directional LED spotlights, saving 2 tonnes of CO2e per year.
The project, which cost £5,000, will pay back in 3.5 years. Although the new lights will reduce their electricity bills by an estimated £1,000 per year, money was not the primary motivation.
"The doors look so much more striking now. We have more lights, but less energy output. But the best thing is that it creates a nicer environment for our staff. There's no more squinting in the workshop. It was just the right thing to do."
Learn more about Low Carbon Workspaces
Do you have an energy-saving project in mind? Low Carbon Workspaces helps SMEs access expert advice, business support and grants in an effort to reduce their carbon footprint. For more information, visit the Low Carbon Workspaces website.