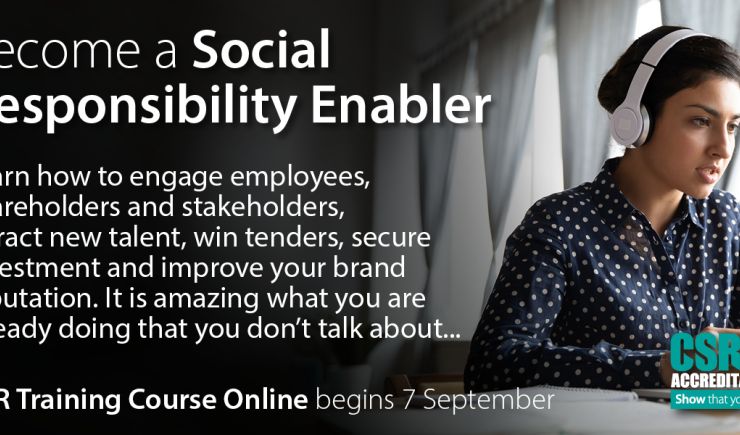 Become a Social Responsibility Enabler – CSR TrainingHold on to your seats the next CSR Training courses are available to book. Six one hour modules delivered over three weeks, two modules per session.
September: Tuesdays 7th, 14th and 21st 11am - 1pm or
if your prefer
Thursdays 9th 16th and 23rd 11am - 1pm.
Full Price £297.00, For Students / Charities £150.00This in no longer a nice to have, it is a must have. The future shape of business will be measured in both social and financial value.
Discover why Social Responsibility is vital to all organisations.Social Responsibility is dynamically emerging as a key factor across all aspects of business, providing purpose and impact and helping ensure sustainability and profitability. Develop an awareness of why Social Responsibility provides clear benefits to business and how best practice can be easily incorporated into day-to-day functionality. Support the business you work for and improve business functions such as:
Brand and business reputation
Attracting talent – becoming the employer of choice
Influence supply chains – ethical procurement
Building a team and improved staff engagement
Improved mental health and wellbeing
Winning tenders and attracting investment (ESG Ready)
increasing profits through sales and customer engagement
Show you return on social investment
The training course is for those who wish to develop their organisation's CSR policy including CEOs/MDs, executive teams, senior leadership, HR managers, CSR professionals and charities. The course is also suitable for anyone who wants to gain a better understanding of the importance of Social Responsibility in the workplace.
The CSR-A Course is Accredited by The Institute of Administrative Management (IAM) and endorsed by Buckinghamshire New University (BNU) and counts towards CPD.
Join the likes of Three, Stone Group, Samaritans, Embark Group, and Kennedys Law – Sessions are recorded, so if you miss a module we provide you a link to the recording.
---
Details
Date:
7 September, 2021 - 7 September, 2021
Time:
11:00am - 2:00pm
Full Price £297.00, For Students / Charities £150.0
Location:
97 Cock Lane, High Wycombe, HP13 7DZ
---
Book now
Tickets for this event are no longer available.