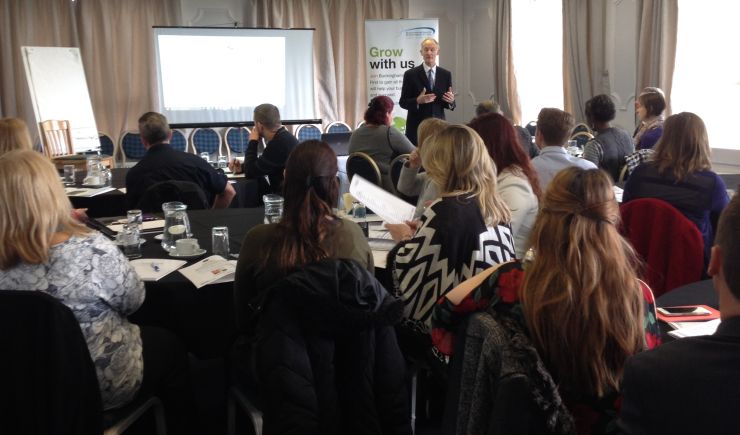 Find out how to use an integrated customer attraction system that does not require cold calling or an expensive promotional budget during this fast paced workshop.
Discover how to generate conversations with interested potential clients. Find out how to put the client at ease and make them want to buy. Speaker Nigel Temple uses this system himself and he receives, on average, a sales lead every working day of the year.

Nigel was trained to sell by Rank Xerox and he served as coach on the Solution Selling sales training system. He has helped over 3,000 enterprises to improve their sales and marketing results, over a 30 year period.

Nigel is the founder of The Marketing Compass, which is a community of several thousand business owners who want to learn more about sales and marketing. He is a knowledgeable and engaging trainer who always packs a great deal into his presentations.
---
Details
Date:
26 September, 2017 - 26 September, 2017
Time:
9:00am - 12:00pm
Registration at 8.30am
Location:
The Clare Charity Centre, Saunderton Estate, Wycombe Road, Saunderton, Buckinghamshire, HP14 4BF
Please note:
If using Sat Nav devices please use HP14 4HU
Tea, coffee and pastries provided.
---
Speakers

---
About the presenter
Nigel Temple BA (Hons) MCIM
Nigel is an independent marketing consultant, trainer and author who has helped over 3,000 enterprises to improve their marketing results. Nigel is the founder of The Marketing Compass, which provides impartial advice to thousands of business owners, and is an entertaining and knowledgeable speaker who always packs a great deal into his presentations.

"Nigel has developed a reputation as one of our leading speakers. His sessions are well known to be of the highest standard. Year on year, he gets some of our best scores." Geoff Reason, The Chartered Institute of Marketing (CIM), Thames Valley

"Nigel's knowledge, experience and charismatic presenting style put him in a class of his own. Along with many others, I have learnt a great deal from him." David Strelitz, DSVP
"One of the best seminars I have ever attended." Stephen Hill, Consulting Alternatives
Nigel is the author of 'A Guide to Using LinkedIn' and is the founder of social media networking website: www.marketingcompass.co.uk
---