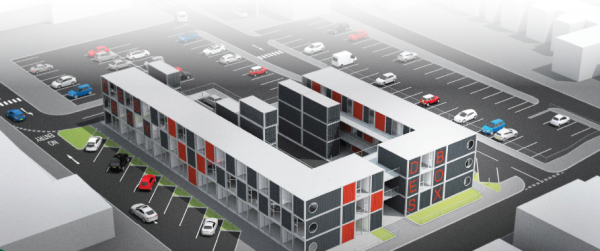 Reservations are being taken for the 52-unit development of converted shipping containers. See the place at an open morning on December 4th.
DesBox will open for business in February 2019 – with a 20% discount on the first 6 months of rent for those wanting a space if they sign up by February 1st.
The project will provide 52 studios across three floors, each covering 330 sq. ft., with a ground floor cafe, meeting space and storage units also included on site.
The units are available on an 'easy in, easy out' short term basis, offering start-up and micro businesses the opportunity to secure good quality workspace in a working community setting. The units are being converted from 135 recycled shipping containers.
See the space for yourself at an open morning event on December 4th, 8am-12noon. There's no need to book, simply drop in. The site is on Baker Street in High Wycombe, opposite the Aldi store.
For further information, contact Jack Kempster at Chandler Garvey on 01494 446612 or email jik@chandlergarvey.com.
Chandler Garvey has been appointed as the letting and managing agent for the DesBox development.