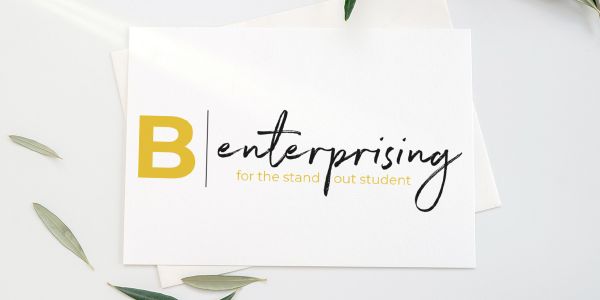 B-Enterprising is a new scheme funded and supported by the University of Buckingham. Take on a highly motivated student to bring fresh ideas and energy to a project, while also creating work experience that really benefits a young person.
By The University of Buckingham
We would like to introduce you to B-Enterprising - a new micro-internship scheme designed by the Careers and Employability service and supported by the Buckingham Enterprise and Innovation Unit at the University, which will be available to participate in from September 27th 2021.
Our aim is to provide you with access to highly motivated students who will fulfil your project needs, bring in fresh ideas and provide you with a new perspective to your project, all the while providing the student with meaningful work experience.
You will have full control in choosing your student, and the University will cover their hourly wage.
A micro-internship can help you to:
Resource projects you haven't had the time or staff to work on
Access a cost-effective, low-risk solution to your business needs
Have peace of mind when bringing in students for short-term projects
Promote your organisation and sector to future graduates
Gain access to a talent pool of soon-to-be-graduates
Continue reading for more information. You can also download the Employer Handbook or email Christina McNab at: b-enterprising@buckingham.ac.uk
Projects can be completed on-site or remotely depending on your requirements and can last between 30 and 45 hours per student. Projects will be undertaken on a part-time, flexible basis around the student's studies, and completed by an agreed date.
Examples of projects:
Improving your organisation's social media presence or a social media campaign
Reviewing and recommending sustainability practices
Market research and competitor analysis
Testing a new website, product, or service
Designing or recommending new systems to improve the efficiency of your organisation
Providing consultancy around merchandising and branding
The projects are:
Funded by the University (at the UK 'Real Living Wage' of £9.50 per hour) - all we ask is that projects expose students to entrepreneurial or intrapreneurial activity
Short, so are ideal for discrete projects or to resource a busy period
Flexible, so the time may be spread over several weeks to fit around your business needs and the student's University commitments, and could involve as many students as you like - either based at your business premises or working remotely
Varied, and we will work with you to ensure that the projects you wish to offer are suitable for funding by our scheme
Enterprising, giving you a chance to scale existing, or explore new, innovations and business development activity
Supported by the Enterprise Project Officer, who will be your point of contact throughout, from scoping your requirements, to sourcing the right students and being on hand during the micro-internships to ensure everything goes smoothly
Accessible to start-ups, growth companies, charities and SMEs in any location because students may complete projects for you remotely
Guaranteed to give your business access to a pool of young talent – and an opportunity for you to inspire a new generation of enterprising graduates!
Eligibility
To be eligible to participate in this scheme you will:
Be a start-up or growth company, charity or SME with fewer than 250 employees
Have Employer's Liability insurance in place
Have Public Liability insurance in place
Be able to provide our students with an entrepreneurial or intrapreneurial-focused project that they are able to see through to completion individually, or as part of a small group
Be able to provide students with any necessary equipment to successfully fulfil your project brief. Our students have access to laptops and computers; however, any other specific equipment will need to be provided for them.
Provide a point of contact for the student to liaise with during their time with you
Want to learn more about this opportunity?
For more information, download the Employer Handbook or email Christina McNab at: b-enterprising@buckingham.ac.uk
By The University of Buckingham