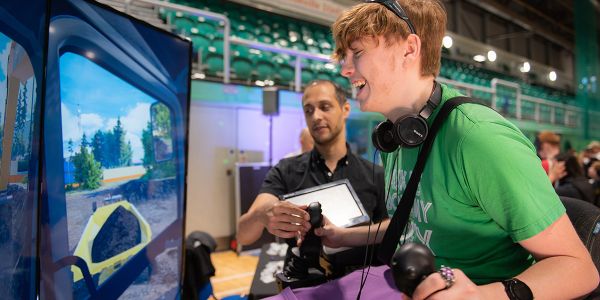 Buckinghamshire Skills Hub inspired over 300 students with special educational needs and disabilities (SEND) at its first SEND Skills Show, which enabled students to meet a broad range of employers, discover different industry sectors and be inspired!
The SEND Skills Show, which took place on June 20th at Stoke Mandeville Stadium, was also an opportunity for employers to inspire the next generation and potentially meet some of their next star talent.
Marina Jackson, from Buckinghamshire Skills Hub, said: "We were delighted to hold this Skills Show specifically for students with SEND, with more than 30 inspirational businesses exhibiting. This was the perfect opportunity for students to meet potential employers, learn more about what is out there career-wise, and gain ideas regarding their future."
Marina added: "It was really inspiring to see the excitement of all of those in attendance as they met businesses from a wide range of sectors, as well as education providers, gathering information about their potential next steps. Our goal is to help every individual find what is right for them, whether that's higher and further education, training, apprenticeships or employment."
The experiential careers event was aimed at students with SEND aged 11-19. Those attending engaged with organisations and next steps providers (universities, colleges and apprenticeship programmes) to learn more about:
what it is like to work in key industries
what skills and qualifications are needed to get their first job
what steps they should take between now and at the point of application
The sectors showcased at the event included:
creative industries
digital technology
high performance engineering and manufacturing
life sciences
health care and social care
hospitality, leisure and tourism
public sector
construction and civil engineering
Want to improve your workforce skills?
Learn what our Workforce Skills Team can do for you!
Our Workforce Skills Team is made up of highly experienced training and development professionals who are here to help Buckinghamshire businesses with all of their skills needs.
We provide expertise in apprenticeships, traineeships and work placements; training and development for your team; recruitment; diversity and inclusion; engagement with schools and colleges; and labour market intelligence (LMI) to help businesses plan for the future.
For information and support, email John Browning, Workforce Skills Manager, at John.Browning@bucksskillshub.org or call 01296 798774.
Want to connect with future talent?
Contact Buckinghamshire Skills Hub for more details on engaging and inspiring young people, including SEND students: SkillsHub@bbf.uk.com / 01494 927131.
See the various options for employing young people and discover ways to inspire them about their futures.
Visit the Buckinghamshire Skills Hub website for further support.