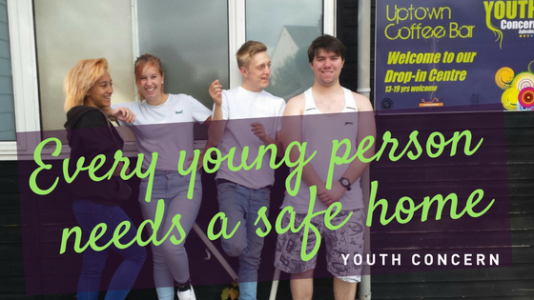 Support Youth Concern's campaign to prevent youth homelessness in Aylesbury Vale at a special event launching "The Next Step" project.
Youth Concern CEO Fran Borg-Wheeler writes to Buckinghamshire Business First members:
Please join Youth Concern and our guest speaker the Rt Hon David Lidington MP at our supporters event to find out more about "The Next Step" project and how you can get involved. It's on Friday 15th June from 6.30-7.30pm at Aylesbury Campus, Hardings restaurant, HP21 8PD.
"Youth Concern has made me feel safe, that I belong and that I'm never alone," said Molly, a young person facing a homelessness crisis.
At Youth Concern, we believe that every young person deserves a safe home. But unfortunately this is not the reality for many vulnerable young people in our community.
Over the past year, through Youth Concern's Nightstop scheme, we have seen 83 young people aged 16-25 who were facing a homelessness crisis. We've been able to help them in the short term by providing emergency accommodation and holistic support.
Youth homelessness on the rise
But we need to do more now as youth homelessness is on the rise, whilst suitable affordable accommodation is on the decline. This harsh reality means that there is often no next step for the young people who stay with us at Nightstop, and they remain homeless. This can rapidly lead to other problems such as losing their job or education placement, developing mental health and substance misuse problems, or becoming involved in crime (more often victim than perpetrator).
Our proposed solution is to initiate a community response to the growing issue of youth homelessness in our local area. We will do this by setting up a flagship youth accommodation and employment pathways project called "The Next Step." This project will provide young people with a safe home for up to a year, combined with the support they need to develop emotional and practical skills for independent living and employment.
Support needed from the business community
Youth Concern really needs the support of the business community to help us get this life changing project off the ground. We have exciting business sponsorship opportunities available to help us reach our £100,000 funding target, while we also have volunteer mentor vacancies. We will also be looking for two new trustees with experience of supported accommodation projects at a senior level.
Corporate support is crucial to the success of "The Next Step". We are delighted that a number of local businesses have already pledged their support to help us prevent youth homelessness locally by becoming corporate supporters. But we need more of you to help us end youth homelessness! We'd love to invite Buckinghamshire Business First members to join us on Friday 15th June to find out more about the project and how you can get involved.
Please RSVP to me by Monday 11th June at fran@youthconcern.org.uk. We very much look forward to seeing you there.
Since 1979 Youth Concern has been providing holistic support services for vulnerable and disadvantaged young people in Aylesbury Vale. We supported 565 young people over the past year through our Drop-in Centre, counselling department, and Nightstop scheme.