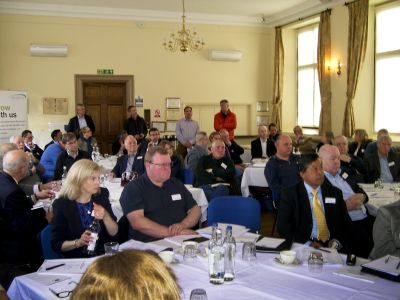 'Buckinghamshire Broadband – The Final 5%' brought together local businesses, politicians, councillors and policy advisors to discuss ways to ensure superfast broadband is delivered to all of Buckinghamshire.
Around 40 businesses joined representatives from Buckinghamshire Business First, the Connected Counties broadband project and Federation of Small Businesses (FSB) to listen to talks by Rt Hon Cheryl Gillan MP for Chesham and Amersham, Cllr Martin Tett, Leader of Buckinghamshire County Council, Michael Garvey, Joint Chair of the Connected Counties Broadband Delivery Board, Will Black, FSB Policy Advisor for Broadband and Infrastructure, and Giles Ellerton, Regional Partnership Director, BT Group.
As Alex Pratt, Chairman of Buckinghamshire Business First, stated at the outset, there were no easy answers to ensuring that those currently without superfast broadband were brought up to speed with those with it.
As such, engagement and collaboration were key themes returned to by the speakers to ensure that everyone stayed informed of the latest developments in the delivery of superfast broadband in the county.
The audience soon turned questioner and as expected, a lively discussion ensued, typifying the importance of the issue and the strength of feeling within the room.
It was brought to the room's attention that some people eligible for superfast broadband were actually under the impression that they were not eligible. This is one key way that the Connected Counties project helps; by keeping people up to date with the latest information. The postcode checker on the Connected Counties website is the place to go for anyone unsure of the status of superfast broadband is their area.
Challenges of delivering superfast broadband
Among the challenges identified during discussions were:
The need to enable digital 'on-the-move', via mobile devices for instance
Raising awareness of where superfast broadband is available and when cabinets are scheduled to go live
Connected Counties ensuring that its finite funds are used most effectively
The fact that in the coming decades the number of connected devices could reach one trillion, thereby creating huge demand for capable infrastructure
Delivering fast enough speeds once availability has been secured
Upload and download speeds affecting businesses day-to-day
Small service providers entering the market to deliver superfast broadband in areas that were not served by BT.
Solutions to delivering superfast broadband
Among the possible solutions and steps forward identified during discussions were:
FSB's efforts to ensure the government recognises the needs of small businesses, setting out recommendations including the Universal Service Obligation which will make it a legal requirement for people to receive a certain level of broadband speed at an affordable price.
BT's Community Fibre Partnerships website, which provides information on the ways that BT can work with those in need of superfast broadband, including crowdfunding a community partnership to deliver a service to those in need.
Pilot schemes, including a £10m market testing scheme to bring superfast broadband to rural areas
The next steps…
Engagement is important. Anyone who is suffering from a lack of superfast broadband should get in touch with the Connected Counties team. You can do this online, via email at info@connectedcounties.org, or by phone on 01494 568953.
As mentioned by Cheryl Gillan, you can also talk to your local MP, who can take up your cause and attempt to get it heard by the right people.