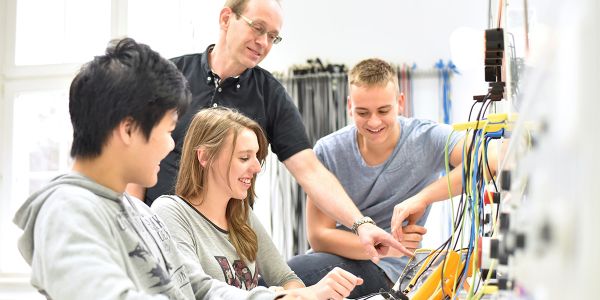 Providing work experience placements is not only good for business, it will also help a generation of young people who experienced a fundamental gap in their learning and career development during the pandemic.
Think back to your first time at work. Was it a positive or negative experience? Did you learn a lot either way? Were the people you worked with supportive or were you left to fend for yourself?
Right now, young people across Buckinghamshire are looking to take their first (or very early) step into the workplace and it's important that this leaves them with a positive impression of work.
Employers have a great responsibility when it comes to inspiring, training and employing young people, playing their part in moulding them into skilled and passionate individuals. This can also be a very rewarding experience for employers, one where the fruits of their labour benefit young people, their own business, and the wider community.
This is where work experience comes in
We are asking employers to let us know if they can offer work experience - and we are letting employers know that via the Buckinghamshire Skills Hub website, we will broadcast their work experience offer to thousands of young people in Buckinghamshire!
The basic concept of work experience is well known, but the fact that there are so many variations to it that will suit the employer as much as it suits the individual may be less well known. For example, you may ask:
Does work experience have to be done at a physical workplace?
No – it can be carried out online/via homeworking, on location/at an office, or a hybrid of the two.
Are there different types of work experience?
Yes – the work experience you offer a young person could be a one-day taster session, a weekend or week-long placement, work experience that spans the school holidays… There are lots of options!
This is important, because...
The need is greater than ever
The COVID-19 pandemic has affected people in different ways. Young people faced school closures and exam cancellations, creating the potential for a generation of young people with a fundamental gap in their learning and career development.
The effect for those leaving school or college at the time, some hoping to take their first steps into the workplace in what they would have hoped would be an exciting and rewarding summer of 2020, has also created the potential for stunted career and skills development for these students.
The type of skills young people can typically develop through work experience opportunities are related to communication, time management and planning, as well as the specifics of the role, business and sector they gain experience in.
What does a business get out of it?
Offering a work experience opportunity to a young person is highly beneficial for businesses for a variety of reasons. It:
Allows employers an insight into the type of skills young people offer.
Provides access to the next generation of talent in the local area.
Increases diversity in the workforce.
Increases brand visibility in the community.
Brings a fresh perspective into the business.
Helps existing members of the team develop their own management skills.
Helps with workload or a specific busy project.
Let's get you started!
Fill in this quick form about the type of work experience that you would be interested in offering.
This will help our team understand what you can offer, and they will then take you through the next steps.
We will then connect you via the Buckinghamshire Skills Hub website to a platform that will broadcast your work experience offer to thousands of young people in Buckinghamshire!
IMPORTANT: We can also help you with the planning of any work experience you offer. Simply tick the relevant box on the form when you see this question.
We expect you'll still have some questions about offering work experience, so the best thing to do is to fill in the form and our team will be able to get in touch with you to discuss it further.