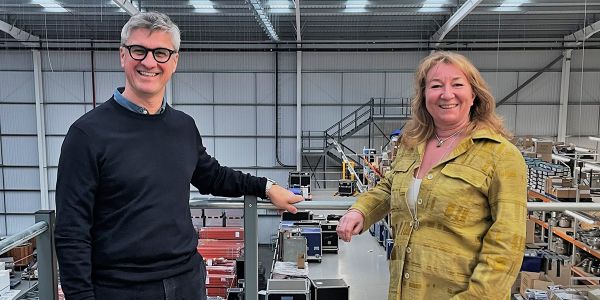 Read the latest news from local businesses and charities, including JUNE Medical, PragmatiQ Solutions, Global Infusion Group, Buckinghamshire Mind and Community Impact Bucks.
A win for Masons Minibus & Coach Hire
Masons Minibus & Coach Hire was successful at the British Coach Tourism Awards, winning Coach Tour Operator – Small Fleet (1 – 5 coaches).
PragmatiQ's growth rewarded
PragmatiQ Solutions, a Microsoft Gold Partner, was named as a finalist at the Northamptonshire Business Awards 2021, in the 'High Growth Business of the Year' category.
JUNE Medical unveils the Galaxy II™ Slider surgical retractor
JUNE Medical, an award-winning medical device distributor renowned for its game-changing self-retaining retractors, is launching the Galaxy II Slider – the most versatile retractor yet. The Galaxy II Slider is the world's first adjustable self-retaining retractor to feature a sliding mechanism that allows surgeons to adjust the size to fit the width of the wound in situ.
Hillier Hopkins' top accountant
Hillier Hopkins' Elizabeth Wicks has been named one of the UK's top 35 accountants under the age of 35 by the prestigious industry newspaper Accountancy Age.
She joins Accountancy Age magazine's 35 under 35, recognised for rapid career development, her role in advising schools, and for developing a network that empowers women from all walks of business life. Accountancy Age call her one of Hillier Hopkin's "rising stars".
Thame business named Business Copywriter of the Year, South-East 2021
A Thame-based copywriter has been named Business Copywriter of the Year South-East in the 2021 Southern Enterprise Awards. Helen Johns is the owner of Results Department, a copywriting consultancy specialising in copywriting services for businesses and is delighted that her business has been chosen as the award winner for the South-East 2021.
Helen said, "It has been tough for many businesses over the past 18 months, including some of my clients, who have had to pivot their businesses in order to survive. I have been fortunate to have retained these valued clients, who have not only survived but are thriving. Communication is an essential element in any business, and I am proud to have played a part in assisting businesses to communicate what they do effectively so that their message to their clients is maximised".
Tims Dairy launch two yoghurts into Sainsbury's
Sainsbury's is now stocking two of Tims Dairy's big pot Greek-style bio-live yoghurts.
Based in the Chiltern Hills, Buckinghamshire, Tims Dairy started out as a family business in 1949. They pride themselves on their Greek heritage and being British made, using only fresh British milk from West Country family farms.
Wisetek continues expansion with opening of new UK facility
Wisetek, a global leader in advanced IT asset disposition (ITAD), data destruction, technology reuse, and manufacturing services, has opened a new facility in Milton Keynes, its first UK facility.
Seymour Taylor announce new Joint Managing Director positions
Seymour Taylor, one of High Wycombe's leading accountancy firms, is delighted to announce the recent promotion of two of their existing Directors, Liz Horton and Joanne Kingsnorth, to the role of Joint Managing Director.
B P Collins' clients offer exceptional praise for its lawyers in Chambers UK 2022
Chambers UK, one of the UK's leading legal directories, has announced its results for 2022. B P Collins LLP is delighted to learn that it has retained strong rankings for both its practices and individual lawyers. And for the first time, all of B P Collins' practices eligible for recognition are in the top two rankings.
Blaser Mills Law opening new office in the heart of Marlow
Blaser Mills Law is expanding its local and national operation into Marlow, with a strong focus on continuing to bring its wide range of expertise and experience to the local community.
The 150-strong firm has established local roots in Marlow over many years, both in terms of advising clients and in the fact that many of its team, including CEO Dave Matthews, are residents of the town; reinforcing these strong local connections was the logical next step.
The office will be based in Liston Exchange, in the gardens behind Liston Court, just off the High Street in central Marlow, and will be headed up by Partner Jonathan Gallop, a Marlow resident and Head of the Wills, Trusts and Probate team.
High Wycombe law firm shortlisted for Credit Strategy Awards
Blaser Mills Law made the shortlist for a prestigious industry award. The firm's Commercial Recoveries & Insolvency team was named a finalist in the 'Law Firm of the Year' category at the Credit Strategy Awards, the flagship awards for the credit and financial services industry.
Sanzen Digital Marketing recommended in 3 best marketing agencies in High Wycombe
High Wycombe digital marketing agency Sanzen Digital Marketing has been voted in the top 3 marketing agencies in High Wycombe via the Best Rated website.
The judging process involves checking business's reviews, reputation, history, complaints, ratings, satisfaction, proximity, trust, cost and general excellence, using a 50-Point Inspection. They display only businesses that are verified by their employees.
Sanzen's owner, Umbreen Lenoire says '' Providing superior customer service has always been our main aim. And so a huge thank you to Best Rated for their acknowledgement, and to our clients, partners and networking groups for all of their support''.
Bucks-based business turn 10!
Local business Athena Stonecare is starting 2022 with a celebration as they mark their 10th birthday.
Founded in 2012 by Chalfont St Giles-born-and-raised Dave Cranfield, the company is now headquartered in High Wycombe. Dave started the business after working in the carpet cleaning industry where he spotted that there was a gap in the market for natural stone and tile cleaning.
Athena Stonecare is now the only Bucks-based business that is dedicated to natural stone restoration and maintenance.
In 2021, the company became accredited by the Stone Federation of Great Britain - a mark of the quality of service that the company provides.
New leadership team for Global Infusion Group
Buckinghamshire-based event and brand logistics specialist Global Infusion Group has announced a change in its leadership. Bonnie May, previously GIG's global operations director, takes on the role of CEO and Richard Duff joins the company as managing director as the business emerges from the pandemic.
Whilst continuing to lead the day-to-day operations of GIG and maintaining her hands-on approach with clients, in her new role as CEO, Bonnie will shape the group's strategy and vision. Rich, as managing director will be responsible for its implementation and lead all business functions including sales, finance and human resources.
Epoq IT appoints industry heavyweight Adrian Barnard
In an ambitious statement of intent, Buckinghamshire-based Epoq IT Ltd appoints Adrian Barnard as their Executive Chair.
Bringing a wealth of success, knowledge and experience in the UK ICT industry, Barnard's appointment follows hot on the heels of Epoq IT's Management Buyout (MBO) in early 2021 and is another significant milestone for the company.
Dame Judi Dench joins Calibre Audio as Patron
Calibre Audio have announced Dame Judi Dench as their new Patron. Calibre Audio is the only national charity in the UK to provide a completely free for life audiobook service to anyone who has a disability that makes reading print difficult.
In 2012, Dame Judi was diagnosed with age-related macular degeneration (AMD), a common condition that affects the middle part of your vision in later life. Age-related macular degeneration is the biggest cause of sight loss in the UK, affecting more than 600,000 people. Dame Judi is hoping that by supporting Calibre she will be able to bring the world of reading to as many people as possible who cannot access printed books.
WheelPower's seasonal shopping evening raises over £2,000
On November 25th, local charity WheelPower hosted their annual Seasonal Shopping Evening at the Birthplace of the Paralympic Movement, Stoke Mandeville Stadium.
The annual shopping event has been supported by the Buckinghamshire community over many years and in 2021, WheelPower was delighted to welcome back local people to their Stoke Mandeville home to begin the festive season in style. There were over 20 stallholders present on the day selling a variety of unique Christmas gifts, alongside the very popular WheelPower cake stall and tombola.
"We are thrilled to say that this year's event raised over £2,000 for WheelPower. As the national charity for wheelchair sport we help disabled people to lead healthier and more active lives through our online resources, spinal unit programme and in person events and as we look ahead to 2022 we can assure you that every penny raised from our events will make a real difference to so many, both in Buckinghamshire and beyond." - Jo Hall, Events & Fundraising, WheelPower
Can you pledge to protect mental health in the workplace?
Buckinghamshire Mind are encouraging employers to support Champion the Change, a mental health anti-stigma campaign, by signing an Employer's Pledge that will help local businesses to take action and develop a positive mental health culture in the workplace.
All Buckinghamshire-based businesses are invited to take positive action to help end mental health stigma and discrimination by signing the Employer's Pledge and committing to agreed actions unique to their business. The Employer's Pledge is a free form of support for businesses enabling them to raise awareness of mental health, by providing guidance for line managers and providing staff with information on where and how to get support for their mental health.
One in six British workers are affected by mental health problems each year and mental health illness is the leading cause of sickness absence. Culturally, we understand that prevention is better than a cure and that mental health illness left unsupported can delay recovery.
All businesses who sign up to the pledge will receive access to free resources and support to help address and reduce mental ill health caused or worsened by work. They will also be provided with tools and information to help support individuals with their mental health in order to thrive at work. Once each business has signed the pledge, they can have their logo displayed on Buckinghamshire Mind's website to show the community they have committed to help end mental health stigma.
For more information, please visit the Buckinghamshire Mind website.
Direct the money you normally spend on Christmas cards to a good cause this year
If you wish to make a charitable donation in lieu of Christmas cards this year, doing so through Heart of Bucks will guarantee you support those most in need in our county.
All donations to Heart of Bucks will go into its Community Investor Fund, which simplifies charitable giving for businesses and enables them to direct much-needed funding to a wide range of local not-for-profit organisations.
If you would like to make a donation online, please click here. Heart of Bucks also accept donations by cheque or BACS - please email giving@heartofbucks.org for more information.
New support for voluntary & community organisations in Buckinghamshire
Do you know of a charity or voluntary group which needs help to thrive and grow? A new service offering support, guidance and training to charities, voluntary and community groups and social enterprises (not-for-profit groups) is now available.
Delivered by local charity Community Impact Bucks and funded by Buckinghamshire Council, the VCSE (Voluntary, Community and Social Enterprise) Support Service provides free help with all aspects of running a charity or voluntary group including starting up, leadership, funding, and volunteer recruitment and management, with priority given to those with income of less than £100,000. Tailored support ensures each organisation can get the help that it needs.
To get help for your organisation or, if you know of an organisation that would benefit from this support, fill in the short request form and a member of the Community Impact Bucks team will be in touch.
Sir David Jason supports Heart of Bucks campaign to fight fuel poverty
According to the latest data, over 14,000 households in Buckinghamshire are living in fuel poverty. However, with the current energy crisis, there will be a devastating impact on many more local families this winter.
The Heart of Bucks Winter Warmth campaign is being supported by Buckinghamshire resident Sir David Jason and helps vulnerable people across Buckinghamshire who struggle to keep warm in the cold months. In addition to granting money towards heating bills, donated funds could also be spent on warm winter clothing, supplies for homeless people such as sleeping bags, and items many people take for granted, such as a hot water bottle or a kettle.
Any donation, however small, can have a big impact on a struggling person or family this winter. The campaign also encourages those who receive the Winter Fuel Payment from the government, but are able to comfortably pay their bills, to think about donating it to help vulnerable people.
Sir David Jason said: "I am supporting the Winter Warmth campaign this year as I know it has been a particularly difficult year for those people who are feeling vulnerable and financially worried. Although many people qualify for the Winter Fuel Payment, not everyone needs it in the true sense of the word. Let's try and direct the payments to those less fortunate or for those who have suddenly found that their circumstances have changed. Let's spread a little warmth where we can."
If you are able to help, you can donate your winter fuel payment, or whatever you can afford, online at: www.totalgiving.co.uk/appeal/winterwarmth
You can also donate by sending a cheque made payable to 'Heart of Bucks' to: Heart of Bucks Winter Warmth, New Road, Weston Turville, Aylesbury, Bucks, HP22 5QT.
Shocking new figures show Buckinghamshire plunging into poverty this Christmas
Citizens Advice Bucks is pleading for help to tackle winter poverty for Buckinghamshire residents this year with the launch of the charity's Winter Christmas Poverty Appeal.
The charity has teamed up with the National Emergencies Trust, hoping to attract funding through a CrowdFunder page in an appeal where the National Emergencies Trust will match donations up to £250. The money raised will help the charity to continue to deliver help to people in Bucks who are in need.
The charity's Head of Development and Communications, Anna Day, explains how and why she set up the campaign: "Citizens Advice has always been there to help everyone, and has helped me get back up on my feet more then a few times before I came to work here. I wanted to do this campaign so we can help the thousands of people who have crept more and more into debt over the course of the year to bounce back, just like they helped me".
Citizens Advice Bucks also asks whether there are people who receive the Winter Fuel Payment who may not need it, saying: "If this is you, why not donate it to Citizens Advice Bucks Winter Poverty Christmas appeal? Our help prevents hardship and homelessness. The great news is that the National Emergencies Trust is matching every individual donation up to £250 – so the money that you give goes even further - but only until Christmas, so please act now."
The charity depends on donations and grants from local charity funders, as well as a local council grant for its work to continue. It is keen to dispel the myth that Citizens Advice is a public service. "Many think we are part of the council, but we are a charity like any other, dependent on the kind support of the public to keep going," says Anna. "It has never been more important than now to get local supporters involved with our work. Every donation, big or small would be a huge help!"
People can donate and have their donation matched, pound-for-pound between now and December 25th, and can visit www.crowdfunder.co.uk/cabucks to make a donation.