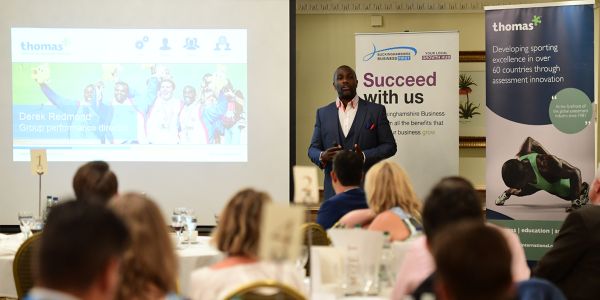 From insightful conversations and great connections to inspiring speakers and locations, it will be an evening you won't regret.
Our Business Leaders' Dinners are one of our most popular series of events, and it's not hard to work out why when you look at the facts:
They are all at amazing locations like Dorney Lake and Stoke Park
They are attended by passionate, engaging and ambitious business leaders who want to work with and learn from their fellow guests
They feature fantastic guest speakers who provide great learning opportunities for those in attendance
The three-course meals are to die for!
Don't just take our word for it…
Angela Spang was so impressed with what she experienced at one of our last Business Leaders' Dinners that she recorded a video message explaining all. Watch the typically effusive and insightful Angela discuss the honest conversations she was able to have as part of the high level networking she experienced.
What have other businesses got out of the Business Leaders' Dinners?
How about:
'I'm sold – when's the next event?'
The next Business Leaders' Dinner takes place at Missenden Abbey on Wednesday 5th December,
Guest speaker will be Guy Clapperton, an experienced media trainer and journalist who has 30 years' experience freelancing for the Guardian, Times, New Statesman and others.
Guy will be speaking about getting the most out of media engagements and will share his experience on how best to respond to a journalist or blogger's questions to make sure your business makes the best of the opportunity.
Take a look at a previous Business Leaders' Dinner
If that wasn't enough to convince you, see what fun everyone had at the Business Leaders' Dinner in June at The Compleat Angler in Marlow.