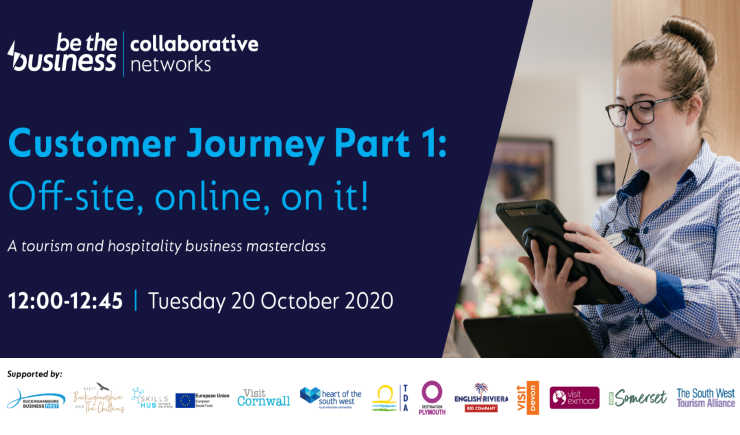 Join tourism and hospitality business leaders in a series of online tourism and hospitality masterclasses brought to you through a partnership of Visit Buckinghamshire, Be The Business and Buckinghamshire Business First.
In the third of a new series of eight weekly 45-minute masterclasses designed to help hospitality and tourism firms take control again, our third session is designed to help you improve your digital presence, learn about the power of online reviews and identify where the customer journey begins.
What will be covered?
Hosted by industry experts and featuring the stories of hospitality and tourism businesses just like yours, our online masterclasses are a great way to kick-start the important rebuild effort your business faces.
Use an hour over lunch to see how the way you lead your business needs to change in light of evolving consumer behaviours and a new way of operating.
The pre-arrival customer experience
The importance of your online presence
Embracing digital marketing
Giving your brand a voice
Pivoting to include online offer
What will you learn?
Where your customer's experience actually starts
What platforms give you a digital presence
When to engage with a potential customer
Why responding to reviews influences the buying decision of future customers
How one business moved online during lockdown
Who should attend?
Buckinghamshire's tourism and hospitality business owners, leaders, managing directors, general manangers and senior managers motivated to improve business performance and rebuild their businesses and our local economies.
To book your place
To book your place on this event please scroll down to the bottom of this page.
This event is being delivered by Buckinghamshire Business First in partnership with Be The Business, We will be sharing your details with Be The Business in accordance with our Terms and Conditions
What is the Masterclass Series?
A series of 8 online masterclasses that will discuss the big business strategies that can be applied as small business tactics. Sessions will support you in continuing your business recovery and feature the stories of business leaders like you.
The Tourism & Hospitality programme has been developed in partnership by Visit Buckinghamshire, Buckinghamshire Business First and Be the Business as part of its Collaborative Networks for Tourism and Hospitality activity.
---
Details
Date:
20 October, 2020 - 20 October, 2020
Time:
12:00pm - 12:45pm
Logging on from 11.50am
---
Speakers
Alexander Rushton, Hospitality Programme Lead, Be the Business
Alex Rushton leads the Be the Business Collaborative Networks for Hospitality & Tourism programme. Alex spent his early career in project management before moving into the events industry where he designed and delivered a wide range of training and conference events before moving to direct large-scale international congresses and trade shows. He is now working nationwide to support the tourism and hospitality sectors as part of the Be the Business national movement.
Jon Yantin, Stake Concepts
Jon is a senior hospitality professional with over 25 years' experience across hotels, restaurants, bars, clubs and casinos. Having worked in corporate, entrepreneurial and NASDAQ listed organisations, Jon brings a wealth of sector experience, specialising in business planning, fundraising, site selection, conceptualisation, licensing, operations, development and launch alongside strong commercial acumen and in-depth operational understanding.
Today Jon operates Stake Concepts, a boutique advisory firm and is currently advising a range of hotel developers and operators across the UK and Europe.
---
Book now
Tickets for this event are no longer available.