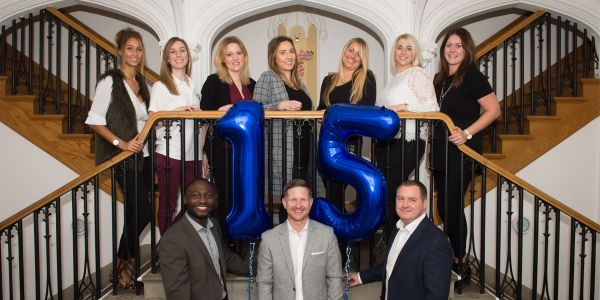 Featuring Beaconsfield High School, Chinnor & PR Railway, CBUK, CoCredo, Bucks Mind, B P Collins, BNU, and the Bucks Skills Hub.
News featured in this article:
CoCredo celebrates 15 years in business
Government Chief Scientific Adviser visits Bucks to inspire and be inspired
Bucks New University students in absorbing work with High Wycombe company
B P Collins workshop on sexual harassment in the workplace
Partner with Beaconsfield High School
Support Child Bereavement UK's #OneMoreMinute campaign
Buckinghamshire Mind calls for volunteers in North Bucks
Green Dragon crowdfunding its new British & European Wildlife Reserve
Chinnor & Princes Risborough puts on ultimate experience
CoCredo celebrates 15 years in business
November 2017 marks the 15th anniversary for local company CoCredo, one of the country's leading specialists in providing online company credit reports and related business information within the UK and overseas. From its small beginnings back in 2002, CoCredo is now a market-leading company located in Great Missenden, with offices based within the beautiful Missenden Abbey.
Over the years CoCredo are proud to have gained many accolades, including CICM Credit Provider of the Year, Company of the Year, Excellence in Customer Service, and Small Business of the Year at the Buckinghamshire Business Awards, and were finalists in the recent Credit Excellence Awards in the Risk Category.
"CoCredo's achievements are attributed to the outstanding team that work here," said Dan Hancocks, Managing Director of CoCredo. "Our reputation and high retention rates are down to the trust that we have gained from our clients. We are proud to have built up a business that our customers have remained loyal to and we'd like to say a big thank you to them for their support."
In celebration of their 15 years in business CoCredo have unveiled a new logo which will be used throughout the year and will be undertaking some charity work in the local area to mark the occasion.
Government Chief Scientific Adviser visits Bucks to inspire and be inspired
Interim Government Chief Scientific Adviser (and Chief Scientific Adviser to the Department of Health), Professor Chris Whitty visited the high performing Highcrest Academy, High Wycombe on 17th November, as part of Buckinghamshire Skills Hub's employer engagement work.
The dual purpose of the visit included an opportunity for Professor Whitty and his team to talk to year 10 students about the wide range of exciting careers that exist in the civil service and the civil service Diversity Internship Programmes, and also for the Buckinghamshire Thames Valley Local Enterprise Partnership's Skills Hub and the Careers and Enterprise Company to give an overview of their pioneering employer engagement work and the Enterprise Adviser Network programme, all of which is helping to prepare young people for the world of work.
Jackie Campbell, Skills Development Manager at Buckinghamshire Skills Hub, said: "The students were clearly engaged, which was reflected in their interesting questions! It's always inspiring to see young people engaging positively with the world of work – whether it be their curiosity, their emerging professional skills or their willingness to take advantage of the serendipitous opportunities which might arise as a result."
The Buckinghamshire Skills Hub is highly instrumental in helping local businesses reach students and help prepare them for the fast-changing world of work. For further information, please go to: www.oppsinbucks.org.
Bucks New University students in absorbing work with High Wycombe company
Buckinghamshire New University students are working with High Wycombe-based acoustic panels and systems manufacturer Soundsorba Ltd on designs for sound-absorbing walls and ceilings. Students studying BA (Hons) Textiles and Surface Design and BSc/BA (Hons) Product Design have researched the best materials for acoustics and come up with prototypes. The company is now looking into producing the ideas.
Managing Director Munir Hussain chose the best designs from the three-month-long project, with winning students set to undertake internships at the company in Desborough Street, High Wycombe, next summer. He said: "The quality of work has been excellent and of a very high standard. I have been very impressed with the students and I will look to see whether the designs could be manufactured and become a reality."
B P Collins workshop on sexual harassment in the workplace
With the latest furore over sexual harassment, there have been calls for employment laws to be reviewed again, which may be difficult for employers to keep on top of. For example, will the time it takes to report sexual harassment cases be extended beyond three months – leading to more historical claims? Will third party harassment claims make a comeback? B P Collins can ensure that your policies and training are current, comprehensible and abide with the law.
If you like to learn more about combating sexual harassment in the workplace, Hannah King, employment lawyer at B P Collins, is holding a workshop on the subject on Tuesday 5th December 2017, 8:00am – 10:00am. The workshop tales place at B P Collins' office on Station Road in Gerrards Cross. The cost is £50. To sign up for this workshop, please email steve.perry@bpcollins.co.uk or call 01753 279006.
Partner with Beaconsfield High School
Tick off your marketing and Corporate Social Responsibility goals in one fell swoop by sponsoring one of Beaconsfield High School's upcoming events.
The school's upcoming events include:
Festive Fair & Fun Day 2nd December 2017
Sports Dinner 8th December 2017
Burns Night Celebration 27th January 2018
You could also host an event, contribute to raffles, take part in auctions, and advertise in event programmes. View the sponsorship opportunities flyer for more information >
Contact Amy Thompson to get involved and support the school: email thomps-a@beaconsfieldhigh.bucks.sch.uk or call 07826 902387.
Support Child Bereavement UK's #OneMoreMinute campaign
Child Bereavement UK is raising awareness of its new campaign, #OneMoreMinute. The campaign raises awareness of the issues faced by the bereaved, and aims to raise money to support children, young people and families rebuild their lives following the devastation of child bereavement.
Watch the videos created for the campaign, and find out more information, on the Child Bereavement UK website >
Buckinghamshire Mind calls for volunteers in North Bucks
Buckinghamshire Mind, the mental health charity, is recruiting volunteers in North Bucks for its Befriending Service, which provides one-to-one support for adults who are lonely or isolated as a result of mental ill-health.
"We urgently need people in North Bucks, particularly Aylesbury, Buckingham and Winslow, to become volunteer befrienders to help people in their local area," said Zoe Sole, Befriending Coordinator, Buckinghamshire Mind. "Bucks Mind provide full training, ongoing support, expenses and time credits for our volunteers. We work positively by introducing people to each other on a friendly, informal and supportive basis. The aim is to promote confidence, independence and address the isolation people with a mental health problems often experience.
Buckinghamshire Mind's Befriending Coordinators recruit and train volunteers who then form 'partnerships' with people from the local community living with a mental health condition. Partnerships are facilitated by Bucks Mind support workers with volunteers and service users meeting once a week for an hour to two-hours for six months (short term) or one year (long term). They can be based around a specific activity, learning a particular skill or simply a cup of tea and a chat in a local coffee shop.
"My experiences as a volunteer befriender have made me realise how mental ill-health can so easily lead to isolation and loneliness and to recognise that a person does not need to be living alone to be lonely," said a Volunteer Befriender. "There most definitely is a 'feel good factor' about befriending, where you can see first-hand how the small amount of time you give, can impact the quality of life of another person."
If you are interested in becoming a volunteer befriender, please contact Zoe Sole on 07507 021911 or email zoe.sole@bucksmind.org.uk. To find out more, please visit: www.bucksmind.org.uk/services/befriending.
Green Dragon crowdfunding its new British & European Wildlife Reserve
Green Dragon Eco Farm is opening a British & European Wildlife Reserve on their tarm, to open July 2018. The goal is to promote the conservation of some amazing wildlife as they extend their outdoor learning offering; the target is to reach 250,000 children by 2023. They'll be developing their children's programme and partnering with more schools and charities to give young people outdoor, hands-on experiences they may not otherwise have.
They are running a crowdfunding campaign until the end of December 2017, and there are some fantastic rewards for those who pledge, including vouchers, experience days and animal interactions. There are corporate pledge packages too.
Find out more on Green Dragon's CrowdFunder page here >
Chinnor & Princes Risborough Railway puts on ultimate experience
Chinnor and Princes Risborough Railway has joined forced with Finest Hour Experiences to offer the ultimate classic driving experience.
Spend a half-day driving the steam train at Chinnor and Princes Risborough Railway, and take to the skies for a 45-minute flying lesson in a Tiger Moth plane, passing over the four mile-long railway while steam trains are operating. Gift vouchers are available online >
The steam driving experiences are strictly limited to one day per month between April and October in 2018. For more information, contact Phil Marsh on 07810 556252.
Send us your member news
Email news@bbf.uk.com with your latest goings on and we can feature it in a future member round-up.