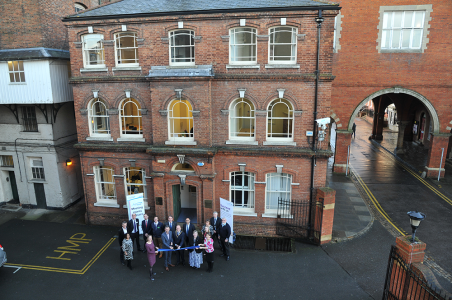 Buckinghamshire Business First proudly opened its third business hub in the county last week, at Porters Lodge in the heart of Aylesbury.
Members of our Board joined Cllr Bill Chapple, Chairman of Buckinghamshire County Council, to officially open the facility. Businesses from across the county were also in attendance to check out the location for themselves and speak to staff members to find out how they can make the most of the complimentary facilities available.
Buckinghamshire Business First members will benefit from hot desks, an informal meeting space, meeting rooms for more formal meetings and free Wi-Fi access. For the first time, Buckinghamshire Business First also has five low-cost offices available to rent as incubator spaces for small businesses.
Tomas Pukalski of Framework Digital has rented one of these spaces and explains how it will benefit his business:
"We are delighted to be among the first tenants at Porter's Lodge. For the first time we have a proper office, which means we can work more efficiently, take on staff and meet more professionally with prospective clients.'

He goes on to say:
"The community element of the Porter's Lodge venture, with the co-location of the Buckinghamshire Business First Hub, was particularly exciting and is a really important feature when choosing offices for a new company. A key part of our goals is to help very small companies in Buckinghamshire get online in a way that makes sense for them, and at a price they can afford. These offices mean that we can meet with clients who do not have offices, and concentrate properly on their project, without the distractions of a home office environment."
Cllr Bill Chapple, Chairman of Buckinghamshire County Council, comments:
"I am very proud that part of the County Hall complex with centuries of history is now providing modern, state-of-the-art facilities for local businesses.
"We know how important all businesses are to the future success of our county. This third new business hub is something the County Council fully supports and I am delighted that we have been able to make the accommodation available right in the centre of Aylesbury. I wish the venture and the businesses that use it every success in the future."
Get directions to the Aylesbury Business Hub and find more detailed information on the facilities >