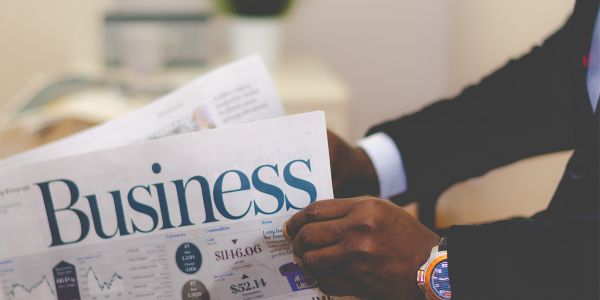 Featuring exciting news from Monodraught, B P Collins, Eat at The Works, Aimava, Regus, Wilsons Life, and Mediplus.
News featured in this article:
Monodraught gets Business Growth Fund backing
Legal 500 recognises record number of lawyers from B P Collins
Join The Works' birthday celebrations on November 10th
B P Collins announces topic for annual property seminar
Aimava CEO takes his latest book on world tour
Regus Opens New Aylesbury Centre
Wilsons Life nominated for Business Magazine Award
Mediplus launch pioneering product to ease women's incontinence worries
Monodraught gets Business Growth Fund backing
Ventilation systems specialist Monodraught has received a £2.65m investment from Business Growth Fund (BGF) to support its long-term growth plans. The High Wycombe headquartered company will use the funding for product development and expansion into new markets.
Led by managing director Andrew McCubbin, Monodraught designs, manufactures, installs and maintains ventilation, cooling and lighting systems to create low energy, low carbon and sustainable buildings. The business works predominately within the education sector and provides a full service, from 3D building simulation analysis through to installation and maintenance.
BGF's funding will be used to develop a complete commercial ventilation and cooling product portfolio, allowing Monodraught to move into new markets. BGF, the UK's most active investor in small and mid-sized businesses, provides long-term funding as a minority equity partner in the companies it backs.
Andrew McCubbin, Managing Director of Monodraught, said: "After several years of growth, we are in an excellent position to expand organically through the rollout of our new products. BGF's long-term approach to investing fits with our plans and aspirations as a business and we are looking forward to the next stage of growth with BGF as our partner."
Legal 500 recognises record number of lawyers from B P Collins
The Legal 500, one of the leading legal directories in the UK, has just announced its results for 2017 saying that:
'B P Collins LLP is a consistently successful full-service law firm dedicated to delivering robust legal solutions for both commercial and private clients. It remains a key name in dispute resolution, most notably in the waste management sector.'
This year, Corporate and commercial; Commercial litigation; Employment; Family; Personal tax, trusts and probate and Environment practices continue to retain their Tier one status. B P Collins' 'leading individuals' from last year have also retained their top tier status in 2017. Building on this huge success, Legal 500 has also recognised four B P Collins' lawyers for the first time in its elite 'Next Generation' category.
Ian Hopkins, Chief Executive of B P Collins commented on the results: "Not only have all of our 'leading individuals' retained their status; but this year, four of the firm's partners and senior associates have been officially recognised as 'next generation' lawyers. This shows that our clients do not have to rely solely on the expertise of a few individuals, but can comfortably trust the expertise of the wider team at B P Collins. Working together they ensure that many of our practices retain the highest rankings."
Join The Works' birthday celebrations on November 10th
Eat at The Works is celebrating its third birthday in November and invites everyone to its High Wycombe restaurant to celebrate with them. The team are hosting an all day party on November 10th, with guests treated to a glass of Prosecco on the house. There will be thousands of pounds worth of giveaways throughout the day, along with party games, and a very happy hour from 5pm-8pm.
"Everyone is welcome and I will be there all day to meet everyone who would like to come along!" said The Works' Tom Bolton.
See how The Works benefited from a £150 training voucher and support from specialist skills advisers through the Buckinghamshire Skills Brokerage project.
B P Collins announces topic for annual property seminar
Leading Thames Valley law firm B P Collins has announced that its annual property seminar will take place on Thursday 23 November 2017 at its offices in Gerrards Cross.
B P Collins' seminars attract a huge number of property professionals seeking accessible and comprehensive advice on complex property issues. This year's seminar will focus on 'Site Assembly and acquisition: practical issues' and will be covering points for landowners and developers, including:
Options
Lease termination
Estate rent charges
Modification of restrictive covenants
Boundary issues
There will also be a Q&A session and one-to-one time with the property team afterwards.
To sign up, visit: http://www.bpcollins.co.uk/events/annual-cpd-property-seminar-site-assembly-and-acquisition
Alternatively, you can email tanvi.patel@bpcollins.co.uk or call 01753 278661 to book your place. Early registration is recommended as spaces tend to fill up quickly.
Aimava CEO takes his latest book on world tour
Andrew Gaule, CEO of Aimava, is in the middle of a world tour for his book – 'Purpose to Performance, Innovative New Value Chains'. The book is focused on the key strategic story for innovation, corporate venture capital, and Innovative New Value Chains to support organisations having the strategic alignment discussion.
The latest stop on the tour is London, on November 1st & 2nd. Andrew's book tour has already taken in California and Moscow, and after London, continues on to Shanghai and Beijing.
For more information, contact Debbie Rose: 07740 348479 / debbie.rose@aimava.com.
Regus Opens New Aylesbury Centre
The Aylesbury centre occupies the 710sqm ground floor of The Gatehouse, a contemporary office building located on Gatehouse Way, Aylesbury. Situated at the heart of the Thames Valley, the new centre will provide over 120 workstations. It will additionally offer a range of flexible working options including private offices, co-working space, meeting rooms and virtual office services.
Wilsons Life nominated for Business Magazine Award
Wilsons Life, run by Nick Wilson, is a finalist in the Thames Valley Business Magazine Awards for the Workplace Mental Health Award. Award night is Thursday 16th November.
Mediplus launch pioneering product to ease women's incontinence worries
A High Wycombe healthcare manufacturer have launched a pioneering product that could help millions of UK women dance and exercise without the worry of leaking urine.
Incontinence is a condition resulting in the involuntary release of urine. Around three million UK women regularly suffer from urinary incontinence, approximately around 4 out of every 100 adults. It is estimated that 50% of these women experience stress incontinence; the unintentional loss of urine through movement such as dancing, running, lifting, yoga, aerobics, jumping and even coughing and sneezing.
Launched by family run Mediplus, URESTA™ is a reusable pessary that helps to significantly reduce or stop leaks so women can get on with their lives without worry or fear of embarrassment.
Francesca McCabe, Pelvic Floor Product Manager at Mediplus, explains: "Urinary incontinence is not a disease, it is a symptom of a physiological change in the body due to the weakening of pelvic floor muscles, childbirth or pelvic prolapse. Sadly, it has a significant impact on quality of life and often becomes worse when pressure is put on the bladder during exercise. Many women prefer to self-manage the problem and the pessary is a good way of letting them have a normal lifestyle without inconvenience or risk of incontinence. We just want to give women their lives and dignity back."
Send us your latest news
Email news@bbf.uk.com with your news and it could feature in our newsletter.