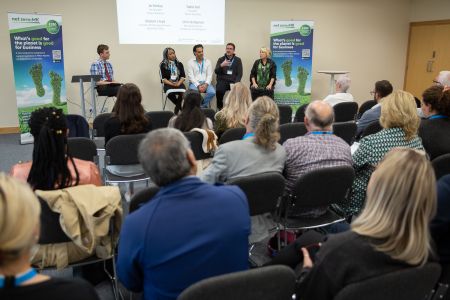 One thing is for certain, whether it's expert advisers, grant funding, incredible guest speakers, collaborations, real-life inspiration or informative podcasts...
Businesses in Buckinghamshire and Milton Keynes have everything they need in order to reduce their energy costs, improve their environmental impact and grow their businesses!
Nowhere was this clearer than at our recent Net Zero MK event, called 'What's good for the planet is good for business'.
Inspiration from an eco business trailblazer
We welcomed one of the world's most influential eco business pioneers, Jo Fairley, co-founder of Green & Black's, whose chocolate was the first in the UK to be awarded the Fairtrade mark. (This came three years after Green and Black's launched the world's first organic chocolate!)
Joining Jo were three local business owners and MDs who have successfully started their Net Zero journey:
Chris Bridgman, Managing Partner of Bridgman & Bridgman, who create sustainable living roofs
Datis Gol, Founder of Bucks Star Brewery, who sees ecology as a core value of the business
Shalom Lloyd, Founder & MD of Naturally Tribal Skincare, whose focus is on ethical sourcing and protecting the natural environment
It was an eye-opening event that really captured the opportunities that exist for businesses wanting to increase their sustainability and grow their business at the same time.
You can check out some of the photos taken at the event here >
Talking how to change the world
Jo Fairley was the guest speaker at the event that launched our Net Zero MK programme (more on that below). While there, she sat down to chat with Buckinghamshire Business First's Climate Change Manager Daniel Cope for the latest episode of our Talking Heads podcast*.
The two spoke about the outlook for businesses during the cost-of-living crisis, how small businesses are best placed to change the world…. and how Blue Peter helped influence her approach to business!
Listen to their fascinating and inspiring conversation here >
*The podcast was supported by Low Carbon Workspaces, a project funded by the European Regional Development Fund and managed by Ngage Solutions, part of the Buckinghamshire Business First Group.
More about the Net Zero MK programme
Ever wondered what your business's impact is on the turbulent environment we live in? Through the Net Zero MK programme, we'll tell you your carbon footprint and help you reduce it.
The support helps businesses in Milton Keynes to:
Reduce energy bills & waste
Improve energy security & efficiency
Discover their carbon footprint
Develop a Net Zero action plan
Get unbiased advice from a team of experts
Learn more about Net Zero MK and how to join for free >
Not based in Milton Keynes?
Don't worry – we have loads of other support for businesses across Buckinghamshire (we are Buckinghamshire Business First after all!).
How about…
Low Carbon Workspaces
The standard-bearer of environmentally-friendly grant schemes, Low Carbon Workspaces offers small and medium-sized businesses in Buckinghamshire (and beyond) grants of between £1,000 and £6,750 to cover up to a third of the cost of making energy improvements.
This support has contributed to amazing combined savings for businesses over time, like:
£1.2 million saved on energy bills per year
3,646tonnes of CO₂e saved per year
Learn more about Low Carbon Workspaces funding >
Join our Net Zero Collaboration Circle
The global fight against a climate emergency is on, and the business community has a part to play no matter what the size of the business or the sector it operates in.
Here at Buckinghamshire Business First, we are not only looking at how we can reduce plastics, waste, and carbon in our own business, we've been looking at how our community of local businesses can drive innovation and change in their own organisations to contribute towards a Net Zero Buckinghamshire economy.
To that end, we are excited to share details of our Net Zero Buckinghamshire Collaboration Circle.
What is a collaboration circle?
Quite simply, we aim to bring together a group of businesses with a shared ambition to create a Net Zero Buckinghamshire economy to pool knowledge, resources, and ideas.
Learn more about this concept and how to join >
Join more world-leading businesses to learn about the Future of Work
Our upcoming Future of Work Summit brings together expert businesses and organisations who can help you prepare for the challenges and opportunities presented by whatever comes next in a volatile world.
As part of the summit, a panel of experts will offer their personal experiences of how to prepare for the future. You can book your free place here >
The panel includes Gridserve, a business that develops, owns and operates critical infrastructure for sustainable energy production and was highlighted by the UK government at the COP26 climate summit as one of the world's foremost companies leading the fight against climate change.
Very timely with COP27 just around the corner!
Whatever help you need to achieve 'green growth' - we have it for you!
Our team is here to help you and your business be more efficient, save money and contribute to a more sustainable future.
Contact our team on 01494 927130 or BusinessSupport@bbf.uk.com and we will help.