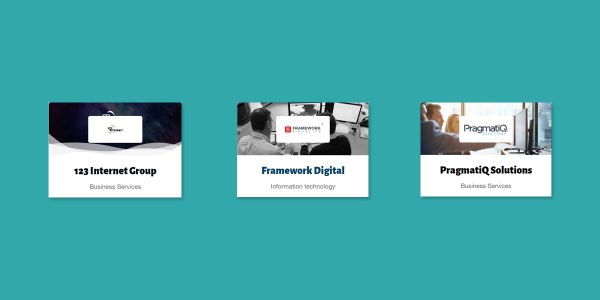 Learn all about three of our invested members; 123 Internet Group, Framework Digital, and PragmatiQ Solutions. Can they help your business?
123 Internet Group
123 Internet Group is an award-winning digital marketing agency based in Milton Keynes. With over 15 years of industry experience, 123 Internet pride themselves on assisting local businesses and charities with dedicated marketing support.
Winning the Business of the Year (under 50 employees) award at the 2020 SME MK & Buckinghamshire Business Awards, CEO Scott Jones was also named a Lockdown Leader finalist at the 2021 SME Northamptonshire Business Awards for outstanding leadership and unwavering client support throughout the COVID-19 pandemic. Renowned for giving back to the community, the agency's Growth through Digital Innovation (GDI) scheme helped over 50 local organisations to bounce back stronger. They also recently unveiled their free 5-step Roadmap to Marketing Recovery resource.

As a Partner member, 123 enjoy connecting with SMEs through the Buckinghamshire Business First network, offering advice-driven marketing solutions and reliable, outsourced retainer services. Their friendly and professional team of 20 in-house marketing specialists have over 40 years' collective experience across strategy, social media, search engine optimisation (SEO) and pay-per-click (PPC), web, creative, print, and digital media.
123 Internet will be sharing a series of online events, networking opportunities and educational webinars for Buckinghamshire Business First members to help them rise above competitors and get the most out of their marketing.
Framework Digital
With fewer in-person meetings, closed offices, and networking events on hold, organisations will need to adapt and change.
Digital marketing can empower organisations, enable change and support growth.
It is motivating for us to see the change we are making for our client's businesses. We feel proud to be a part of that transformation. In the same spirit, Buckinghamshire Business First supports local companies to help them grow. It is only natural for Framework Digital to partner with Buckinghamshire Business First.
While fragmented and often elusive digital services challenge businesses, we offer integrated marketing operations -- the digital framework -- the master plan for growth. The website, online advertising, and sales automation work seamlessly.
Our service includes a purpose-built website, Google advertising and HubSpot CRM system to support customer management and sales.
We are based in Aylesbury town centre, and our first office was a part of the Buckinghamshire Business First Hub at Porters Lodge, where we moved in 2015. The partnership with Buckinghamshire Business First is still instrumental for our business operation; their friendly and competent team continues providing significant support in networking opportunities, newsletters, business profiles, and more.
PragmatiQ Solutions
PragmatiQ Solutions is a Microsoft Dynamics 365 Partner, based in Milton Keynes. They specialise in designing and developing Bespoke CRM (Customer Relationship Management) Systems and Custom Databases to solve business challenges.
By implementing a bespoke solution, an organisation no longer has to mould their processes around a more rigid system, instead, the technology is fit-for-purpose and built around individual requirements. As a result, companies benefit from increased employee productivity, increased visibility, enhanced efficiency and software which is fit for today and in the years to come. Due to the flexibility of a tailored solution, PragmatiQ work with clients across a wide range of industries.
Being a member of Buckinghamshire Business First allows us to engage with the wider business community via networking opportunities, host and attend member-to-member events, and gain insight into the support offered to businesses within the Buckinghamshire area, alongside the general value of having a member profile within the directory.
123 Internet Group, Framework Digital, and PragmatiQ Solutions are Partner members of Buckinghamshire Business First. Learn more about the different membership packages on offer and the benefits of each.