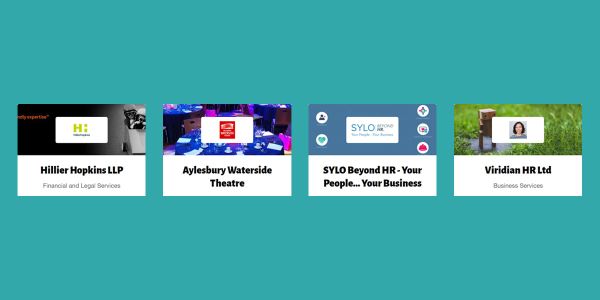 We showcase invested members Aylesbury Waterside Theatre, Hillier Hopkins, SYLO Beyond HR, and Viridian HR.
One of the benefits of our invested membership packages is that we can shine a light on our invested members.
Read all about some of these members below...
Hillier Hopkins
Hillier Hopkins LLP is a leading Chartered Accountants & Tax Advisers in Milton Keynes, London and Watford and ranked 43rd in the country.
Our clients include individuals and businesses ranging from small family enterprises to large international companies. As well as the traditional services you would expect from a top accountancy firm, we are always looking for new ways to help. Last year, we created the country's first customs declarations service aimed solely at SMEs. to help businesses struggling with the new customs regime after Brexit.
Our clients aren't just UK based, we advise individuals and businesses worldwide – particularly in the US where we have significant tax expertise. We are the UK member of TGS Global, an international network of over 4,000 professional advisers, helping to link our clients with opportunities around the world.
Although we have a global outlook, we are deeply committed to our local community and have a long history of supporting local causes and dedicating time and expertise to local community bodies and professional and business associations.
As a member of Buckinghamshire Business First, we can connect and share with ambitious entrepreneurs and help new and growing businesses through the many workshops, networking events and initiatives that this community provides.
Visit the Hillier Hopkins website for more information.
Aylesbury Waterside Theatre
Aylesbury Waterside Theatre offers outstanding live entertainment in luxurious surroundings with an unrivalled commitment to excellence. The venue also offers the perfect environment for any business, organisation, or group of people. The state-of-the-art building, with its flexible spaces, boasts a fantastic alternative and new approach to holding meetings, away days, events, conferences, AGMs, staff parties and much more.
A full events service is available including logistics management, accommodation bookings, transport bookings, production, and bespoke catering. Our fully trained team will work with you every step of the way to ensure your event is a complete success.
The main auditorium is available for hire with a package of facilities and services designed to ensure that each event meets its full potential. It has been designed in order to enable multiple seating configurations, and has the flexibility to host gala dinners, charity events, conferences, award ceremonies, exhibitions, television recordings and much more.
Standard
The theatre's Second Space is a more intimate auditorium and has the flexibility to accommodate small-scale theatre, community performances, music gigs, award ceremonies, lectures, and conferences.
Also available is a versatile meeting room which can be configured in board room style, theatre style or used for workshops, and the Cartwright Room which is a relaxed and informal lounge used by corporate partners, theatre members and VIPs, before and during a show. It can also be used for informal smaller meetings, interviews or as a breakout room during a conference.
Visit the Aylesbury Waterside Theatre website for more information.
SYLO | Beyond HR - Your strategic partner for all people-related issues
Your People | Your Business
We, Sarah (Stevens) and Sally (White), started our business over 11 years ago at the kitchen table in Sarah's house. We have come a long way and now have an enthusiastic team of 25 dedicated to developing people and achieving your goals, with a combination of HR and business advice.
Implementing effective HR within an organisation is so much more than just the contracts, policies and procedures. Our clients see us as an extension of their business, supporting their people.
We cover all aspects of business life, including business strategy, training schemes, and crucially, a complete package of support for the most important part of any organisation, your people.
We've worked closely with Buckinghamshire Business First for many years and they've been critical in helping us expand and grow our business. The connections, information and links provide us with crucial knowledge that ensures we are always up-to-date and relevant.
Visit the SYLO Beyond HR website for more information.
Viridian HR
The unique aspect of Viridian HR is the expertise and knowledge in both UK and France Human Resources.
With over 20 years of experience, the director Karine Lipinski operates in the mindset of a true HR Business Partner in the objective to support medium to large organisations and businesses with French operations.
Karine and her team are regularly reminded that their Anglo-French experience is hard to find. Clients often initially reach out because of the differences in culture and HR processes between the two countries, and the gaps this can cause in day-to-day team management. They are often asked about French law, which is rather complicated and has changed immensely over the last few years.
Working in fast-paced industries from manufacturing to retail and hospitality, Viridian HR services focus mainly on employee relations, compliance work, HR audits (including for mergers and acquisitions), people strategy, complex change projects, and HR outsourcing.
Every month, Viridian HR offers a free HR Consultancy that can be booked through the Buckinghamshire Business First website. You can also follow them on Linkedin or sign up to their newsletter to receive the latest HR developments and updates.
Visit the Viridian HR website for more information.
Invested membership packages
To learn more about the benefits of invested membership, visit our investment packages webpage, or email us at: membership@bbf.uk.com