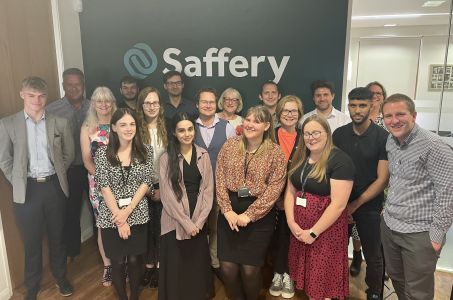 Saffery gets a rebrand; a world-first invention from a Milton Keynes firm gets R&D tax relief; B P Collins rides high in the rankings.
Supporting opportunity and enabling success: Saffery Champness rebrands and becomes Saffery
Saffery Champness, the accounting and advisory firm, has reached a major milestone in its 168-year history as it launches its refreshed brand and becomes: Saffery.
Founded in 1855, Saffery is one of the oldest accounting firms in the UK to remain entirely independent, and its new brand and supporting visual identity – optimised for digital environments and experience – builds on this unparalleled heritage and positions the firm to grow and succeed alongside its clients into the future.
Saffery has been present in the Thames Valley for nearly 40 years serving local, national and international businesses from its offices based in High Wycombe. Its client base covers a variety of sectors including real estate, professional services, technology, hospitality and recruitment.
Over its long history, the firm has been widely regarded as the pre-eminent adviser to private clients, their families and business interests – including some of the UK's largest and most valuable landed estates. History underpins the firm's focus on tailored solutions and client relationships that stand the test of time.
These principles have seen Saffery evolve to also become a trusted partner to creative, innovative, dynamic organisations and individuals: from the biggest film and TV productions and international talent to entrepreneurial companies, real estate businesses and charitable entities. The updated Saffery brand epitomises this combination of deep-rooted values, agile approach, and bold spirit.
The brand also aligns the firm more closely with Nexia, a leading network of independent accounting and consulting firms of which Saffery is a founding member and leading UK firm, reflecting an increasing focus on and demand for cross-border advice and services from globally mobile and multi-jurisdictional clients. The Saffery network of 10 offices across the UK and Ireland have all adopted the new branding.
Complementing its new brand, today Saffery has also launched a new Employee Value Proposition, further enhancing the firm's offering to its people and reinforcing the firm's position as a destination-of-choice for the best talent in the market.
Sheryl Davis, Partner of Saffery in High Wycombe, said: "Our new brand positions us to continue on our trajectory of growth and success across the Thames Valley and follows the recent launch of our Accounts and Outsourcing division and the appointment of four new trainees to support our rapidly growing team. We are very much looking forward to sharing the new brand with our clients and wider community as we take the next step forwards in the Thames Valley as Saffery."
Pure genius: inventor of world's first filter-free air purifier gets £95k to create portable device
A Milton Keynes company that has developed NASA technology to invent the world's first filter-free air purifier has received £95,000 in R&D tax relief from the government to create a portable version.
Air For Life's Sanifiers destroy impurities in the air and on surfaces rather than trapping them in filters that have to be changed every three to six months. The invention will help millions of people who suffer allergies including hay fever and asthma every year, and could reduce their reliance on medication like antihistamines.
Air For Life founder and CEO Jay Vitale developed the technology behind the Sanifier while researching a NASA technology that removes the ethylene gas produced by fresh fruit and vegetables.
The tax relief was received for research into miniaturising the Sanifier, which saw the company investigate how many LED lights would be needed to replace the purifier's UV bulb.
How it works: One of the company's proprietary technologies, called AFL PCO, uses a fan to draw the air past an ultraviolet lamp that eliminates contaminants. The UV light also reacts with a nano metal catalyst that releases human-friendly negative ions that break down bacteria and viruses in the room. The negative ions remove allergen-causing substances like dust, pollen, pet dander, and PM2.5 pollution particles from the air. The technology developed by Air For Life is unlike anything else in the marketplace.
R&D tax relief
The company's R&D activities resulted in £95,296 in tax relief from the Government, with the help of Catax (a Ryan company). HMRC's R&D tax relief scheme allows innovative companies that are seeking a technological or scientific advancement within their industry to claim a corporation tax reduction or refund for their qualifying R&D activity.
If a company has developed a new process, product or service, or modified an existing one, it could be eligible for R&D tax relief. Despite recent reforms to the tax relief scheme, it still remains a valuable incentive for innovating companies.
Jay Vitale, founder and CEO of Air For Life, said: "The money we've received back from this R&D claim will help us continue with our research and development, and let us create new products that help people breathe more easily. It was only when we were introduced to Catax that we felt confident we would get the claim we deserved based on our high R&D spending. Everyone at Catax was a dream to work with, and I'm really grateful that they helped us receive such a significant sum."
B P Collins announces Chambers High Net Worth Guide results
B P Collins is delighted to reveal that the Chambers High Net Worth (HNW) Guide for 2023 has ranked its private wealth law team in Band 1 for the first time – the Guide's highest ranking. Meanwhile, the private wealth disputes team retains its Band 1 ranking for the second year running, and the high value residential team also retains its high ranking.
Senior partner, Simon Deans said: "Another sterling year for B P Collins in the Chambers High Net Worth Guide. We are delighted about how our clients regard our discreet service, exemplary advice and always thinking about a range of factors which will help to safeguard theirs and their families' futures. Congratulations to all of the teams."