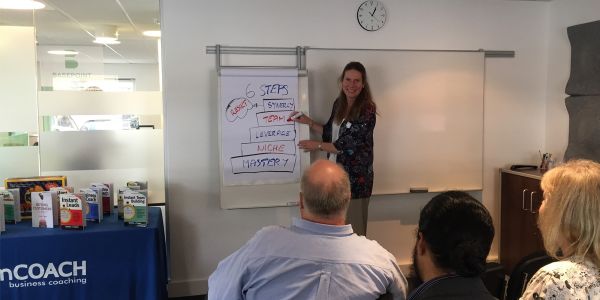 Member to member workshops are a great feature of the Buckinghamshire Business First offering.
Bringing experts across a variety of fields together with businesses eager to learn, the workshops are a prime example of the Buckinghamshire business community working together for collective improvement.
Keep reading for the experiences of attendees at Ditto Digital's workshop on SEO.
But first, take a quick look at the below upcoming member to member workshops that may be of interest to you:
Upcoming member to member workshops
Difficult Discussions in the Workplace – Thursday 5th October
HR in Flow hosts this workshop on reducing stress and saving time in the workplace by addressing difficult discussions with confidence and an enhanced sense of consequence awareness.
De-mystifying Personal Financial Planning – Tuesday 10th October
Mandy Rodgers Wealth Management hosts a workshop that will bring to life personal financial planning opportunities for you – providing tips, ideas and opportunities to protect what you've got, explain how to benefit from generous tax reliefs, and generally make your money work harder for you.
Engage, Perform, Achieve – Thursday 12th October
This workshop from HR in Flow will help you achieve reduced levels of stress in the workplace, reduced hidden costs, and improved productivity and performance levels.
Marketing Clinic – Wednesday 18th October
Origin Design & Marketing hosts this Marketing Clinic where you can discuss your marketing challenges - or 'symptoms' - and get a useful diagnosis!
5 ways to increase your business profits – Thursday 2nd November
ActionCOACH will be sharing simple ways of looking at your business in order to unlock significantly more profit – and without requiring a miracle to take place! You will discover a number of small steps that will make a real difference to your business results.
Discover the many benefits of Quality Standards to your Business – Friday 3rd November
IMSM Ltd will outline the benefits of adopting ISO 9001 quality standards in your business, including reducing costs, complying with tender rules, becoming more efficient, and improving overall quality and service.
Experiences of Ditto Digital's SEO Clinics
Michelle Symonds is the Founder and Managing Director of Ditto Digital, a High Wycombe-based digital marketing consultancy. Michelle held a series of face-to-face SEO Clinics in Saunderton for fellow Buckinghamshire Business First members, the purpose of which was to educate and inform Buckinghamshire companies about the importance of maintaining a dynamic and well-optimised business website.
The response was overwhelmingly positive, with Kaya Mallinder, Fundraising and Communications Officer for the charity Buckinghamshire Mind finding the session highly useful, taking away a list of recommendations that could be implemented to help improve their online presence and help the charity better reach the people who most needed their help.
Kaya remarked: "Everything we covered at the session was informative and useful for me and the specific suggestions on how I can improve the Buckinghamshire Mind website's SEO and Google rankings was particularly helpful. I learned a great deal in just an hour. For example, how I can boost our rankings by putting more information/text on each page, to include more links within the site to improve visitor engagement and the importance of back links and what I can do to increase them."
Read more about Ditto Digital's SEO Clinics and the positive reaction to them >
Interested in holding your own member to member workshop?
Hosting member to member workshops is a perk available to Partner Members of Buckinghamshire Business First. Find out more about the investment packages available with Buckinghamshire Business First here >
If you'd like to speak to our Events Team about a possible topic for a member to member workshop, email events@bbf.uk.com.