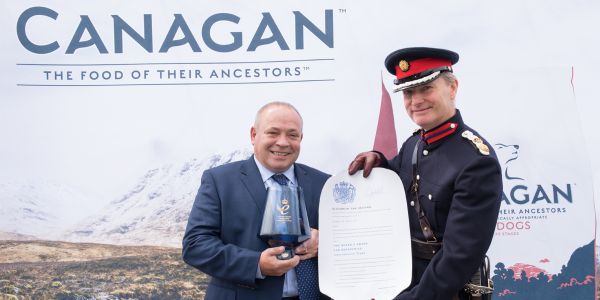 The provider of high quality natural pet food was awarded The Queen's Award for Enterprise in International Trade.
Symply Pet Foods is a Chesham-based award winning family owned business developing high quality natural pet foods. Managing Director Edward Milbourne said: "Working with pet specialty retailers and distributors across the world, we deliver the very finest in pet nutrition. All of the team at Symply are incredibly proud to be awarded The Queen's Award for Enterprise in International Trade for 2017.
"Established in 2009, we began supplying independent pet speciality stores in the United Kingdom. Our ethos id to support local pet stores by not supplying supermarkets or online discounters and as a result have built up a network of over 800 retailer partners in the UK.
"We began exporting our products in 2012 and since then we have grown our network of customers to span 45 countries across four continents, turning our family run business into a £21m global enterprise.
"This year we continue our international expansion to China, Indonesia, Saudi Arabia and South Korea, where we are proud to showcase our very British products.
"Our success is built upon the dedication and commitment of all our partners across the world. Their focus and support of our brands continues to inspire us to produce pet products of the very highest quality, pushing the boundaries of nutrition and never compromising on ingredient integrity or quality.
"This award makes us even more determined to continue expanding our international business. China will become the focus for our international growth this year and further ahead we will look to expand to Central and South America.
"We would very much like to thank all of our suppliers and partners who have made our phenomenal international growth possible. We are truly fortunate to have such an excellent network of people across the world who manage to seamlessly mix business with pleasure."