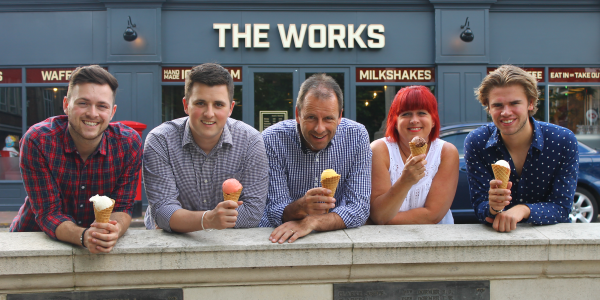 The latest eclectic mix of news in the local business community comes via Anton Spires, Eat at The Works, getbuzzing, and Chiltern District Council.
More success for motor racer Anton Spires
Anton Spires, who races in the Michelin Clio Cup for Westbourne Motorsport, finished off his season in style with two more podiums, taking his tally to 14 for the season, and second place overall in the championship.
The season concluded at Silverstone International Circuit over the weekend of October 7th & 8th, with Anton in contention for the championship title going into the final two races. In the end, two podiums, along with a victory in at the penultimate weekend of racing at Brands Hatch in September, gave him second place.
Anton offers sponsorship opportunities to businesses and has just launched a brand new website for everyone to read about his achievements.
View the sponsorship opportunities available with Anton Spires >
Alternatively, visit www.spiresmotorsport.com or email info@spiresmotorsport.com for more information.
Join The Works' birthday celebrations on November 10th
Eat at The Works is celebrating its third birthday in November and invites everyone to its High Wycombe restaurant to celebrate with them. The team are hosting an all day party on November 10th, with guests treated to a glass of Prosecco on the house. There will be thousands of pounds worth of giveaways throughout the day, along with party games, and a very happy hour from 5pm-8pm.
"Everyone is welcome and I will be there all day to meet everyone who would like to come along!" said The Works' Tom Bolton. Follow The Works on Twitter, Facebook, and Instagram for the latest news from the team.
See how The Works benefited from a £150 training voucher and support from specialist skills advisers through the Buckinghamshire Skills Brokerage project.
getbuzzing wins at Food Service Quality Awards
getbuzzing recently entered the Food Service Quality Awards and walked away with their first Q award in the Grab & Go Sweet category for their natural, nut-free nutrition bar.
The Food Service Quality Awards reward excellence and recognition within the food service sector. Brand Owner Kate said: "It is a fantastic achievement for a company of our size. We feel honoured to be recognised within such an ever expanding market. Quality is paramount to us, we only use high quality ingredients in our bars and follow stringent procedures to ensure they are produced at premium quality. Many thanks to Q awards for this accolade!"
Chiltern District Council has vacancies on its Allowances Panel
Chiltern District Council has a number of vacancies on its Independent Members Allowances Panel which makes recommendations to the Council about the allowances received by its Councillors, and the allowances that may be paid to Councillors of the Town & Parish Councils in the district.
The deadline for applications is Sunday 15th October.
Find further information about the role and the application form >
If you have questions about the role, contact Mat Bloxham on 01494 732143.
Have some news to impart?
Email news@bbf.uk.com with the juicy details.