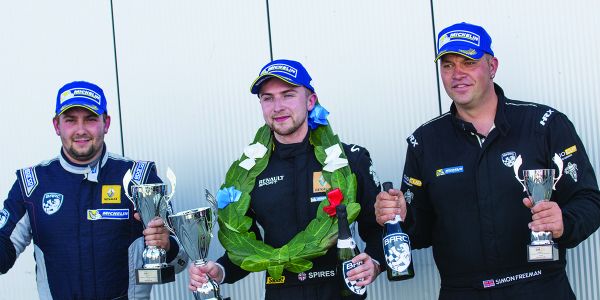 With Tims Dairy, Spires Motorsport, Chinnor & Princes Risborough Railway, Ashridge Group, Regus, Lindengate, Bucks New University & SPACE-2.
Featured news in this article:
Ashridge Group secures three new security contracts across the UK
Anton Spires wins at Donington Park with sponsorship still available
Regus to open new Aylesbury Business Centre
Free office space at Aylesbury Vale Multicultural Centre
Learn more about Lindengate at their open day
Volunteer for Chinnor & Prince Risborough Railway
Tims Dairy wins 10 Great Taste Awards
Bucks New University bestows honorary awards during week of graduation celebrations
SPACE-2 event - 'storytelling revolution: adopting a content-first approach'
Ashridge Group secures three new security contracts across the UK
Ashridge Group has been successful in winning a three-year security guarding contract at multiple sites across the UK, reinforcing the group's continued national growth. Working with long term strategic partner First Choice Facilities, Ashridge Group has taken on new facilities contracts for APAM UK, an acclaimed property asset management company.
The new locations include a prestigious site in Leeds city centre which commenced in June, and a further two corporate locations in central London which were introduced to the Ashridge Group team this month. As part of the contract, Ashridge Group also welcomed two SIA Licensed Building Support Officers at a new site in Leeds city centre who joined the team in June, and more recently four Security Officers from two corporate sites in central London.
Emma Walker, Operations Director for Ashridge Group, said: "We are excited to welcome all the new security officers to the team and are looking forward to providing ongoing support to the London and Leeds sites."
The three-year contract is demonstrative of Ashridge Group's reputation as a highly-accredited security specialist across the UK and marks its continued maturation as an organisation.
Anton Spires wins at Donington Park with sponsorship still available
Anton Spires, the Buckingham-based racing driver, has won his latest round of competition at Donington Park.
Anton, who competes in the Michelin Clio Cup Series with Westbourne Motorsport, offers sponsorship opportunities to businesses and has just launched a brand new website for everyone to read about his achievements.
View the sponsorship opportunities available with Anton Spires >
Alternatively, visit www.spiresmotorsport.com or email info@spiresmotorsport.com for more information.
Regus to open new Aylesbury Business Centre
Regus, the global workspace provider, has announced that it will be opening a new business centre in Aylesbury, to cater to the increasingly flexible workspace needs of the town's businesses.
The centre, which is due to open this autumn, will occupy the ground floor (710 sq m) of The Gatehouse, a contemporary office building at the heart of the thriving Thames Valley.
The new hub will offer over 120 workstations and a range of flexible working options designed to meet the varied requirements of today's businesses and professionals. These will include private offices, co-working space, meeting rooms and virtual office services.
Richard Morris, UK CEO, Regus, comments: "Aylesbury is a fast-growing business location which is home to a host of global hi-tech brands. The area offers excellent value and is a prime spot for firms of all sizes looking for a well-connected base, so we see it as a natural fit for our flexible workspace offering."
Free office space at Aylesbury Vale Multicultural Centre
The office space is in a sound proof room, 6.6m x 3m, with a small anteroom.It comes with internet access, desk and storage space, and parking. It is available immediately and rent is negotiable.
The location is art the Aylesbury Vale Multicultural Centre, Friarscroft Way, Aylesbury.
To enquire about the space, contact Ira Bhattacharya: 01296 429364 / avmctreasurer@gmail.com.
Learn more about Lindengate at their open day
On Saturday 7th October Lindengate will be throwing open their beautiful gardens to the public to showcase the work done by the winners of the Enterprising Charity of the Year award at the 2017 Buckinghamshire Business Awards.
Between 2pm and 5pm, all are welcome to come into the 5 acre site to explore the gardens and see the way gardening, crafts, conservation and caring volunteers all come together to create a therapeutic space that really works to improve well-being and promote mental health.
Whilst the emphasis is on explaining what Lindengate is all about, there will also be the chance to sit down in the garden for tea and home-baked goodies. Midshire's Orchard Group are bringing an apple press, so bring your apples for pressing and clean bottles to put your fresh juice in!
Lindengate is based at the end of the car park at Wyevale Garden Centre at World's End, and further information is on their website at www.lindengate.org.uk or look up 'Lindengate gardening' on Facebook.
Volunteer for Chinnor & Prince Risborough Railway
Chinnor & Princes Risborough Railway are urgently lookout for volunteers to help run the railway. The railway is a volunteer led organisation so it is crucial that volunteers are found.
There is a wide range of volunteering posts available. Take a look at the website for details >
Tims Dairy wins 10 Great Taste Awards
Award winning family yoghurt business Tims Dairy have been entering their products into the world renowned Guild of Fine Food Great Taste Awards for seven years now and they are very proud to have 'scooped' a total of 10 Great Taste Awards.
With their Greek family heritage and over 68 years producing yoghurts and cultured creams, their insistence on quality and great taste shine through in the number of stars they have been awarded - for their Greek Style Natural, Greek Style with Honey, Greek Style with Vanilla, Greek Style with Raspberries, Greek Style with Blackcurrants, Soured Cream, Buttermilk and this year a fantastic 2 Star Great Taste Award for their superb Crème Fraiche.
"We know how highly respected these awards are within the industry and by consumers alike, so you can imagine how delighted we are and are very proud of our dedicated team," said Managing Director Chris Timotheou.
Bucks New University bestows honorary awards during week of graduation celebrations
Former Chief Nursing Officer Dame Christine Beasley DBE and television star Jimmy De Ville were among distinguished figures who received honorary awards during a week of graduation celebrations at Buckinghamshire New University.
Dame Christine, who was previously Chair of Council at the University, is a former Chief Nursing Officer for England and was honoured for her career and her broad experience of policy development and leadership. Dame Christine received an Honorary Doctorate. De Ville studied Product Design at the University and stars as an 'extreme engineer' in the programme Engine Addict with Jimmy De Ville on Quest TV. He received an Honorary Master's degree.
Other honorary recipients were Carol Gaskin, Governor with responsibility for Safer Custody, Healthcare & Segregation at Wormwood Scrubs prison, and Angie Camden, of Independent Voices, a volunteer organisation involved in the training of nurses at the University, who both received Honorary MSc recognition.
Bucks New University's week of celebrations saw nearly 2,000 graduates receiving degrees across a range of courses including fashion, design, business, music production, nursing and social work, in ceremonies at the Wycombe Swan theatre in High Wycombe.
Bucks New University Vice-Chancellor Professor Rebecca Bunting said: "The ceremonies mark an important turning point for graduating students as they embark on a new stage in their lives. We are really proud of our students' achievements and were delighted to recognise our honorary graduates. This is a key time for the University as we celebrate 125 years of higher learning and ten years as a University."
SPACE-2 event - 'storytelling revolution: adopting a content-first approach'
SPACE-2 & The Charter Building in Uxbridge are hosting a free informative talk on storytelling for brands and organisations. The event takes place on Friday September 29th. They say:
"Over the last ten years, our relationship to content has been transformed. So many aspects of our lives are lived online; from education to recreation, all aspects of modern life are being radically changed by digital content. 2017 is shaping up to be the year of content with brands and organisations falling over themselves to define their content strategy. Exciting new forms of storytelling are emerging enabling brands and organisations to create and deliver the right content for the right customer at the right time, creating immersive, relevant experiences. So what does great look like; in this session Tim Plyming will explore some best examples of those adapting this radical new world of storytelling."
For more information visit the Eventbrite page >
Got some news to share?
Email news@bbf.uk.com with the details.