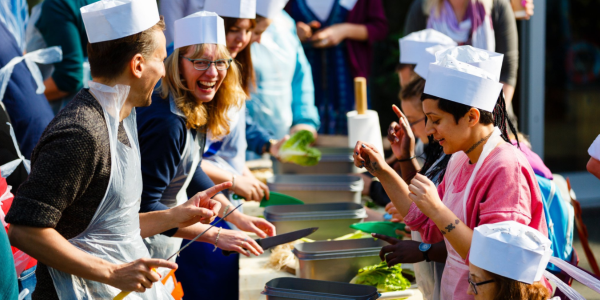 Featuring Buckinghamshire Mind, Seymour Taylor, IBB Solicitors, Child Bereavement UK, and Citizens Advice Aylesbury Vale.
News included in this article:
Seymour Taylor celebrates 100 years by raising £12,000 for charity
Spaces available at Young People's Counselling Service in Aylesbury
IBB Solicitors' Bake Off 2017 a great success
Support Child Bereavement UK's #OneMoreMinute campaign
Support your local community through your local Citizens Advice
Bring your community together for a Big Lunch
Sir Anthony Seldon joins Bucks Mind as Patron
Seymour Taylor celebrates 100 years by raising £12,000 for charity
High Wycombe based accountancy firm, Seymour Taylor completed their Centenary year of fundraising in style by taking part in the Rotary Clubs of Marlow Santa Fun Run at Higginson Park on Sunday 3rd December.
Ten employees and family members donned Santa's famous red suit and running shoes and ran the 5k route, raising funds for the Rotary Clubs of Marlow and Child Bereavement UK, which supports families when a baby or child of any age dies or is dying or when a child faces bereavement. The charity also trains professionals, such as teachers, midwives and police officers to help them better understand and meet the needs of the grieving families they come into contact with in their daily working life.
Ruth Sanger, Regional Fundraising & Communications Manager at Child Bereavement UK said: "We know, from the families that we support, that Christmas can be a particularly difficult time when someone important has died. Raising funds and awareness at this time of year therefore seems particularly poignant and we are extremely grateful to Seymour Taylor for all their hard work and enthusiasm."
Simon Turner, Managing Director and one of the ten runners from the Seymour Taylor team said: "The Santa Run was really good fun and we've thoroughly enjoyed our year of raising funds and awareness for some fantastic local causes, including Child Bereavement UK. We like to challenge ourselves and have held a number of fundraising activities and events throughout the year. Knowing that our efforts will make a difference to so many people has been a real motivating factor. I'm so proud of my team and all that they have achieved for charities during 2017".
Spaces available at Young People's Counselling Service in Aylesbury
Buckinghamshire Mind, the mental health charity, is actively taking referrals to its Young People's Counselling Service in Aylesbury. The service, for 11 to 18 year olds, provides counsellors who work one-to-one with young people experiencing anxiety, depression, loss, difficulties with anger, recovery from traumatic events or other mental health difficulties. There is currently no waiting list for this service.
The sessions are subsidised through a grant from Aylesbury Vale District Council and are charged on a sliding scale dependent on individual financial circumstances. This means that the service is able to help young people who urgently need support but cannot afford private therapy or do not meet criteria for statutory services.
To find out more about Buckinghamshire Mind's Young People's Counselling Service, please call 01494 463364 or visit www.bucksmind.org.uk.
IBB Solicitors' Bake Off 2017 a great success
IBB Solicitors' December Bake Off event raised £240 for IBB's Charitable Trust, an independent body created to provide financial support to local charities. The judge this year was Employment Partner, Justin Govier, who chose the best three cakes, the 'Show Stopper' and the 'special mention'!
If you are a local charity and would like more information on the Charitable Trust, please visit https://www.ibblaw.co.uk/charitable-trust.
Support Child Bereavement UK's #OneMoreMinute campaign
Child Bereavement UK is raising awareness of its new campaign, #OneMoreMinute. The campaign highlights the issues faced by the bereaved, and aims to raise money to help children, young people and families rebuild their lives following the devastation of child bereavement.
Read the attached flyer for more information, and watch the videos created for the campaign on the Child Bereavement UK website.
Support your local community through your local Citizens Advice
Citizens Advice Aylesbury Vale is the recently merged entity of Aylesbury Citizens Advice Bureaux and Buckingham & Winslow CAB. After a successful merger in April 2017, the independent charity now delivers advice services across a wide range of issues, to over 5,500 local people across the Vale. The focus for the charity is to bid for funding to deliver projects that extends their reach, through additional outreaches, extending their home visiting service for vulnerable people and increasing appointment availability through recruitment and training of new volunteers.
Your local Citizens Advice can help your staff with independent pension advice, low income or benefits support, assisting them in switching energy suppliers to save money, and much more. They can also hold outreach sessions at your offices.
You can also hire meeting space at the Aylesbury town centre office, which are discounted for charities and CIC's as part of the community hub. Companies can also take advantage of a 10% discount on meeting room hire throughout February when quoting 'BBF'.
Support your local community through your local Citizens Advice, empowering people to make positive change.
For further information, please contact Lindsay Riley: Lindsay.riley@aylesburyvaleadvice.org.uk.
Bring your community together for a Big Lunch
The Commonwealth Big Lunches will take place across the 52 Commonwealth countries between 12th March and 22nd April. People are invited to come together to share Commonwealth food with their sports clubs, community groups, schools, youth organisations, businesses, friends and families.
The lunch is an opportunity for you to get together with your contacts, partners and network to discuss policies, causes or issues that matter to you. The lunch is scalable: for example this could be a party in a garden, a street gathering, business meeting, roundtable, school lunch or something larger which looks to bring different communities together.
A digital lunch pack with fun and educational Commonwealth facts, guidance and recipes from Commonwealth chefs has been launched. You can register your interest to pre-order a free pack and find more information by visiting www.commonwealthbiglunches.com.
If your lunch is open to the public, email getinvolved@chogm2018.org.uk and it can be advertised online. When hosting a lunch, encourage people to attend a lunch and share pictures on social media using the hashtag #CommonwealthBigLunch.
Sir Anthony Seldon joins Bucks Mind as Patron
Sir Anthony Seldon, Vice-Chancellor of The University of Buckingham and one of Britain's leading contemporary historians, educationalists, commentators and political authors, is now supporting the mental health charity Buckinghamshire Mind as Patron.
Sir Anthony Seldon said: "Helping to promote better mental health is of paramount importance to me. More people than ever are suffering from mental health problems, with levels of anxiety and depression in young people having reached crisis point, so it's an issue that I feel very strongly about. I believe that urgently improving the mental wellbeing of our young people is currently the most pressing mental health issue. It is vital that we stem the tide by teaching skills such as resilience and leadership, which will help to stop problems from arising in the first place."
Sir Anthony Seldon was a 'transformative Head' for 20 years, first of Brighton College and then Wellington College, where he introduced mindfulness and wellbeing sessions for the students. The University of Buckingham, for which Sir Anthony Seldon is Vice-Chancellor, has become the UK's first Positive University, where the emphasis is on the holistic approach to education and ensuring that students are supported to enable them to flourish as individuals as well as academically.
Andrea McCubbin, Chief Executive, Buckinghamshire Mind, said: "I am delighted to welcome Sir Anthony Seldon to Buckinghamshire Mind on behalf of our board of trustees, staff, volunteers and service users. We really appreciate having the support of such an authoritative and influential figure who sees good mental health as a key priority."