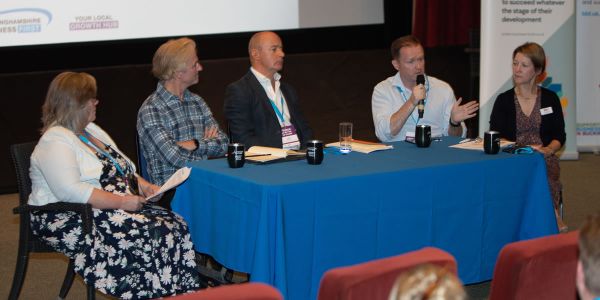 We often refer to Buckinghamshire Business First as 'the Google for Bucks businesses', and on Tuesday 20th September, the search word was "funding". Specifically, the funding options available to fuel and finance growth.
At a finance event like no other, being hosted at Pinewood Studios, attendees were treated to a viewing of the Pinewood showreel to kick off the proceedings in the sumptuous surroundings of the John Barry Theatre, with a warm welcome and introduction by Andrew M. Smith, Pinewood's Corporate Affairs Director – all that was missing was the popcorn!
It was of no surprise that in the polling conducted at the start of the event, attendees cited 'knowledge about alternative funding options' alongside 'the time and effort to access them' as the major barriers to exploring different sources of finance.
That's where the work of Buckinghamshire Business First, the British Business Bank, and the organisations we work in partnership with can help.
Sustainable growth with the British Business Bank
The British Business Bank seeks to drive sustainable growth, and improve the funding landscape for small businesses. Susan Elliot, Senior Manager, UK Network (South East), talked through the British Business Bank's three pillars of activity.
See all of the presentation slides full of information and support from the British Business Bank here >
Alternatives to bank finance
Sean O'Farrell, Managing Director of Choice Business Loans, provided an overview of financial support in the world beyond banks and provided reassurance that there is finance out there if banks don't lend on the terms, or at the speed, that you want.
Thumbs up for Start Up Loans
Sean also cited Start Up Loans as the superhero of the British Business Bank offer and encouraged any business that has been trading less than three years, or those who have been established for longer but whose business has substantially changed direction, to consider Start Up Loans as an option.
Nick Pendleton, business owner and advisor, non-exec director and active Angel Investor, described Start Up Loans as the best-kept secret of the funding landscape and encouraged all business owners to know their numbers and be able to articulate their business plan ahead of any finance application.
There are great resources to support with this on the Start Up Loans website, and from the team at Buckinghamshire Business First (01494 927130 / BusinessSupport@bbf.uk.com).
Prepare for your pitch
Ian Murphy, Managing Director of Bullet & Bone and advocate of the Growth Programme delivered by Buckinghamshire Business First (not just because he has gone from beneficiary to adviser for the 5-star-rated support!) echoed Nick's recommendations and talked about the benefits of the Business Model Canvas in supporting business owners to discover their value proposition in advance of an application or pitch for investment. (Ask our Business Support Team for more information on the Business Model Canvas!)
In describing the benefits of gaining equity investment in Bullet & Bone, Ian cited the expertise that has been brought into the business alongside the funding, thus boosting its Board and future potential.
The conclusion on crowdfunding
Crowdfunding was cited as a marketing tool, alongside the opportunity to raise finance, with a caveat that, realistically, unless you have 70% of funding in place, you are unlikely to gain support from the algorithms on key crowdfunding platforms.
Nick's 6 M's mantra provided a framework that he uses as an investor to assess a business – Market, Management, Model, Momentum, Money and Me - with the latter a recognition that every investor comes with their own prejudices and not every business will be of interest. However, by preparing your pitch and giving potential investors an early opportunity to opt-out, everyone involved will expend less wasted energy.
Diversity and inclusion
Later in the discussion, the subject of diversity and inclusion was addressed and the Alone Together report from the British Business Bank may be of interest to those keen to explore this theme in more detail.
Help is right here waiting for you
The key takeaways from the event were that there is funding available to those who are investment ready. And the support is readily available both online and in person from Buckinghamshire Business First, its partners and the community here in Buckinghamshire to help you find the right finance and be in the best place to access it.
Excellent exhibitors on hand with support
Delegates were able to network with our exhibitors before and after the event. A big thank you to these exhibitors: Haines Watts, WestWon, Innovate UK Edge, Low Carbon Workspaces, Growth Programme, Bucks Skills Hub, and the Buckinghamshire EV Project.
What now? Speak to our Growth Team!
Speak with our Growth Team and they can reveal all the support available to your business.
And join our new Peer Ngage programme!
Peer Ngage is our new online peer networking and leadership development programme for business leaders and senior managers. Places are limited, so don't delay! Learn all about it here >
And discover the Business Finance Finder!
The Business Finance Finder platform allows businesses to prepare one funding application that can be shared with over 120 lenders.