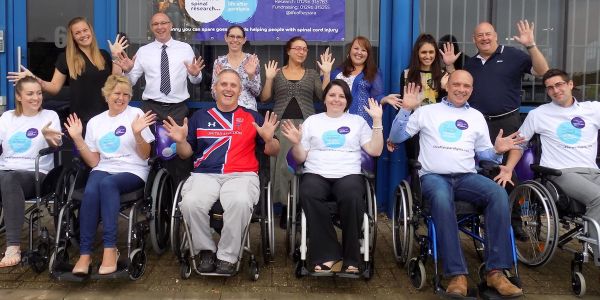 Learn how to support the vital work carried out by Stoke Mandeville Spinal Research.
Stoke Mandeville Spinal Research (SMSR) is an independent charity based at the National Spinal Injuries Centre. Their mission is to improve the quality of life for the 50,000 people in the UK alone living with spinal cord injury (SCI).
What they do
They do this by funding research to help tackle the day to day, and often unseen, complications of paralysis, including pain, pressure ulcers, urinary tract infections, and problems with upper limb function.
Their UK-wide research projects are selected for funding through a robust peer review process, led by a Scientific Advisory Board. Projects are awarded funding based on scientific merit and their potential to make real changes to clinical practice. Since 2019, SMSR has committed over £400,000 to life-changing research in the hope that this leads to new treatments and therapies to improve the quality of life for those living with SCI.
Partnering with BBF at the Business Leaders' Dinner
SMSR was delighted to work alongside Buckinghamshire Business First as a Charity Partner for the Buckinghamshire Business Leaders' Dinner, which took place at Waddesdon Manor on July 13th.
Luke Delahunty, SMSR's Charity Ambassador, delivered an after-dinner speech on inclusivity and accessibility, drawing on his own experiences as a wheelchair user since a motorbike accident in 1996 left him paralysed from the chest down.
Following his injury, he spent four months receiving treatment at Stoke Mandeville Hospital and later worked at the National Spinal Injuries Centre based at the hospital. It was during this time he was first introduced to SMSR and subsequently became involved in supporting their work.
Get involved in a WHEELIE wonderful challenge!
Buckinghamshire businesses can support the charity by taking part in a Wheels at Work™ fundraising initiative. By challenging staff to spend a day in a wheelchair in their office, they will gain an invaluable insight into what life is like for those facing daily struggles and learn to empathise with wheelchair users as they go about their activities.
A number of local businesses and schools have already hosted a Wheels at Work™ day, helping to raise both awareness and funds for the charity's vital work. Most recently (as featured in the Bucks Herald and on Bucks Radio), three members of staff at Aylesbury Waterside Theatre took on the challenge in support of Spinal Cord Injury Awareness Day 2022 on May 13th.
Commenting on their challenge, Emily Dimino, Waterside Theatre Customer Experience Supervisor, said: "As much as I loved taking part in Wheels at Work, it made me appreciate there are daily struggles wheelchair users face that as a non-wheelchair user, I have never considered. I felt at times overlooked by customers and soon realised I'd need to allow extra time to logistically move around during my shift. It prompted several conversations with other members of the team as certain roles within the venue would be impossible to carry out in a wheelchair, including ushering and duty managing due to needing to go up and down stairs in the auditorium."
If you'd like to know more about Wheels at Work™, please contact Kate Favell: email kate.favell@smsr.org.uk or call 01296 315255.
For more information about Stoke Mandeville Spinal Research, please visit: www.lifeafterparalysis.com