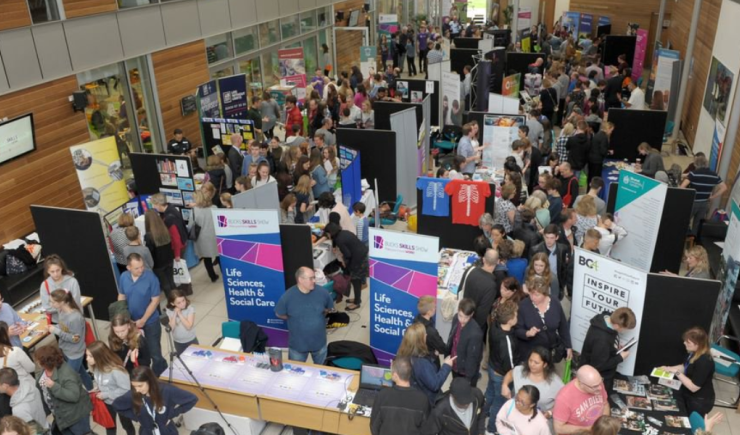 Do you have an apprenticeship, traineeship or work experience vacancy?  This event will introduce you to the talent of the future.
Employing apprentices and young people can significantly benefit businesses, with employers reporting...
higher overall productivity for their companies
a more competitive edge in their industry
better motivated staff and increased job satisfaction
Our #TalentTuesday event will bring together businesses from all sectors with young people looking for an opportunity to become an apprentice or trainee or simply looking to get some work experience.
Our team of experts will be on hand with local providers to help you harness the talent and energy employing a young person within your business can deliver.
The format of the event
An exhibition  - with employer and apprenticeship provider stands.
Introductory talks at 6.00pm and 7.00pm - These talks will be repeated to ensure that all those attending have the opportunity to discover the advantages of an apprenticeship and how to start their own journey. Those attending will hear from an employer who has taken on an apprentice, an apprentice talking about their experiences, apprenticeship providers and Buckinghamshire Business First.
From 6.00pm - 8.00pm - One to one meetings at your stand with the young people interested in filling your vacancies, a chance for you to meet the talent of the future and take the next steps to secure them for your vacancies.
Why attend?
"We came out of the event with two good applications, both were interviewed for an apprenticeship with us."  Angela Spang from JUNE Medical.
Book your place and we will be back in touch with further details.
Know a young person who would benefit from attending?
Young people can book their place using this link - www.bbf.uk.com/talent-tuesday.  Please share with friends, family and colleagues who know young people aged 16 - 24 years.
---
Details
Date:
27 March, 2018 - 27 March, 2018
Time:
6:00pm - 8:00pm
Registration from 5.30pm
Location:
Bucks New University, High Wycombe Campus, Queen Alexandra Road , High Wycombe , Buckinghamshire, HP11 2JZ
Please note:
The event will take place in the Sports Hall. 
---
Exhibition space
Each business will be allocated 2 exam style tables, that they can use to exhibit literature and to have an informal one to one interview with interested young people. There will also be space for you to bring a pull up banner.
---
Book now
Tickets for this event are no longer available.