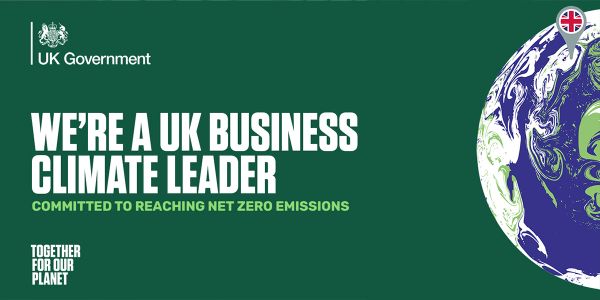 We pledge to help reduce climate change by halving our greenhouse gas emissions by 2030 and achieving net zero carbon emissions by 2050.
In doing so, we are proud to be recognised by the United Nations Race to Zero campaign.
What is our pledge?
The SME Climate Commitment
Recognising that climate change poses a threat to the economy, nature and society-at-large, our company commits to take action immediately in order to:
Halve our greenhouse gas emissions before 2030
Achieve net zero emissions before 2050
Disclose our progress on a yearly basis
In doing so, we are proud to be recognised by the United Nations Race to Zero campaign, and join governments, businesses, cities, regions, and universities around the world that share the same mission.
What is Race to Zero?
Race to Zero is a global campaign that has garnered support from businesses, cities, regions and investors for a healthy, resilient, zero carbon recovery that prevents the future threats of climate change becoming a reality, creates decent jobs, and unlocks inclusive, sustainable growth.
By acting now, we join more than 500 cities, 2,000 businesses and 570 Higher Education Institutions around the world in the fight for a healthier planet that we would be happy to pass on to the next generation.
Why is it necessary?
Following the eagerly anticipated release of the IPCC's Sixth Assessment Report on August 9th 2021, scientists for the first time have unequivocal confidence that human activity is changing the climate in unprecedented ways.
If global carbon emissions continue on their current trajectory, it is recognised that average global temperatures will rise by 1.5°C (when compared to pre-industrial levels) by sometime in the 2030s, which many scientists agree will lead to catastrophic impacts across the globe.
However, there remains some hope that if global emissions can be reduced by half by 2030 and to Net Zero by 2050, there is a good chance of warming being kept in check.
What does the pledge mean for Buckinghamshire Business First?
Buckinghamshire Business First has committed to cutting our greenhouse gas emissions by at least 50% before 2030, and achieving net zero emissions by 2050.
Between 2019/20 and 2020/21, Buckinghamshire Business First's decarbonisation activity resulted in a 45% reduction in our CO2e during that period due to efficiency measures and changes as a result of the pandemic.
In addition to the pledge, we have already offset our carbon emissions from the previous two years. All carbon offsetting necessary to achieve a Net Zero status at the year-end was to the Gold Standard certification, supporting only the most robust projects.
Consistently delivering support with sustainability at its heart
Since 2009, through our subsidiary company Ngage Solutions Ltd, Buckinghamshire Business First has delivered business support programmes with sustainability at their heart. These programmes have helped businesses with their travel planning, adopt low carbon technologies, and bring eco-innovations to market, and helped farmers and landowners reduce their carbon footprint.
Managed by Ngage Solutions, Low Carbon Workspaces is an ERDF-funded programme supporting SMEs on their paths to achieve Net Zero. The Low Carbon programme has supported businesses to lower their carbon emissions by 12,630 tonnes.
How you can get support to reduce your emissions
For more information on the support available to businesses to reduce their carbon emissions, contact Low Carbon Workspaces: info@lowcarbonworkspaces.co.uk / 01494 927131
Philippa Batting, Managing Director of Buckinghamshire Business First, said: "Carbon reduction is one of the most pressing issues facing our society and planet today, therefore we are delighted to make this pledge to reduce our own footprint. Threats and opportunities often come hand in hand and the long-term threats to climate change can be countered today by the actions we all take to save energy and cut our carbon emissions."
Join us in the Race to Zero
Learn all about the Race to Zero and how your organisation can pledge to reduce carbon emissions to the level required to combat the climate crisis.
The Good Business Charter
Our commitment towards carbon reduction is one part of our wider ethos of participating in good business practices.
We are proud to be accredited by the Good Business Charter, an accreditation that organisations in the UK can sign up to in recognition of responsible business practices.
It measures behaviour over 10 components, including environmental responsibility. By achieving accreditation under the Good Business Charter, it is recognised that:
"We care about the environment and have an environmental policy which demonstrates the ways in which we are committed to reducing our environmental impact and continually improving our environmental performance."
More information on the Good Business Charter can be found online.
Learn more about the accreditations the Buckinghamshire Business First Group has achieved.