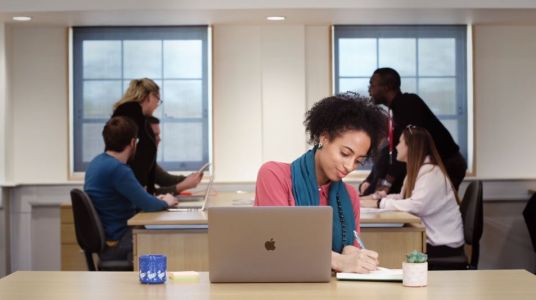 Find a new workspace at the Buckingham Enterprise Hub, which sees business and education join forces and the local community work together.
The Buckingham Enterprise Hub, located in the Vinson Building at the University of Buckingham, is a unique space that combines business and education, work and learning.
The Hub was officially opened on March 21st and will be shared by Buckinghamshire Business First members, students on Buckingham's Economics course and Business Enterprise course, and members of the Institute of Directors (IoD) and the Federation of Small Businesses (FSB).
Members can hot-desk for free, while meeting rooms are available at a cost.
Philippa Batting, Managing Director of Buckinghamshire Business First, said: "It's important for businesses and universities to work together and we are delighted to be working with the University of Buckingham on the Enterprise Hub given the institution's commitment to enterprise and supporting tomorrow's entrepreneurs. We look forward to our members reaping the rewards of using this fantastic facility.
"Its location in the north of the county helps to spread our reach and support across the whole of Buckinghamshire, and it also takes its place within the strategic Oxford-Cambridge Arc.
"The Buckingham Enterprise Hub is just one impressive element of the Vinson Building and we look forward to working with Buckingham on these and other facilities to support the local business community."
Facilities at the Buckingham Enterprise Hub
The following is available on site:
Hot-desking space across two floors
Meeting room for 8 with wireless touchscreen technology - booking required
Printing facilities within reason
Informal meeting space
Wi-Fi
Café
Book your hot-desk space now
Book a desk at the Buckingham Enterprise Hub here >
Are you an IoD or FSB member? You can also book your desk at the same above link. Simply create a free account with Buckinghamshire Business First and then log in to book your space.
Don't forget about our other workspaces across the county
You can also hot-desk and take meetings at our other hubs at: