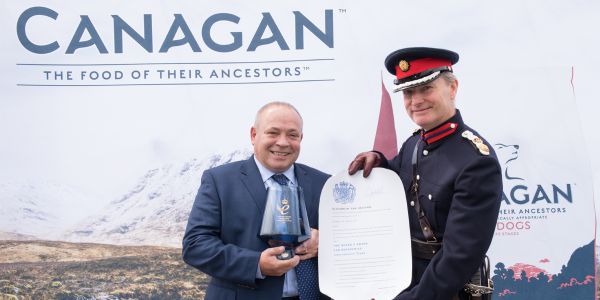 Anniversary news for Bucks New University & Epoq IT, Ashridge Group firing on all cylinders, Chiltern Brewery winning more awards; Aylesbury Vale District Council supporting local food producers; and four local businesses celebrate Queen's Award success.
Featured in this round-up:
Queen's Award success for BBF members
Ashridge Group posts impressive 98% year-on-year turnover increase
Time capsule marks celebrations of 125 years of Bucks New University
Epoq IT celebrates 15 years in business
Chiltern Brewery's barley wine get 3 stars at the Great Taste Awards 2017
Support local food producers at AVDC's Foodie Friday Live event
Queen's Award success for BBF members
The Buckinghamshire business community has been greatly represented in the prestigious Queen's Awards. Three great local businesses have recently been presented with their Queen's Awards, with another due to soon join them. A big congratulations goes to:
Global Infusion Group
Symply Pet Foods
Mediplus
Hypnos (who have their presentation in October)
Read more about Mediplus and Global Infusion Group's wins.
Symply Pet Foods' Queen's Award glory
Symply Pet Foods is a Chesham-based award winning family owned business developing high quality natural pet foods. Managing Director Edward Milbourne said: "Working with pet specialty retailers and distributors across the world, we deliver the very finest in pet nutrition. All of the team at Symply are incredibly proud to be awarded The Queen's Award for Enterprise in International Trade for 2017.
"Established in 2009, we began supplying independent pet speciality stores in the United Kingdom. Our ethos id to support local pet stores by not supplying supermarkets or online discounters and as a result have built up a network of over 800 retailer partners in the UK.
"We began exporting our products in 2012 and since then we have grown our network of customers to span 45 countries across four continents, turning our family run business into a £21m global enterprise.
Read more about Symply Pet Foods' Queen's Award success >
Ashridge Group posts impressive 98% year-on-year turnover increase
Ashridge Group, the Buckinghamshire-based expert security and facilities management company, has posted an impressive 98% increase in year-on-year turnover as part of a considerable growth curve.
Underlining its continued growth and expansion across the UK, this enviable financial growth has been paralleled by an internal drive to solidify its position in the UK security and facilities industry.
Emma Walker, Group Operations Director, said: "It has been an incredible year for the Ashridge Group, both financially and in terms of our evolution as a business. We are extremely encouraged by our year-end financial results and our growing physical footprint across the UK only substantiates this further.
"A huge part of what we do is nurturing our people, so I would like to extend a thank you to all our teams and individuals who have been part of our success story so far. We are excited to see what the future holds for Ashridge Group."
Ashridge Group has also been driving internal initiatives to strengthen its position as a top employer, encouraging employee feedback, team cohesiveness, reward strategies, and learning and development opportunities throughout the organisation.
With ambitious growth plans strategized across the coming years, Ashridge Group will be looking to further its national expansion by securing new contracts and continuing to develop its workforce.
Time capsule marks celebrations of 125 years of Bucks New University
Letters, samples of work and memorabilia have been buried in a time capsule during a ceremony bringing an end to Buckinghamshire New University's 125th anniversary celebrations.
Vice-Chancellor Professor Rebecca Bunting lowered the final concrete over the capsule and unveiled a commemorative plaque in the wild flower garden at the University's campus in Queen Alexandra Road, High Wycombe. The plaque includes a quote from South Africa's first black president, Nelson Mandela: 'Education is the most powerful weapon which you can use to change the world'.
Professor Bunting said: "We buried this time capsule containing reminders of student life, our campuses, activities, and research endeavours to give future students a taste of Bucks New University in 2017. This has bought to an end a very busy year celebrating 125 years of providing education in High Wycombe. I hope that when this capsule is opened on our 200th anniversary that our commitment to student success and widening participation has continued, and that generations of students will have benefited from the employment and skills-based teaching and research that is the foundation of our University today."
Items for the capsule have been collected throughout the year, including samples of work from students, programmes and brochures, photographs, porcelain from Missenden Abbey, newspapers and letters to future students.
Bucks New University started as a Science and Art School in the 1890s in Frogmoor, High Wycombe, and has been through 11 name changes since, including High Wycombe College of Technology and Art, Buckinghamshire College of Higher Education and Buckinghamshire College. The University operates from four locations: High Wycombe, Uxbridge, Aylesbury and Great Missenden.
The University's 125th anniversary celebrations have also included a reception at the House of Commons with guests including High Wycombe MP Steve Baker, as well as a short film featuring photos from the last 125 years. It was put together with help from the Bucks Free Press archives, High Wycombe Society and High Wycombe Library.
Epoq IT celebrates 15 years in business
2017 is a milestone year for High Wycombe based IT company Epoq IT as they celebrate their 15th anniversary, as well as their achievements in transforming businesses across London and the South East with strategic technology solutions.
The brainchild of directors Gary Swanwick and David Wills, Epoq IT was conceived in a bedroom 15 years ago after the two recognised the needs of management teams to understand the advantages that IT can provide, beyond the typical service support.
"Since then it's been quite a journey," said Gary. "The business outgrew the bedroom and several offices before finally moving to our current location in High Wycombe. We progressed despite a global recession with James Clark joining our senior management team in 2007 and somewhere along the way, we've managed to win some prestigious awards.
"Above all this we've seen technology change beyond all recognition as smart phones, tablets and the cloud have become part of our everyday lives, and evolved alongside this to ensure the businesses we work with remain secure, protected and up-to-date to facilitate business growth."
Chiltern Brewery's Barley Wine get 3 stars at the Great Taste Awards 2017
The Chiltern Brewery's bottle-conditioned Bodger's Barley Wine won 3 Stars at this year's Great Taste Awards organised by the Guild of Fine Food - and has also been voted a Top 50 Food Product. It is the only beer to be included on this top product list, which is true recognition of its 'star' quality. This also places it within the top 0.4% of the 12,366 food and drink entries to the awards.
"Top 50 in the whole country in these much-cherished awards and also being the only beer to reach this level – Wow! what an honour" said Head Brewer and Owner Tom Jenkinson. "We are also thrilled that every one of our bottled ales has won at least one star at the awards over the years. What an achievement by the team!"
Highly respected Beer Writer Roger Protz described Bodger's Barley Wine as "sumptuous – Remy Martin with a dash of hops, wonderfully rich and warming". Judges at the GTA praised its rich, honeyed, brandy-like flavour. Tasting notes mention the beautiful golden chestnut colour of the beer.
Support local food producers at AVDC's Foodie Friday Live event
Aylesbury Vale District Council is holding its first ever Foodie Friday Live event on Friday 6th October to showcase the fantastic food producers at Aylesbury Market. Join DJ Dan Blaze for tasters, competitions and live cooking from wonderful Foodie Friday traders.
Get more information on Foodie Friday Live >
Don't be shy – send us your news!
Let us know what you've been up to and as long as it's clean we'll include it in our newsletter! Email news@bbf.uk.com.